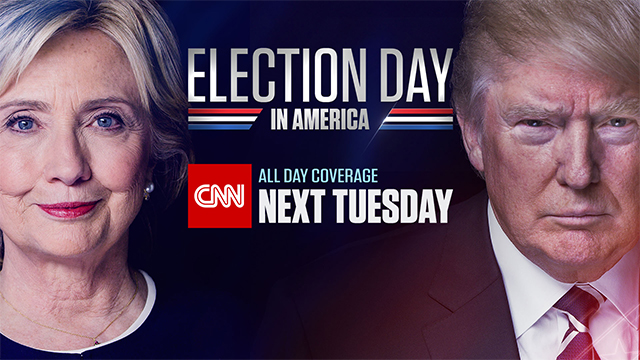 CNN Communications Press Releases
November 3rd, 2016
CNN to Deliver 24-Hour, Cross-Platform Coverage for Election Night in America 2016
CNN TO DELIVER 24-HOUR, CROSS-PLATFORM COVERAGE FOR ELECTION NIGHT IN AMERICA 2016
ANCHORS WOLF BLITZER, JAKE TAPPER, DANA BASH AND ANDERSON COOPER TO HOST SPECIAL COVERAGE FROM CNN ELECTION CENTER IN WASHINGTON
CNN TO LIVE STREAM ELECTION NIGHT COVERAGE
NOV. 3, 2016 (Washington, D.C.) – On Election Day, CNN will provide viewers with 24-hours of comprehensive coverage and up-to-the-minute election results from this historic presidential race and key state races across the country. The network's team of anchors, correspondents, analysts, reporters and commentators will be live beginning at midnight on Election Day and reporting from across the country ramping up with CNN's special Election Night in America coverage at 4 p.m. ET.
The network will offer viewers unprecedented access to the latest happenings and first reactions from across the country with more than 25 correspondents, analysts and reporters live from voting sites in key swing states, viewing parties, and respective campaign headquarters.
Election Day coverage will begin at midnight with an extended hour of CNN Tonight with Don Lemon followed by Poppy Harlow anchoring a special overnight edition of America's Choice 2016. John Berman and Christine Romans will anchor Early Start, Chris Cuomo and Alisyn Camerota will anchor New Day, and Carol Costello, John Berman, Kate Bolduan, Brooke Baldwin, and Erin Burnett will anchor CNN's dayside coverage from both New York and CNN's outdoor election set in front of the White House.
The Lead with Jake Tapper, The Situation Room with Wolf Blitzer and CNN's Election Night in America coverage, anchored by Wolf Blitzer, Jake Tapper, Dana Bash and Anderson Cooper, will be live from the CNN Election Center in the network's Washington Bureau.
Chief national correspondent John King will report from the CNN Election Center with the CNN Magic Wall, CNN political director David Chalian will be covering exit polls, and executive editor of CNN Politics Mark Preston will be at the decision desk. Chief political analyst Gloria Borger, senior political commentator David Axelrod, senior political reporter Nia-Malika Henderson, and CNN host Michael Smerconish will provide wall-to-wall coverage from the analyst desk.
CNN's footprint will extend internationally with correspondent Ed Lavandera live from Mexico City and senior international correspondent Clarissa Ward reporting from Moscow.
Senior legal analyst Jeffrey Toobin will be available throughout the evening to provide commentary and legal analysis while CNN correspondent Tom Foreman will be reporting live from the virtual studio analyzing how the new Congress and presidency will shape the country. In addition, the network's broad stable of political contributors will also be on hand to offer unique perspectives as the results roll in and until the last vote is counted.
CNN Digital
CNN's Election Night in America coverage will be streamed live in its entirety to CNN.com's homepage and across mobile devices via CNN's apps for iOS and Android, from 4 p.m. to 4 a.m. ET starting Election Day, November 8, 2016.
CNN Digital will provide unique election experiences across every digital platform and property as reporters and analysts from the nation's top team in politics outline the road to 270.  Real-time results and exit polls for Presidential, Senate, House, and Gubernatorial races, as well as ballot measures on the state, district and county level, will be published to the CNN Election Center accessible from the CNN homepage.
Deep-dive data and exit polling will also be featured in the CNN Politics App, and special, customized coverage will roll out across every CNN social platform from Instagram and Facebook to Kik, Line, Snapchat Discover, Apple News, and more.
*Watch for 2016 Election results in unexpected places throughout the night by following CNN on Instagram and Facebook, and by engaging with the hashtag #MyVote.
CNN International and CNN en Español
CNN International will broadcast CNN's special election programming beginning at 4 p.m. ET on Election Day and all day Wednesday, providing viewers around the world unparalleled coverage of one of the most exciting U.S. elections in history.
Additionally, CNN en Espanol will broadcast election night coverage beginning at 5 p.m. ET, led by anchors Juan Carlos Lopez, Patricia Janiot, Fernando del Rincon, Alegandra Oraa, Guillermo Arduino and an expert panel of political contributors. Correspondents Gus Valdes, Ione Molinares, Jaqueline Hurtado, Gonzalo Alvarado, Jose Manuel Rodriguez, Mari Santana and Yilber Vega will contribute from locations across the country.
About CNN Worldwide
CNN Worldwide is a portfolio of two dozen news and information services across cable, satellite, radio, wireless devices and the Internet in more than 200 countries and territories worldwide.  Domestically, CNN reaches more individuals on television, the web and mobile devices than any other cable TV news organization in the United States.  Internationally, CNN is the most widely distributed news channel reaching more than 320 million households abroad; and CNN Digital is a top network for online news, mobile news and social media.  Additionally, CNN Newsource is the world's most extensively utilized news service partnering with hundreds of local and international news organizations around the world.  CNN is a division of Turner Broadcasting System, Inc., a Time Warner Company. 
###