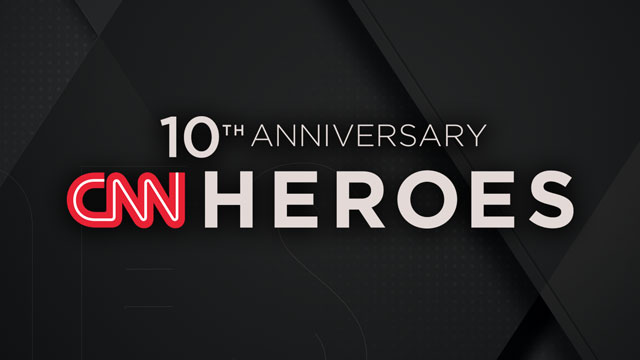 CNN
October 26th, 2016
ANDERSON COOPER, KELLY RIPA TO CO-HOST 10TH ANNIVERSARY OF CNN HEROES
CNN HEROES: AN ALL-STAR TRIBUTE WILL AIR LIVE ON SUNDAY, DECEMBER 11TH
TOP 10 HEROES OF 2016 REVEALED 
VOTING TO SELECT THE 'CNN HERO OF THE YEAR' BEGINS TODAY ON CNNHEROES.COM, TWITTER, AND FACEBOOK MESSENGER
CNN Heroes will mark its ten-year anniversary this year and ABC's Kelly Ripa will join Anderson Cooper for the first time as co-host. The Peabody Award-winning and Emmy-nominated program celebrates individuals who make extraordinary contributions that help improve the lives of others. The 10th Annual CNN Heroes: An All-Star Tribute will air live this year on Sunday, December 11th at 8pm ET from the iconic American Museum of Natural History in New York City.
The ceremony will honor the 2016 Top 10 CNN Heroes, who were revealed this morning by Cooper on CNN's New Day. And beginning today, voters are now able to select the 'CNN Hero of the Year,' by voting for the CNN Hero who inspires them the most. Supporters can vote every day at CNNHeroes.com by logging in via email or Facebook, as well as on Facebook Messenger by messaging VOTE to the CNN Heroes Facebook page, and on Twitter by tweeting #HeroesVote along with the name of their hero.  Viewers can vote up to 10x a day, per method, every day through Tuesday, December 6th, at midnight PT.
Each Top 10 CNN Hero will be awarded $10,000 and the CNN Hero of the Year will receive an additional $100,000.
"After 10 years, and nearly 300 Heroes, we are so grateful to continue honoring those making such an impact in their communities, and to help them continue their work," said Kelly Flynn, creator and senior executive producer of CNN Heroes. "This year, we are thrilled to broadcast live around the world, and welcome the addition of Kelly Ripa – a three-time CNN Heroes presenter – as co-host.  Her passion and expertise, coupled with the on-stage chemistry she and Anderson share will surely help create an unforgettable evening."
The 2016 Top 10 Honorees are:
As part of their award packages, each Top 10 Hero will also receive free organizational training from the Annenberg Foundation, a leading supporter of nonprofits worldwide. They will participate in a customized version of the Annenberg Alchemy program, which offers practical guidance to help strengthen organizations for long-term success. This is the fifth year of CNN's collaboration with the Annenberg Foundation.
Social media users are encouraged to "like" CNN Heroes on Facebook, follow @CNNHeroes on Twitter, and use hashtag #CNNHeroes. Behind-the-scenes images can be viewed on the CNN Heroes Instagram account.
About The Annenberg Foundation
The Annenberg Foundation is a family foundation that provides funding and support to nonprofit organizations in the United States and globally. Since 1989, it has generously funded programs in education and youth development; arts, culture and humanities; civic and community life; health and human services; and animal services and the environment. In addition, the Foundation and its Board of Directors are directly involved in the community with innovative projects that further its mission of advancing a better tomorrow through visionary leadership today. Among them are Annenberg Alchemy, Annenberg Learner, Annenberg Space for Photography, Explore, GRoW @ Annenberg and the Metabolic Studio. The Foundation encourages the development of effective ways to communicate by sharing ideas and knowledge.
About CNN Worldwide
CNN Worldwide, a division of Turner Broadcasting System, Inc., a Time Warner Company, is the most trusted source for news and information. Its reach extends to nine cable and satellite television networks; one private place-based network; two radio networks; wireless devices around the world; CNN Digital Network, the No. 1 network of news Web sites in the United States; CNN Newsource, the world's most extensively syndicated news service; and strategic international partnerships within both television and the digital media. For more information, visit CNNPressroom.com.
###