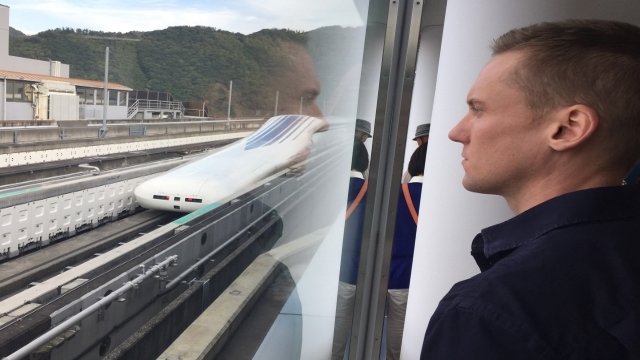 CNNI Press Releases
October 20th, 2016
CNN 'ON JAPAN' DELVES INTO THE LATEST JAPANESE INNOVATIONS
Japan is a country proud of its past with a reputation for looking to the future. A country known for its innovation and impeccable quality. Despite decades of battling deflation, a shrinking population, and more global competition than ever, how are Japanese innovators are stepping up to the plate? Join CNN's Will Ripley, as he uncovers what is driving the country's ambition — discovering how today's technology can alter tomorrow's reality.
Highlights of the show include:
Gaming
Characters are so well accepted in the Japanese culture and its perhaps what makes the gaming industry so successful there. Will Ripley visits Sony Global Headquarters in Tokyo as the company is rolling out their newest add on to Playstation 4 – PlaystationVR. He speaks to the President of Sony's Worldwide Studios for Sony Interactive Entertainment, Shuhei Yoshida on the challenges of bringing virtual reality to the mass market and discusses the future of gaming with Sony Interactive Entertainment's CEO Andrew House. But virtual reality can be much more than just a game – the implications of this technology can be widespread. CNN speaks to some Japanese researchers at the University of Tokyo that are experimenting with how that world would look like.
Transportation
Japan has always been on the forefront of transportation technology. Will Ripley makes a visit to the first Shinkansen bullet train from 1964, which at the time revolutionized train travel. Now Japan is hoping to step up the ante once again with the SC Maglev. Clocking in at speeds over 600km/h, CNN gets rare access to what is billed to be the world's fastest train. From public transport, to personal mobility, CNN also visits a Toyota theme park to see what one of the largest Japanese automakers envision for the future of transportation.
Sport Technology
In 1964 Tokyo hosted the Olympic games, it was the first time the world's most prestigious sporting event came to the East, and Japan seized the global spotlight. Now, gears are in motion to once again impress the world in 2020. CNN visits the head office of one of Japan's oldest and most successful sporting brands, ASICS, in Kobe. Will Ripley has a rare conversation with ASICS President Motoi Oyama and goes behind the scenes of their research and development institute as we get a preview of how the sporting company is already preparing for the games.
Airtimes: Hong Kong, Beijing, Kuala Lumpur, Manila, Singapore and Taipei
Friday October 28 at 2330 HKT
Saturday October 29 at 1900 HKT
Monday October 31 1130 HKT
Tuesday November 1 at 1730 HKT
Wednesday November 2 at 1630 HKT
– Ends-
Related Links:
Promo: http://www.cnn.com/video/data/2.0/video/tv/2016/10/17/cnn-on-japan-10-29-16.cnn-creative-marketing.html
About CNN International
CNN's portfolio of news and information services is available in seven different languages across all major TV, digital and mobile platforms reaching more than 425 million households around the globe, including over 77 million across the Asia Pacific region. CNN International is the number one international TV news channel according to all major media surveys across Europe, the Middle East and Africa, the Asia Pacific region and Latin America and has a US presence which includes CNNgo. CNN Digital is a leading network for online news, mobile news and social media. CNN is at the forefront of digital innovation and continues to invest heavily in expanding its digital global footprint, with a suite of award-winning digital properties and a range of strategic content partnerships, commercialized through a strong data-driven understanding of audience behaviors. Over the years CNN has won multiple prestigious awards around the world for its journalism. CNN has 41 editorial offices and more than 1,100 affiliates worldwide through CNN Newsource. CNN International is part of Turner, a Time Warner company. Get the latest social media updates from CNN at: facebook.com/cnninternational @cnnasiapr
Press contact:
Julia Zweigle
Tel: +852 3128 3538