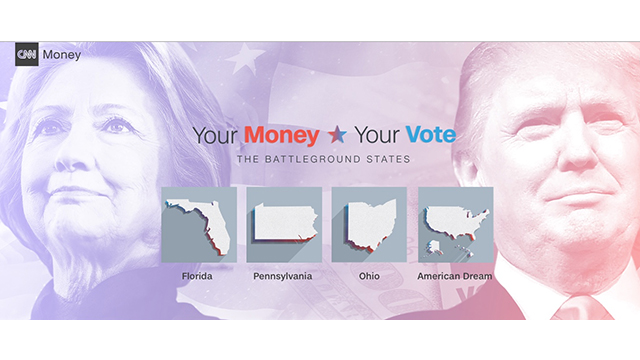 CNNMoney
October 13th, 2016
CNN PRESENTS "YOUR MONEY, YOUR VOTE: THE BATTLEGROUND STATES"
THIRTY-MINUTE ELECTION SPECIAL TO AIR SATURDAY, OCTOBER 15th AT 7:30PM/ET
ACCOMPANYING DIGITAL SERIES AVAILABLE AT CNNMONEY ON THURSDAY, OCTOBER 13th
CNN's Poppy Harlow talks to voters from three battleground states that could decide this election: Ohio, Florida and Pennsylvania. In a cross-platform TV and digital special, Harlow and her CNNMoney colleagues travel to crucial districts in the three battleground states to speak with voters about a top issue: the economy. Your Money, Your Vote: The Battleground States includes a thirty-minute TV special, airing Saturday, October 15th at 7:30PM/ET, during CNN Newsroom Weekend, and a video-led essay series available online at CNNMoney starting, today, Thursday, October 13th.
In Ohio, Harlow and her team found many voters who remembered one thing about Hillary Clinton: She wants to kill coal. Earlier this year Clinton said, "We're going to put a lot of coal miners and coal companies out of business." It might cost her Ohio. But there's a reason the state is so close: CNN also found some of the most enthusiastic voters for Clinton in booming Cleveland.  (Key regions visited: Cuyahoga County [Cleveland] and Pike County).
Florida barely went for President Obama in 2012. In the Sunshine State, it's about retirees and Latinos. Retirees tell CNN they don't love Donald Trump, but he has their vote because they think he will be far better for the economy than Clinton. In contrast, one voter of Puerto Rican descent told CNN that Trump is "a clown." Most Latinos won't vote for him, but will they turn out for Clinton? (Key regions visited: Orlando, Tampa and Sarasota).
The last GOP presidential candidate to carry Pennsylvania was George H.W. Bush in 1988. Trump vows he can change that in 2016. Harlow and her team found Trump's message on the dangers of trade was resonating in blue collar areas like Reading. A Muslim restaurant owner there told CNN he might vote for Trump because of "jobs, jobs, jobs." But Trump has a lot less support in the heavily populated and highly educated Philadelphia suburbs. (Key regions visited: Montgomery and Berks Counties).
Your Money, Your Vote: The Battleground States will air on CNN during CNN Newsroom Weekend at 7:30PM/ET on Saturday, October 15th and the full series and extended video cuts will be available online at CNNMoney beginning Thursday, October 13th. Join the discussion on Twitter at #MyVote
###