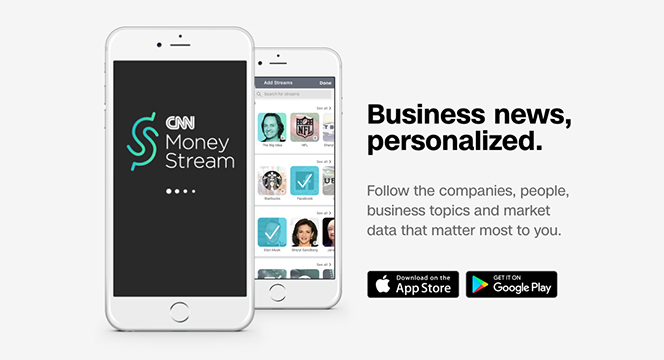 CNN Communications Press Releases
October 12th, 2016
Turner and CNN Unveil CNN MoneyStream — A Personalized Business News App
Team Stream for Business and Financial News
Turner and CNN announce the launch of their newest mobile app — CNN MoneyStream, a personalized business news experience available to iOS and Android users. Inspired by Turner's Team Stream, CNN MoneyStream enables users to follow companies, businesses, topics, and market data just like they follow teams and players through Bleacher Report's app. 
[youtube=https://www.youtube.com/watch?v=XR_SQTZh0jY&w=560&h=315]
"CNN MoneyStream is an app for fanatics. People are as passionate about business as they are about sports and CNN MoneyStream plays directly to those passions. It's not just a news feed – it allows you to dive deeper into your obsessions – whether that's markets, companies, or the heavy-hitters of industries," said Andrew Morse, executive vice president of editorial of CNN U.S. and general manager of CNN Digital Worldwide. "So for example, you can choose to follow Apple or Starbucks or Sheryl Sandberg or John Legere. You can follow the latest news tied to oil prices or the latest tech companies shaking that sector. There's nothing like it in the business news space."
Key features of CNN MoneyStream include:
Customized streams bringing you the latest news on top companies, business leaders, the economy and markets in the form of articles, social media posts, videos and charts.
Award-winning coverage of financial, market & economic news from a wide range of sources including CNNMoney and other leading media outlets.
Unlimited market data with 13,000 companies, 5,400 indexes and 30,000 ETFs and mutual funds.
Alerts and breaking news notifications delivering up-to-date trading information.
Exclusive content and guest curated streams from the biggest names in business including Richard Branson, Warren Buffett, Howard Schultz and John Legere.
CNN MoneyStream will replace CNNMoney's existing app.
User's can update their current app or download CNN MoneyStream in the iOS App Store and Google Play.
E*TRADE and SAP are the official launch sponsors of CNN MoneyStream.