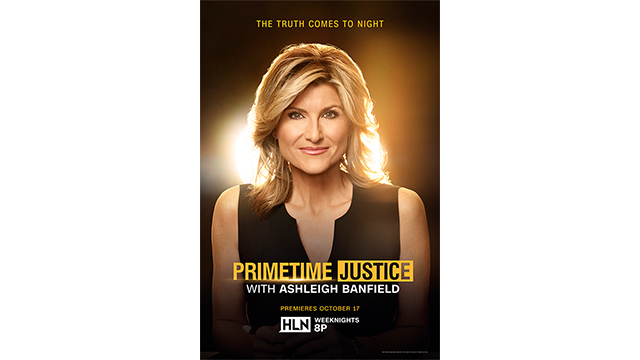 Primetime Justice with Ashleigh Banfield
October 12th, 2016
"Primetime Justice with Ashleigh Banfield," New Nightly HLN Program, Launches Oct. 17
Banfield's New Show to Air Live from New York, 
Monday through Thursday, 8pm- 9pm, ET 
New York, October 12, 2016 –  HLN debuts its new nightly program Primetime Justice with Ashleigh Banfield live from the CNN New York bureau on Monday, October 17. Hosted by seasoned anchor/journalist Ashleigh Banfield, the program will air Monday through Thursday, 8pm-9pm, ET.
On this new program, Banfield will tackle the day's most pressing legal and social issues, trials and hot topic debates with her own passionate point of view. Also featured on the program will be expert guests who can contribute to the conversation.
Just prior to joining HLN, the host anchored Legal View with Ashleigh Banfield on sister network CNN. Banfield joined CNN in 2011 as co-anchor of the morning news show Early Start. Over the course of her career, she has covered breaking news from across the country and around the globe. 
Banfield has reported from the scenes of the bombing at the Boston Marathon in Massachusetts and the shooting at Sandy Hook Elementary School in Newtown, Connecticut. Banfield also reported live from the trials of George Zimmerman, Jodi Arias and Casey Anthony, bringing to light the complicated courtroom proceedings of each case, including the death penalty.
Banfield was a correspondent for ABC News, reporting for Good Morning America, 20/20, World News with Diane Sawyer and Nightline. Prior to ABC, Banfield anchored and hosted three programs on TruTV (formerly Court TV) including a daily legal news program Banfield and Ford: Courtside; the weekly evening show Hollywood Heat; and the successful prime time special series that she created and co-produced, Disorder in the Court. In 2008, the Gracie Allen Awards named her Outstanding Anchor, recognizing her achievement at Court TV for her program Banfield and Ford: Courtside.
As a correspondent for NBC News from 2000-2004, Banfield reported for The Today Show, NBC Nightly News with Tom Brokaw and Dateline. Banfield covered the terrorist attacks of September 11th, reporting live from the World Trade Center in New York City, which earned her Emmy Award recognition. After nine consecutive days at Ground Zero, Banfield departed for Islamabad, Pakistan to begin covering the War on Terror. From September 2001 to January 2004, she reported live from Pakistan, Afghanistan, Iran, Iraq, England, Israel, Jordan, Lebanon, Syria and Saudi Arabia. This work earned Banfield and her team a National Headliner Award.
Elizabeth Yuskaitis is the executive producer of Primetime Justice with Ashleigh Banfield. Keith Brown is Senior Vice President of Programming at HLN.
Please click on the following link to the promo for Primetime Justice with Ashleigh Banfield: https://app.frame.io/v/0KNQDJrS
HLN is a news network that features live coverage of national, regional, lifestyle, and entertainment news in a fast-paced approachable tone with expert-led, personality driven programs. HLN is a CNN Worldwide network reaching more than 100 million households in the U.S. CNN Worldwide, a division of Turner Broadcasting System, Inc., a Time Warner Company, is the most trusted source for news and information.
###