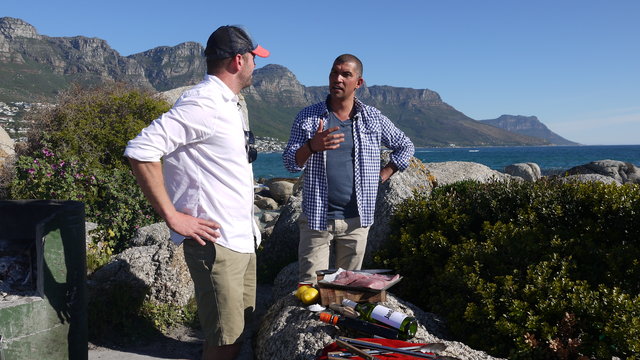 CNN International Shows
September 23rd, 2016
PREVIEW: CNN INTERNATIONAL PROGRAMME INFORMATION WEEKS 41 & 42
Culinary Journeys: Reuben Riffel
Thursday 20 October at 0930 BST / 1030 CET
Friday 21 October at 0430 BST / 0530 CET
Saturday 22 October at 0530 BST / 0630 CET and 1630 BST / 1730 CET
'Culinary Journeys' in October heads to the rainbow nation for an exploration of South African cuisine with the country's top chef, Reuben Riffel (pictured, right).
Born and raised in the Western Cape, chef Riffel built an impressive reputation at his harbour-front restaurant, the One&Only before becoming one of the most recognisable faces in the country as a judge on 'MasterChef South Africa'.
Riffel embarks on a journey for CNN to explore a food tradition which unites people across the country – braai.
Meaning 'barbecue' in Afrikaans, this method of cooking over a wood fire is a chance for family and friends to gather over juicy steaks and sausages.
Along the way Riffel visits some of Cape Town's liveliest food locations – learning the art of shisa nyama (meaning 'burnt meat' in Zulu) by working the grills at the famous Mzoli's before picking up spices and sweet treats in the colourful Bo Kaap neighbourhood.
Riffel also travels beyond the city to visit Renata Coetzee, a food historian and nutritionist who has helped to nurture a garden of indigenous herbs used by the native people of southwestern Africa.
Concluding his journey, Riffel celebrate with a braai in the heart of the Cape Winelands: a true appreciation of friends, food and hospitality.
CNN Business Traveller
Thursday 13 October at 0930 BST / 1030 CET
Friday 14 October at 0430 BST / 0530 CET
Saturday 15 October at 0530 BST / 0630 CET and 1630 BST / 1730 CET
The life of a business traveller can easily become an unhealthy one.  Jet lag, long days, lack of sleep, and fast food can make it difficult to stick to a healthy routine.
In October, 'CNN Business Traveller' host Richard Quest explores the mind tricks, travel tips and game plans to mitigate the effects of life on the go.
A stiff back, aching hips, tired feet are commonplace for most travellers. Instead of hitting the hotel treadmill, 'CNN Business Traveller' meets personal trainer and former strength coach for the New York Mets, Jeff Cavaliere.
Cavaliere puts Quest through his paces with a customised workout, designed to target the muscles most impacted by travel.  Quest then tests what he's learned with an exercise routine that uses only the items in a standard hotel room.
When it comes to travelling, training the tastebuds may be just as important. 'CNN Business Traveller' learns that Delta airlines are trying to encourage more healthful eating at 35,000 feet by creating specially prepared meals for BusinessElite customers.
Back on the ground in Atlanta, Georgia, Quest goes into the kitchen with the man behind the menu, Chef Linton Hopkins, to cook up a quintessential dish from the American South.
The stress of flying is one of the reasons a traveller's willpower can easily wane. 'CNN Business Traveller' meets nutritionist Lisa Drayer, who prepares Quest with the best snack to pack for the plane and the menu options to steer clear of during the next business lunch meeting.
Where a traveller stays can go a long way to recharging a worn-down body. Global hotel chains are partnering with healthy brands to infuse well-being into the environment of the room.
Quest sits down with Delos CEO Paul Scialla to talk about Stay Well hotel rooms, and tests out features like circadian rhythm lighting, vitamin C showers and aroma therapy- all designed to reduce jet lag, promote rest and re-energize a weary traveller.
The Circuit
Friday 14 October at 1630 BST / 1730 CET and 2330 BST / 0030 CET
Saturday 15 October at 2030 BST / 2130 CET
Sunday 16 October at 0130 BST / 0230 CET
Tuesday 18 October at 1030 BST / 1130 CET
Wednesday 19 October at 0430 BST / 0530 CET
Five years on from hosting its first Grand Prix, 'The Circuit' host Amanda Davies travels to Circuit of the Americas just outside Austin, Texas, to explore whether Formula One has finally found its home in the United States.
Two-time F1 and Indy Car champion Emerson Fittipaldi invites 'The Circuit' into his Miami mansion and introduces his nine-year-old son 'Little Emmo', who is looking to take the F1 world by storm.
'The Circuit' also meets talk show host and celebrated petrolhead Jay Leno, who shows Don Riddell his 130-car garage and explains where America's love of the automobile comes from.
Open Court
Thursday 20 October at 1030 BST / 1130 CET and 1730 BST / 1830 CET
Saturday 22 October at 0730 BST / 0830 CET and 2230 BST / 2330 CET
Sunday 23 October at 1730 BST / 1830 CET
In October, host Pat Cash reports from Spain to bring viewers the latest edition of Open Court, featuring one of the biggest names in the tennis world, Rafael Nadal (pictured).
The global star has won 14 Grand Slam titles, reached number one in the world, won gold medals in singles & doubles and brought Davis Cup crowns home to Spain. 'Open Court' visits Manacor – the small community where Nadal learned to play the game.
The programme explores Nadal's new museum and the tennis academy that will house students who want to follow in the champion's footsteps.
There is also a tennis exhibition involving Nadal, Carlos Moya, John McEnroe, and Mats Wilander that will be part of 'Open Court's visit.
Vital Signs with Dr. Sanjay Gupta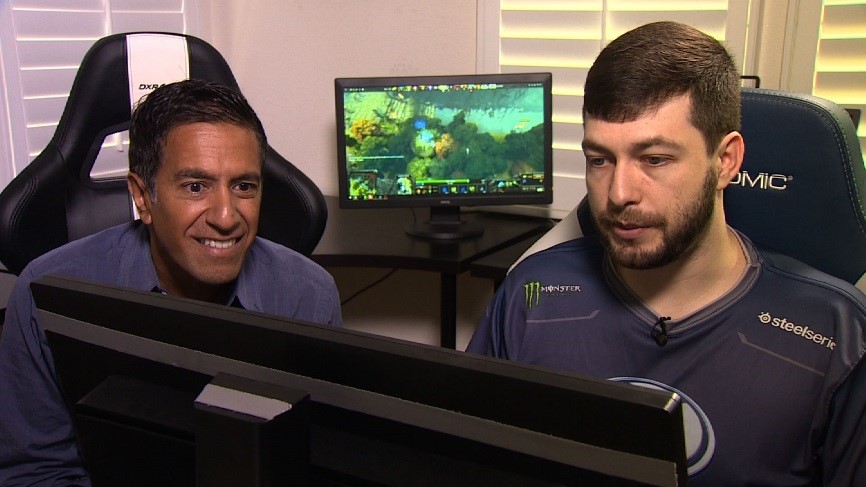 Wednesday 19 October at 1030 BST / 1130 CET and 1730 BST / 1830 CET
Saturday 22 October at 0630 BST / 0730 CET and 1930 BST / 2030 CET
Sunday 23 October at 1330 BST / 1430 CET
In October, 'Vital Signs with Dr. Sanjay Gupta' explores the concept of video games as medicine.
The programme breaks with the conventional wisdom that gaming is always hazardous to your health, resulting in people staying indoors and leading more sedentary lives.
The programme discovers that when used the right way, games can actually be good for you – training brains to be stronger, faster, better.
Host Dr. Sanjay Gupta (pictured, left) investigates the science behind a new generation of games that can improve the speed of visual processing, better harness attention and expand the depths of people's memories.
'Vital Signs' also goes inside the booming ultra-competitive world of eSports as Gupta meets Clinton "Fear" Loomis (pictured, right) and a first-of-its kind Internet addiction treatment facility in China, the first country to declare the problem a 'public health crisis.'
Eco Solutions
Saturday 22 October at 1330 BST / 1430 CET
Sunday 23 October at 0630 BST / 0730 CET and 1930 BST / 2030 CET
In October, 'Eco Solutions', a show which explores how the world deals with environmental challenges, reports from California where the spectre of drought is never far away.
Businesses and individuals are always looking at ways to reduce their water consumption. Not least in farming, given that agriculture is where 70 per cent of the world's water is used.
One concept attracting a growing following is dry farming; a method where farmers don't water their crops. Whilst it's not suitable for everywhere or every crop, it's proving successful in the lucrative vineyards of Napa Valley.
'Eco Solutions' visits the Dominus estate at harvest time, where a French owner has imported his country's approach to wine making with great results. The programme also speaks to Fruition Sciences, who have made it their business to understand the detail of farming with less water, even advising the state of California itself.
The programme also discusses the potential of partial root drying, the water-saving brainchild of a British academic, which has been proven to work on crops as diverse as cotton, tomatoes and olives.
Make Create Innovate
Saturday 22 October at 1345 BST / 1445 CET
Sunday 23 October at 0115 BST / 0215 CET; 0645 BST / 0745 CET and 1945 BST / 2045 CET
When it comes to design, Mother Nature is hard to beat.
'Make Create Innovate' this month meets a group of scientists using the bioluminescent properties of a species of algae to provide emission and cost-free power. The programme joins these scientists as they use the technology in Paris, the City of Light.
The programme meets a scientist using the swarm behaviour of bees, ants and birds to help devise treatments for cancer, using nanoparticles to launch attacks on tumours inside the body.
Winning Post
Saturday 22 October at 1730 BST / 1830 CET
Sunday 23 October at 0730 BST / 0830 CET and 2230 BST / 2330 CET
In October, 'Winning Post' meets the army of workers responsible for the upkeep and care of some of the top racehorses in the world.
In the equestrian field, it's well known that 'no hoof means no horse', and 'Winning Post' host Aly Vance reports from Newmarket, at William Haggas' yard to meet the farrier, who is only too aware of the importance of good shoeing.
'Winning Post' captures the skill and graft involved in the process with none other than Mutakayyef the hot favourite in the world-renowned British Champion Stakes.
The healthcare of all athletes is paramount, and it is no different for a thoroughbred horse competing at the top of its game in one of the toughest and fastest sports. Vance meets the vet and physio who devote hours of time and care to ensure Mutakayyef is at peak physical condition when it comes to race day.
Extensive travel is something that all race horses are expected to undertake when competing across the globe. 'Winning Post' gets a rare chance to travel across The British Channel with the Lambourn Racehorse Transport Company which deals exclusively with the travelling needs of these priceless animals.
Vance also follows the stable hands who provide the home comforts and nurturing they require on route and location, as they travel between England to Chantilly, which plays host to the 95th Qatar Prix de l'Arc de Triomphe for the very first time.