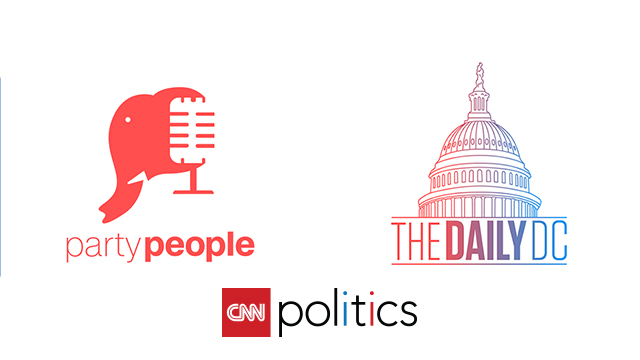 CNN Politics Press Releases
September 20th, 2016
CNN Politics Expands Podcast Portfolio With Launch of "Party People" and "The Daily DC"
Building on the success of CNN and The University of Chicago's critically acclaimed podcast "The Axe Files," CNN Politics announced today the debut of two new podcasts for politics enthusiasts. 
CNN's Party People is looking for the soul of conservatism in America. The weekly podcast provides a new offering from Republicans Kevin Madden and Mary Katharine Ham, who represent different wings of the party. Each episode will delve into the future of the GOP with guests from across the political spectrum including lawmakers, thinkers, pollsters, party elders, activists, and many more. 
CNN's The Daily DC exploits one of CNN's greatest assets – the political mind of CNN Political Director David Chalian. Chalian's morning read-ins are an important part of CNN's daily political coverage, and now you can learn from them. Chalian is the best political director in the business and every day listeners can tune in to hear what you need to know from the campaign trail and the world of politics. 
You can catch The Daily DC every weekday and Party People weekly at CNN.com/podcast, as well as iTunes, Stitcher, TuneIn Radio or your favorite podcast app.
These new original podcasts add to the audio podcasts available from CNN that includes popular TV shows AC360, Fareed Zakaria GPS, State of the Union, Reliable Sources and others, also available at CNN.com/podcast.