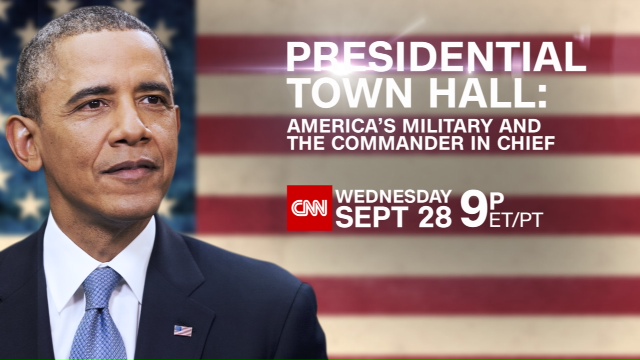 CNN
September 19th, 2016
CNN'S JAKE TAPPER TO HOST TOWN HALL WITH PRESIDENT OBAMA SEPT. 28
ONE-HOUR EVENT WILL COVER MILITARY, VETERANS AND NATIONAL SECURITY ISSUES
CNN announced today that the network will host the CNN Presidential Town Hall: America's Military and the Commander in Chief, with President Obama ‪on Wednesday Sept. 28 at 9pmET.
CNN anchor and chief Washington correspondent Jake Tapper will sit down with the President to discuss veterans, national security and foreign policy issues impacting the US military. President Obama will field questions from the audience made up of veterans, active duty service members and the military community.
The one-hour primetime event will take place in Fort Lee, Va., home of the Combined Arms Support Command.
The town hall will air on CNN, CNN International and CNN en Espanol and will be streamed online and across mobile devices via CNNgo.
About CNN
CNN Worldwide is a portfolio of two dozen news and information services across cable, satellite, radio, wireless devices and the Internet in more than 200 countries and territories worldwide. Domestically, CNN reaches more individuals on television, the web and mobile devices than any other cable TV news organization in the United States. Internationally, CNN is the most widely distributed news channel reaching more than 320 million households abroad; and CNN Digital is a top network for online news, mobile news and social media. Additionally, CNN Newsource is the world's most extensively utilized news service partnering with hundreds of local and international news organizations around the world. CNN is a division of Turner Broadcasting System, Inc., a Time Warner Company.
###