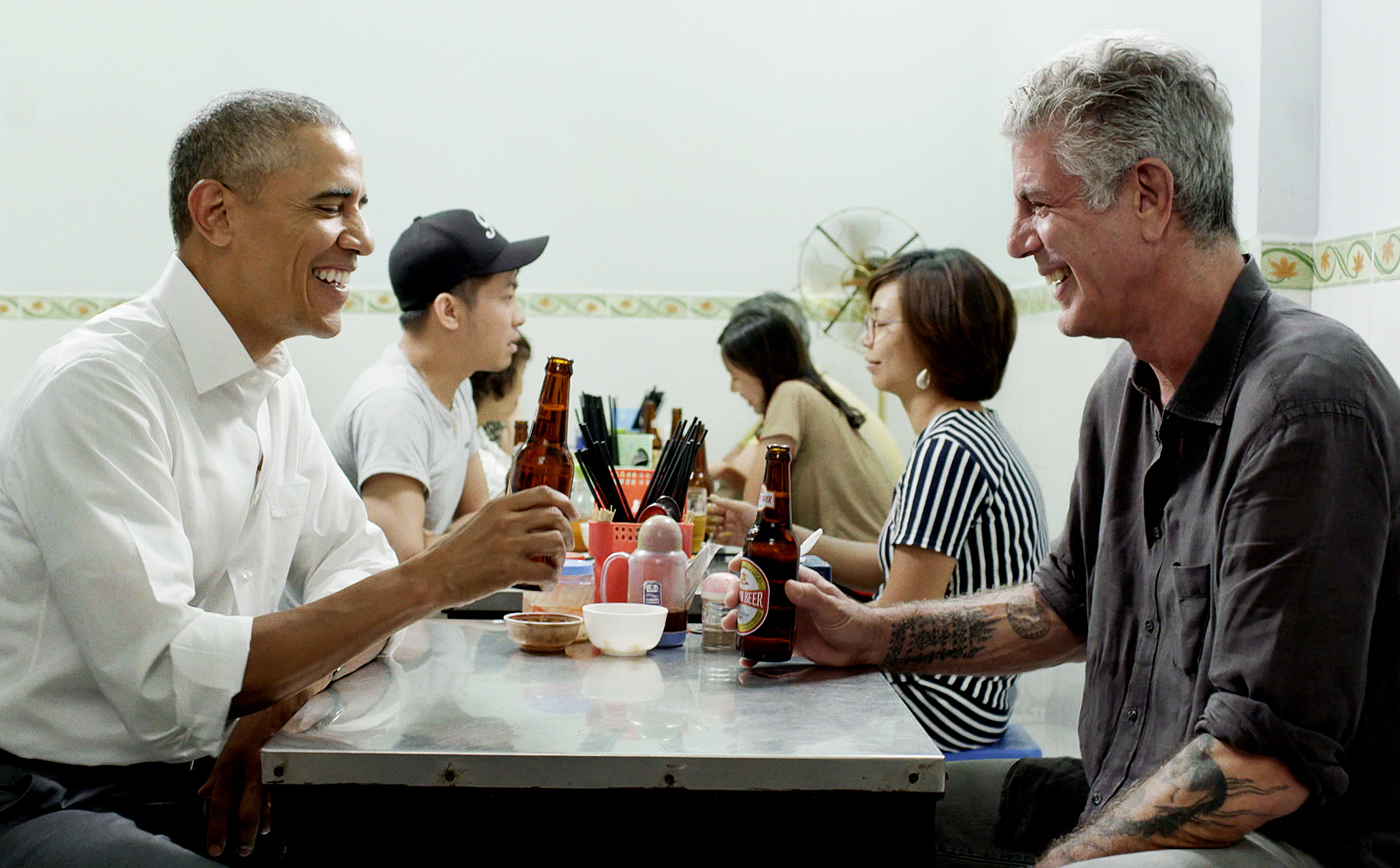 CNN Original Series
September 6th, 2016
A Trip to Hanoi, Featuring Dinner with President Obama, Kicks off Season Eight of CNN Original Series Anthony Bourdain Parts Unknown, Sunday Sept. 25 at 9pm
New Edition of Prime Cuts Features Season Seven Highlights with a Taste of Season Eight  
(September 6, 2016) Season eight of the top-rated Emmy and Peabody award-winning CNN Original Series Anthony Bourdain Parts Unknown begins on Sunday, September 25 at 9pm ET/PT with a trip to Hanoi, Vietnam featuring dinner with president Barack Obama.
The *nine-episode season also features tours of Nashville, Sichuan, London, Houston, Japan, Minas Gerais, Buenos Aires, and Rome. 
Airing just prior to the Hanoi episode, at 8pm ET/PT, is the latest edition of Prime Cuts, in which Bourdain recounts his favorite home-style meals from last season's locations, the socio-political conflicts affecting some of the areas visited, the diverse beauty and musical offerings he encountered, and previews things to come in the next nine episodes. 
Anthony Bourdain Parts Unknown follows the world-renowned chef and best-selling author as he travels the globe to uncover the little-known, off-the-road, and sometimes seemingly-familiar areas of the world in a celebration of their diverse foods and culture.
Anthony Bourdain Parts Unknown is produced by Zero Point Zero Production with executive producers Chris Collins, Lydia Tenaglia, Sandra Zweig, and Anthony Bourdain.
Please click on the following link for a preview of season eight: http://cnn.it/1ItmSMU
Following are the locations and episode descriptions for season eight of Anthony Bourdain Parts Unknown:
Hanoi (airdate September 25:) Inspired by Graham Greene's words "… whatever you're looking for, you will find here…" Bourdain joins the throngs of locals as he motorbikes through Vietnam's capital, traverses its rapidly changing cityscape, and indulges in its singular cuisine with president Barack Obama, who, over a dish of Bun Cha, shares personal stories and reflects on his own international travels. 
Nashville (airdate: October 2) Bourdain absorbs the tastes, sights and sounds of music city, from chef Josh Habiger's Catbird Seat and Bolton's famous hot chicken, to a night of cooking, drinking and rocking out with singer Alison Mosshart, and her bandmates. The episode features performances by The Kills, Dead Weather and Margo Price.
Sichuan with Eric Ripert (airdate: October 16) Michelin star chef, and all around good sport, Eric Ripert is introduced to China and Sichuan province by host and good friend Bourdain. Bourdain takes Ripert to the Sichuan province capital, Chengdu, testing his endurance with mouth-numbing, sinisterly spicy meals (like green peppercorn fish). They also visit the world's largest stone Buddha, seek out a local favorite rabbit head snack, and visit a legendary distillery for some Baijiu, a fermented sorghum wine. Ripert will never forget this trip. 
London (airdate: October 23) Visiting London, post Brexit vote, Bourdain finds comfort in classic British cuisine including roast bone marrow at chef Fergus Henderson's famed restaurant St. John, Scotch eggs at Princess Victoria Pub with Nigella Lawson, and pig's trotter a la Pierre Koffman with chef Marco Pierre White at the Rudloe Arms, plus a meeting with revered artist Ralph Steadman at his studio.
Houston (airdate: October 30) Looking beyond oil, NASA, and football, Bourdain explores Houston's diverse cultures, taking in a Bollywood-style dance in a grocery store, a Quinceañera in suburban Pasadena, and the city's slab car parade, while making time for Viet-Bayou crawfish, East Texas barbecue, and a Congolese-Cajun stew.
Japan (airdate: November 13) Guided by world-renowned chef Masa Takayama, Bourdain's return trip to Japan begins with a tour of outdoor food markets in Kanazawa where they sample uni, steak-sized oysters, and grilled eel liver, followed by a conversation with an ex-geisha at her teahouse, and comes full circle with a special omakase experience at Tokyo's acclaimed Ginza restaurant, Sushi Ko, where Masa trained as an apprentice.
Minas Gerais, Brazil (airdate: November 20) Bourdain explores the Brazilian heartland, known as the region where all the best cooks come from, and namesake to the country's mining history. Home to baroque architecture, lush hillsides and mineiro cuisine (influenced by Portuguese, African and Indigenous people), which includes frango ao molho pardo (broiled chicken served in a sauce made using its own blood), that the host samples during a traditional country meal.
*Buenos Aires (airdate: November 27) Bourdain's trip to meat-centric Buenos Aires during the hot summer month of February, features a meal with chef Francis Mallmann at one of his favorite local spots, Don Carlito's, and an after-hours soccer match accompanied by Soledad Nardelli and the kitchen staff of Chila.
Rome  (airdate: December 4) Bourdain's Roman holiday takes a cinematic turn, influenced by his tour guides, actress Asia Argento, screenwriter/director Abel Ferrara, and a host of larger than life Romans who take him inside a Rome for the locals. Bourdain shares drinks at the 'Friends Corner' trattoria in Lido di Ostia, dines a traditional Roman meal at Trattoria Morgana, eats pasta and watches an amateur boxing match in the suburbs, and takes a trip to the famed E.U.R zone built by Mussolini.
*The Buenos Aires episode was originally scheduled to air in season seven but was pre-empted due to breaking news.
Viewers can find show clips, original videos, travel essays by Bourdain, photos, and other exclusive content onhttp://www.cnn.com/shows/anthony-bourdain-parts-unknown by following the show's Twitter account @partsunknownCNN, and accessing the CNN Parts Unknown Facebook page.  
Each episode of Anthony Bourdain Parts Unknown will be available On Demand the day after the linear premiere on cable VOD and on CNNgo via iPad, Roku, AppleTV, Amazon Fire, and desktop at www.cnn.com/go
About ZPZ
Zero Point Zero Production, Inc. is a television, film and digital media company founded in 2003 by Executive Producers Chris Collins and Lydia Tenaglia, with partner and Managing Director Joe Caterini joining in 2009. Since its inception, the company has produced hundreds of hours of television in over 100 countries around the world, including the critically acclaimed, Emmy & Peabody Award winning series, Anthony Bourdain: Parts Unknown (CNN); the Emmy Award winning The Mind of a Chef (PBS) and Emmy nominated The Hunt with John Walsh (CNN).
About CNN Original Series
The CNN Original Series group develops non-scripted programming for television via commissioned projects, acquisitions and in-house production. Amy Entelis, executive vice president of talent and content development, oversees CNN Original Series and CNN Films for CNN Worldwide.  Lizzie Fox, vice president of current programming, supervises production of all CNN Original Series.
-30-