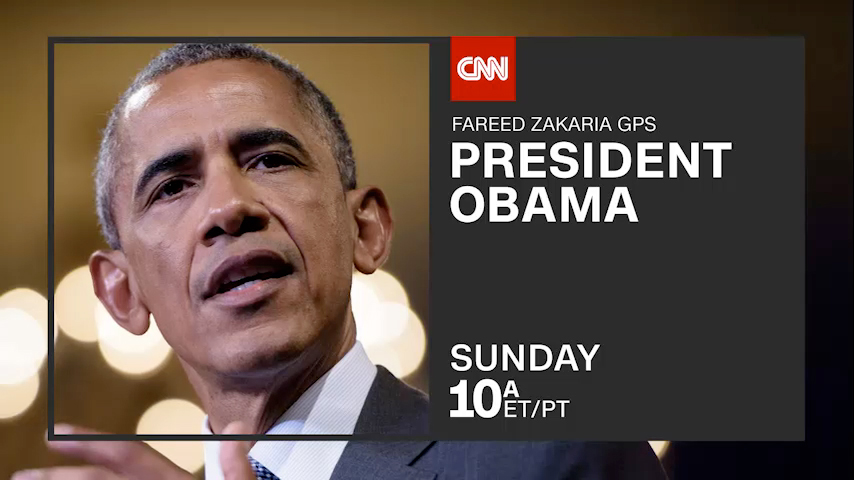 CNN International Shows
September 2nd, 2016
CNN's Fareed Zakaria Interviews President Barack Obama on Trade, Turkey, Trump for Sunday Broadcast Exclusive
FAREED ZAKARIA GPS Global Television Exclusive for Sunday, Sept. 04
In a global Sunday television exclusive in advance of the President's travel to Asia, CNN's Fareed Zakaria interviewed President Barack Obama for broadcast in a special edition of Fareed Zakaria GPS airing Sunday, September 4. They discussed a wide range of foreign policy topics, as well as the President's views on Donald Trump and his base of support. The President also pressed his case for the now-controversial Trans-Pacific Partnership ("TPP") trade deal, explaining both why he feels the TPP will grow American exports and jobs – as well as his views on free trade policies overall.
In addition, in advance of Mr. Obama's first meeting with President Recep Tayyip Erdoğan since July's failed coup in Turkey and Erdoğan's crackdown that has followed, Zakaria spoke with the President about whether he has concerns about the stability of Turkey – a NATO ally and the host country of part of America's nuclear arsenal.
President Obama also discussed the U.S.-China relationship, and the renewed tensions in the South China Sea, in advance of his bilateral with President Xi Jinping.
The exclusive with the President will air in its entirety on the network's flagship world affairs program, FAREED ZAKARIA GPS, beginning via CNNgo and CNN International on Saturday, September 04, and on television on Sunday, September 05 on CNN/U.S.
Also appearing inside Sunday's broadcast are:
Topics:   Donald Trump's meeting with Mexico's President Enrique Peña Nieto
Guest:    Jorge Castañeda, PhD, politics and Latin American and Caribbean studies professor, New York University; former Foreign Minister of Mexico (2000-2003)
Topic:    What 'social robots' mean for the future of humans
Guest:    Cynthia Breazeal, Sc.D, associate professor of media arts and sciences, MIT; founder & chief scientist, Jibo, Inc.
BROADCAST AIRTIMES
In North America on Saturday, Sept. 03, 2016 (Eastern Daylight Time):
CNN International / CNNgo: 9:00p.m.
In North America on Sunday, Sept. 04, 2016 (Eastern Daylight Time):
CNN International: 7:00a.m., encore at 3:00p.m. and 10:00p.m.
CNN/U.S.: 10:00a.m., encore at 1:00p.m.
# # #