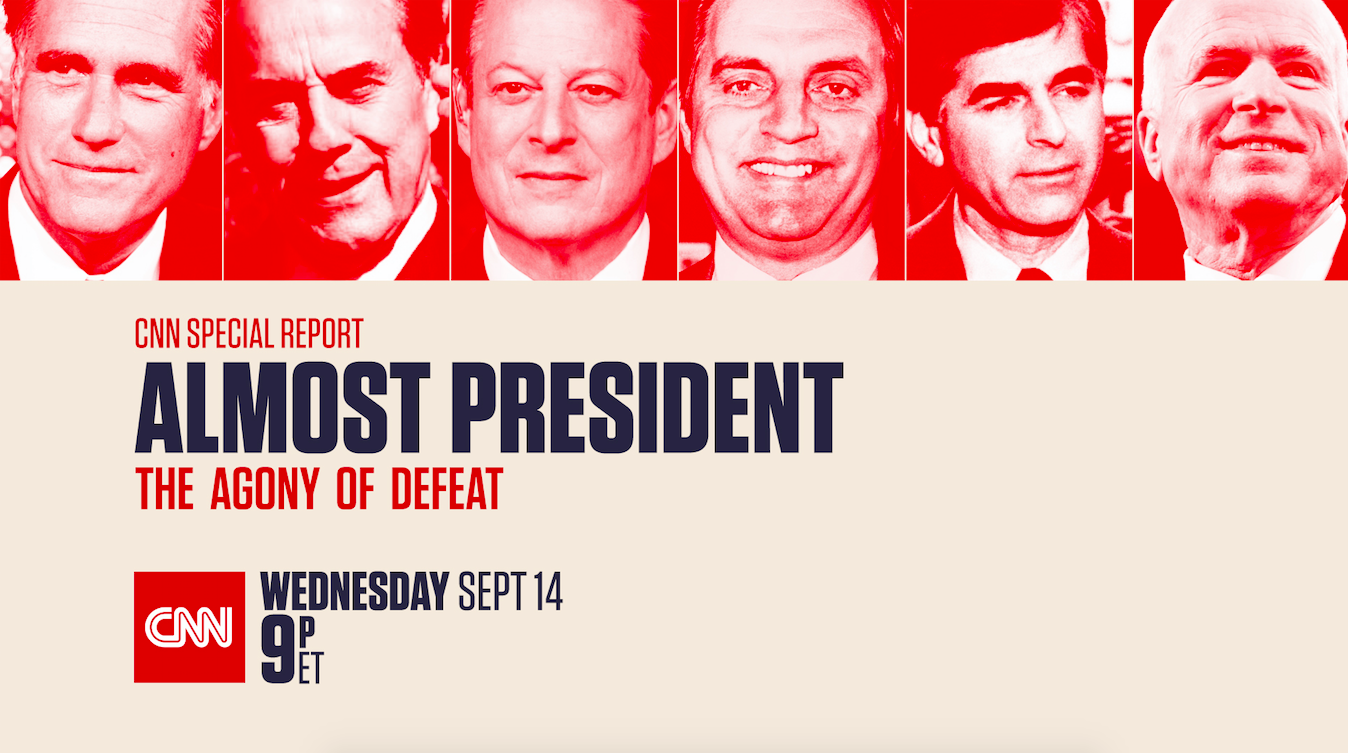 Gloria Borger
August 23rd, 2016
Almost President: The Agony of Defeat to Air on CNN on Sept. 14
ALMOST PRESIDENT: THE AGONY OF DEFEAT TO AIR ON CNN ON WEDNESDAY, September 14th
CNN SPECIAL REPORT HOSTED BY CNN CHIEF POLITICAL ANALYST GLORIA BORGER
WASHINGTON, D.C. – August. 23, 2016 – In Almost President, CNN Chief Political Analyst Gloria Borger tells a story that has not been told before: four men, sharing their accounts of how they lived through the most public failure in American life.  Mitt Romney, John McCain, Michael Dukakis, and Walter Mondale detail their journeys – from years of reaching the pinnacle of American politics, their moments of greatest triumph, all the way to the moment that each man knew – in one night – it was all over.
In a series of interviews that took place over the last three years, each candidate analyzes his own mistakes, the impact on their families, the pain of knowing they will always be branded as 'almost president.' By and large, they're still not over it, but they would all do it all over again.
The documentary also offers the candid views of three top political strategists: James Carville, Mark McKinnon, and Bob Shrum. All three have been on in the inside of these losing campaigns and detail what happens when the vote count isn't there.
Airing in the midst of a heated presidential campaign between democratic nominee Hillary Clinton and republican nominee Donald Trump, the one-hour documentary gives viewers a first-hand look at what happens the day after Election Day – and what awaits either Clinton or Trump after that one night in November when their fate is decided.
"To be blunt about it, losing sucks," Dukakis shared during his sit-down with Borger. Less than a year after his loss, Romney told Borger it's an unforgiving process and that he tried too hard to be perfect.  McCain shared that he still beats himself up over his mistakes and Mondale recalled asking George McGovern how long it took to get over losing the Presidency in which he responded, "when I get over it, I'll call you."
The special report will also be available On Demand the day after the linear premiere on cable VOD and on CNNgo via iPad, Roku, AppleTV and desktop at www.cnn.com/go
Liza McGuirk is the Executive Producer.