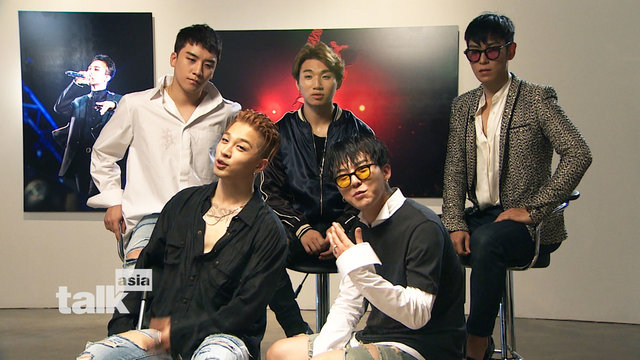 CNN International Shows
August 19th, 2016
K-Pop legends Big Bang on CNN's 'Talk Asia' to mark their 10th anniversary
Since its debut in 2006, South Korean boy band Big Bang has risen to global stardom, spearheading the spread of K-pop throughout Asia and the rest of the world. The group, comprised of five charismatic members; G-Dragon, Taeyang, T.O.P., Daesung, and Seungri, each bring their own unique style and talent. As they embark on their 10-year anniversary, they celebrate their unprecedented success taking to the world stage on their global tour. The band's longevity proves they can transcend time as they continue to lead the Korean entertainment scene with trendy music and chic style. And while the members of Big Bang have developed their individual careers outside of the band their music journey is far from over.
On next month's 'Talk Asia', CNN Seoul Correspondent Paula Hancocks catches up with Big Bang for an in-depth interview at S-Factory in Sungsu-dong, Seoul, where the group's tenth anniversary exhibition is taking place. From reminiscing over the last ten years to forecasting ahead to the next decade, each member of the group shares their memories of the long journey that brought them to the top of K-pop.
Follow CNN's 'Talk Asia' on Facebook and @cnnasiapr to get sneak peaks of the interview.
Highlights from the interview:
On what make them different
G-Dragon: "Our performances are not just with one element from beginning to the end, there are some solo parts in between. When others look at our performances, they not only just looked cool but also have some fun elements. For example, we wear fun costumes and show the cute side of us, or add many comical elements and produce diverse dance steps throughout the performances. We do some surprise entries for the openings, put some fast tempo songs in between and make the crowd excited. We sing some emotional songs as well. We think a lot about the flow of our performances and we want the audiences can feel it themselves."
On the bond among Big Bang members
Taeyang: "Well of course there were hard times in between but over time we have become friendlier and we really like each other even outside of work. The more we are together, the more we make each other laugh… and we are the happiest when five of us are together. That kind of relationship is the reason that makes us last longer."
On what it takes to be a K-pop superstar
G-Dragon: "Not twelve hours of training a day but almost, like most of the days. But that's how it work in the K-pop training system. I don't know about other countries because we never experience it, but Korea's entertainment industry has such system established already and we just get into that system."
On the mandatory military service in South Korea
Taeyang: "We been asked questions concerning that the most. Of course there are many tasks and responsibilities lying ahead of us, but those are stuff we are supposed to do naturally. And apart from that, as how we did so far, or because we want to fill the next 10 years in a better way, I think that's why many people worry even more. Fans or the public. They worry a lot what will happen to Big Bang, they worry about this sort of stuff, Rather than worries, we are keeping a very happy mind, we have always been this way. As we have been doing so far, we are looking forward to the next 10 years with pleasant mind, and everyone is confident of doing new things, We have dreams so that's why each day is exciting.
On where they want to be in ten years
Taeyang: "Whatever happens, it's been like this so far but I think we are going to continue doing stuff that each of us want to do and like doing. For the past ten years we have been influencing so many people by making music and performing on the stage. We have been doing that and of course we will continue doing things like that. But in the next ten years, I think we should approach with a bigger picture as Big Bang. Each of us is thinking that our next step shouldn't just limited to things like music and stage. We want to become a group that can really give good influence to people, and to be such individuals, that would be our next step.
G-Dragon: "I always think today is better than yesterday, and tomorrow is better than today. It might be slow but we moved forward continuously and that's why I think we are here. And I think that's how it will be in the future. I will keep try to be like on a new level every day."
T.O.P: "I hope we have been making new examples that didn't exist before and I want to become someone who can contribute a lot to the Korean culture. Whether it's music, performance or a video, I feel like being someone who can always show something new and proposing new ideas to people."
Daesung: "We hope to be a bigger influence to the overall genre, a good influence. As many people listen to our music, we should continue producing good music as well as other stuff."
Seungri: "For me, rather than trying to do something new for the next ten years, I think protecting what we have achieved so far and continuing like this is important. It's easier to go down than going up. I think we should keep things we have achieved so far and I hope they will be consistent for another ten years."
Airtimes (Hong Kong, Beijing, Taipei, Singapore, Kuala Lumpur and Manila):
Thursday September 8 at 1630 HKT
Friday September 9 at 1130 HKT
Saturday September 10 at 1000, 1230 and 2330 HKT
Saturday September 17 at 1930 HKT
Sunday September 18 at 1230 HKT
Monday September 19 at 1100 HKT
Related Links:
http://edition.cnn.com/specials/asia/talk-asia
https://www.facebook.com/cnntalkasia
– Ends-
About CNN International
CNN's portfolio of news and information services is available in seven different languages across all major TV, digital and mobile platforms reaching more than 425 million households around the globe, including over 77 million across the Asia Pacific region. CNN International is the number one international TV news channel according to all major media surveys across Europe, the Middle East and Africa, the Asia Pacific region and Latin America and has a US presence which includes CNNgo. CNN Digital is a leading network for online news, mobile news and social media. CNN is at the forefront of digital innovation and continues to invest heavily in expanding its digital global footprint, with a suite of award-winning digital properties and a range of strategic content partnerships, commercialized through a strong data-driven understanding of audience behaviors. Over the years CNN has won multiple prestigious awards around the world for its journalism. CNN has 41 editorial offices and more than 1,100 affiliates worldwide through CNN Newsource. CNN International is part of Turner, a Time Warner company.
Get the latest social media updates from CNN at:
facebook.com/cnninternational
@cnnasiapr