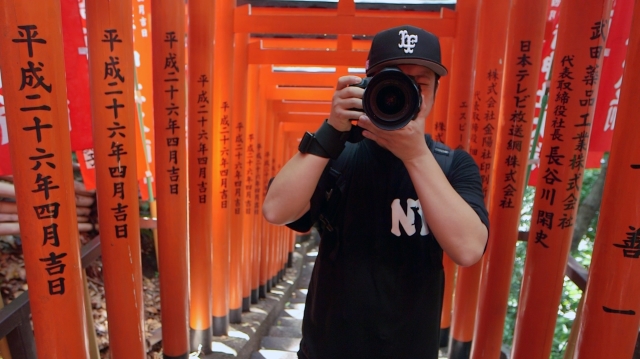 CNN International Shows
August 5th, 2016
DISCOVER JAPAN ON CNN IN AUGUST
Japan is an island nation with distinctive architecture, historical temples and shrines, and glitzy shopping hubs. The country has long been famed for its cuisine, unique pop culture, and cutting edge technology. While the news has been filled with stories about its economic struggle after the 2011 Tōhoku earthquake, the nation still remains the world's third largest economy. And after the Olympic Games wraps up in Rio de Janeiro this year, all eyes around the world will turn to Japan against the backdrop of preparing the 2020 Summer Olympics.
This month, CNN focuses on Japan and gets unique perspectives from six bloggers, four Instagrammers, a Michelin-starred chef, a charismatic mayor, and an 88-year-old scientist-turned-inventor. CNN takes a special look at the country's rich culture spanning travel, food, fashion, music, technology and urban invention.
*All airtimes listed below are in Hong Kong time (UTC/GMT+8 hours)
Bloggers and Instagrammers' Tokyo journeys  
Tokyo POV
Tokyo is a city of contrasts. It is both old and new, fast and slow. While you may be familiar with the main sights, there is a newly discovered side of the city. In the CNN 30-minute special program, 'Tokyo POV', six leading bloggers from very diverse backgrounds share their favourite spots and an insiders' perspective to Tokyo.
Six leading bloggers featured in the program are:
Airtimes:
Friday August 12 at 1730 HKT
Saturday August 13 at 2130 HKT
Monday August 15 at 1130 HKT
Wednesday August 17 at 0030 and 1630 HKT
http://edition.cnn.com/specials/travel/tokyo-pov
#MyTokyo
From food to architecture, scenery to special landmarks, four prominent Tokyo-based Instagrammers introduce their city to CNN's audiences. Their unique perspectives bring Tokyo's landmarks and popular districts to life in a whole new way.
Featured Instagrammers:
Airtimes: #MyTokyo airs within 'News Stream' at 8pm HKT on August 25, September 1, September 8 and September 15.
Michelin-starred chef's culinary journey
Culinary Journeys
CNN goes on a culinary journey with two Michelin-starred chef, Shinobu Namae to discover how Japan's rich history of hospitality is simply a way of life. One of the traditions at the heart of Japanese hospitality is the tea ceremony. Having introduced this service at his own Tokyo restaurant, L'Effervescence, he meets with a tea master to study the significance of this ritual.
He then travels to Japan's original capital Kyoto, which still remains a cultural cornerstone of the country. At tea producer Marukyu Koyamaen, Namae gets a taste of the highest quality green powdered tea known as matcha and learns the delicate balance it takes to grow the best tea. As tea is an integral part of the traditional multicourse meal known as kaiseki, Namae visits two famed chefs to discover how tapping into seasonality is part of creating unforgettable culinary experiences for their guests.
For his final celebration, Namae heads back toward Tokyo to Terada Honke, a sake brewery that has been in operation for more than 300 years. As he picnics amongst the rice fields with a few friends, he honors the ingredients and craftsmanship of Japan with a childhood favorite food and of course, a final cup of matcha tea.
Airtimes:
Thursday August 18 at 1630 HKT
Friday August 19 at 1130 HKT
Saturday August 20 at 1230 and 2330 HKT
Saturday August 27 at 1930 HKT
Sunday August 28 at 1230 HKT
Monday August 29 at 1100 HKT
http://edition.cnn.com/specials/travel/journeys
Twitter& Instagram: #CNNFood
Japan's innovation and invention
Innovative Cities: Fukuoka
In the 30-minute program, 'Innovative Cities', CNN travels to five cities in Asia to explore their different approaches to innovation. In one of the five cities, CNN looks at how Japanese city of Fukuoka is creating an identity.
Fukuoka may not have the vibrancy of Tokyo, or the history of Kyoto, but this city on Japan's southern island of Kyushu has its own unique asset: it is one of the youngest and fastest growing cities in the country. Soichiro Takashima, Fukuoka's charismatic mayor, has a vision to make his city the start-up capital of Japan. CNN explores the ways Fukuoka is giving a boost to budding entrepreneurs.
Airtimes:
Friday August 19 at 1730 HKT
Saturday August 20 at 2130 HKT
Monday August 22 at 1130 HKT
Wednesday August 24 at 0030 and 1630 HKT
http://money.cnn.com/technology/innovative-cities/
Make Create Innovate
CNN's 15-min science and technology series heads to Japan to meet with possibly one of the greatest inventors: Yoshiro Nakamatsu, also known as Dr. NakaMats. The 88-year old scientist-turned-inventor has more than 3,000 patents to his name, including the floppy disk and the karaoke machine. After being diagnosed with cancer, he is now trying to invent his way out of his illness. CNN discovers the stories behind his inventions and technological breakthroughs that continue to shape our world.
Airtimes:
Saturday August 20 at 2045 HKT
Sunday August 21 at 0815 and 1345 HKT
Monday August 22 at 0245 and 0915 HKT
Wednesday August 24 at 1745 HKT
Thursday August 25 at 0045 HKT
Saturday August 27 at 1345 HKT
Sunday August 28 at 0245 and 2045 HKT
Monday August 29 at 0915 HKT
http://edition.cnn.com/specials/tech/make-create-innovate
– Ends-
About CNN International
CNN's portfolio of news and information services is available in seven different languages across all major TV, digital and mobile platforms reaching more than 425 million households around the globe, including over 77 million across the Asia Pacific region. CNN International is the number one international TV news channel according to all major media surveys across Europe, the Middle East and Africa, the Asia Pacific region and Latin America and has a US presence which includes CNNgo. CNN Digital is a leading network for online news, mobile news and social media. CNN is at the forefront of digital innovation and continues to invest heavily in expanding its digital global footprint, with a suite of award-winning digital properties and a range of strategic content partnerships, commercialized through a strong data-driven understanding of audience behaviors. Over the years CNN has won multiple prestigious awards around the world for its journalism. CNN has 41 editorial offices and more than 1,100 affiliates worldwide through CNN Newsource. CNN International is part of Turner, a Time Warner company. Get the latest social media updates from CNN at: facebook.com/cnninternational @cnnasiapr
Press Contacts:
Ingrid Hsu  +852 3128 3568 Ingrid.Hsu@cnn.com
Julia Zweigle +852 3128 3538 Julia.Zweigle@cnn.com