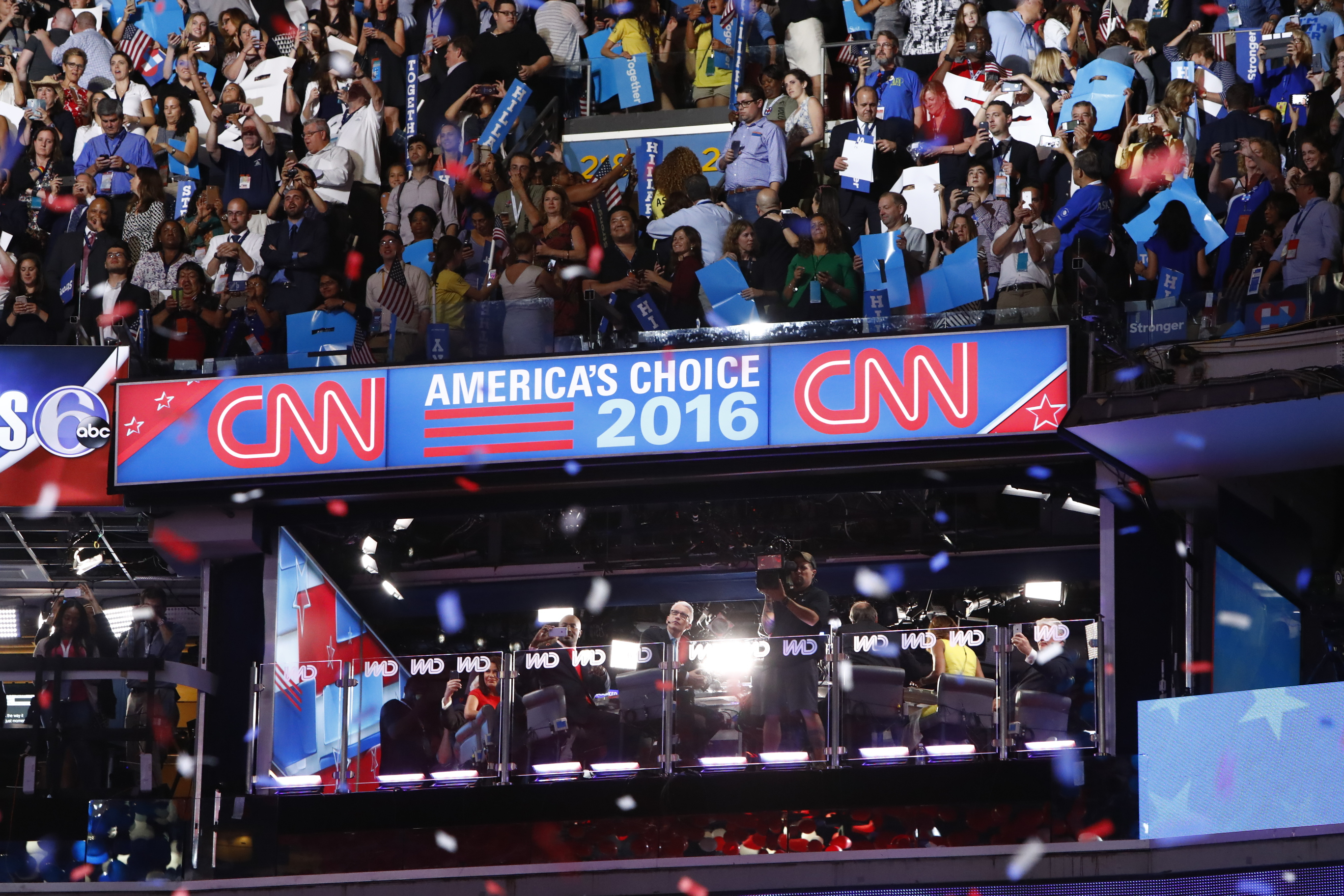 Ratings
July 29th, 2016
CNN Dominates All Nights of DNC
Beats All Broadcast and Cable Networks by Wide Margins on Final Night
CNN Delivered the Highest DNC Day Performance on Record in Cable News among Total Viewers
17 Million Visit CNN Digital; Outperforms 2012 & 2008 DNC Conventions by Double-Digits
Day Four DNC:  Broadcast and Cable News Coverage/ Secretary Clinton
CNN dominated the big three broadcast networks and cable news channels each night of the Democratic National Convention (DNC).
On the fourth and final night, CNN outperformed all the cable and broadcast news channels once again and by wide margins in both total viewers and adults 25-54.
CNN had a big advantage over its competitors in total viewers:  +42% over MSNBC,  +66% over NBC, +95% over ABC, +105% over CBS and +148% over Fox News.  The advantages over the broadcast and cable news networks were even more dramatic among adults 25-54.
CNN delivered 7.505m total viewers and 2.812m among 25-54
MSNBC delivered 5.272m total viewers and 1.527m among 25-54
NBC News delivered 4.516m total viewers and 1.698m among 25-54
ABC News delivered 3.846m total viewers and 1.373m among 25-54
CBS News delivered 3.653m total viewers and 1.293m among 25-54
FNC delivered 3.031m total viewers and 785k among 25-54
CNN, FXNC, MSNBC: 10-11:45pm; ABC: 10-11:39pm, CBS: 10-11:38pm, NBC: 10-11:40pm
Day Four DNC:  Cable News Primetime 8-11pm
In Prime 8p-11p, CNN delivered the highest DNC day performance on record (back to 1996) in cable news among total viewers.
Last night during primetime (8-11pm), CNN ranked #1 in cable news with 5.693 million total viewers, +34% more than second place MSNBC's 4.239 million and +82% more than Fox News'  3.134 million.   Among adults 25-54, CNN also ranked #1 with 1.955 million, MSNBC followed with 1.157 million and Fox News' trailed far behind with 656k.  Among younger viewers 18-34, CNN (658k) had more viewers than MSNBC (312k) and Fox News (167k) combined.
CNN Digital
CNN Digital welcomed 17 million unique visitors and 11 million video starts across desktop and mobile devices on the final day of the DNC Convention in Philadelphia, outpacing the 2008 and 2012 DNC conventions by double and triple digits. CNN Politics brought in 7 million unique visitors on the final day of the DNC, ahead of the final day of the 2016 RNC Convention, and exceeding the last day of the 2012 DNC by triple digits.
On CNNgo, the 2016 DNC outperformed the 2016 RNC, averaging a double-digit increase across all live stream metrics on all platforms. The final day of the DNC Convention also ranked in the top five of Roku and Fire TV all-time live starts.
Press Contact:  Barbara Levin, CNN Communications. Barbara.levin@turner.com
###