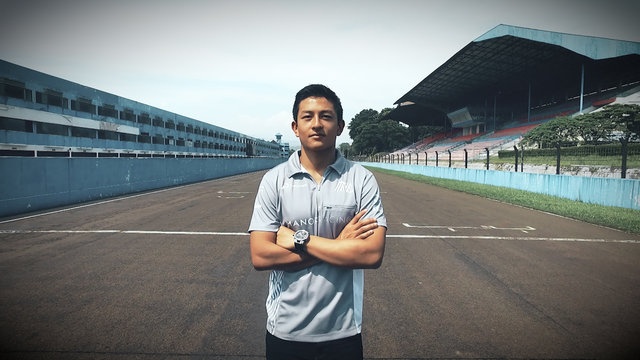 CNN International Shows
July 27th, 2016
INDONESIA'S YOUNG INNOVATORS ON CNN'S TALK ASIA
Next month, CNN's 'Talk Asia' has got its eyes on Indonesia – the world's fourth largest country. CNN takes a look at some of the country's biggest game changers and the personalities that are making waves in the archipelago both domestically and internationally.
In this episode, CNN's Manisha Tank sits down with three key Indonesian figures who are young, innovative and represent a rapidly changing and fast developing Indonesia.
'Talk Asia' catches up with Indonesia's first Formula One racer Rio Haryanto (Pictured), as he opens up about making history and representing Indonesia on the Grand Prix stage. Manisha Tank then meets one of the founders of lifestyle concept group Potato Head, Ronald Akili, who is representing Indonesia internationally. At his notable Potato Head Beach Club in Bali, Ronald Akili opens up about his success in starting one of the country's most successful business brands. Finally, CNN gets access to one of the hottest start-ups in Indonesia, Go Jek, to find out how Nadiem Makarim is hoping his app will help solve an age old problem: traffic and congestion.
Highlights of the interviews:
Formula One racer Rio Haryanto
Rio Haryanto: "I think it's going to take for sure few years to get there, especially in Formula 1 you know teams and cars make a huge difference and I am working my way up. At the moment I am in a smaller team which I learn a lot as well. I hope that when I get to go to a better team in a few years and have the chance to fight for the world championship."
Rio Haryanto: "I think the Indonesian youth can achieve a lot. Maybe they have a fear whether they can achieve something like me or not. But I see that we are the same fellow countrymen and they see I managed to get to Formula One. I think this would give a boost for the other youth to achieve their goals."
Rio Haryanto: "I think my advice would be you have to have a dream at first. I think all the things, all the most successful people success because they have a dream and if you do believe in your dream and if you do work hard for it, you know hopefully if everything goes well one day you will achieve it."
Potato Head founder Ronald Akili
Ronald Akili: "It's been a big mission of us especially lately, how can we export modern unique Indonesian approach globally instead of just simply importing international brands into Indonesia and we try to do that from various disciplines from architecture, music, fashion, culinary, bar."
Ronald Akili: "Most of the mission that we are doing, in bringing the Indonesia forward, it's simply not for the sake of the branding of the company, it's really for the sake of, I think we have something very beautiful here and I want to showcase that to the world."
Ronald Akili: "I believe through small movement, and you can see it apparent in my generation, more and more made in Indonesia is such a desirable product. and made in Indonesia is such a desirable movement from again, making films, music, fashion, art and that attracts, starting to attract different types of tourism in Bali particularly."
Go-Jek founder Nadiem Makarim
Nadiem Makarim: "I believe that Indonesia is leading the pack in the mobile revolution, and definitely in South East Asia. I would argue maybe even more than India per capital. Social media has imprinted the need for a smart phone to even be relevant socially in Indonesia, and I think that's what really kick started this whole app revolution. I believe in 5 to 7 years almost everybody will have a smartphone, and will be engaging all kinds of transactional activities on their smartphone."
Nadiem Makarim: "I have great admiration for Uber and what they've done in the whole world and kind of open up the concept of Appling transportation. In many ways you know we learn a lot from them and Uber coming into our space just validates how important our space is as a market. In many ways competing against the biggest, the best technology player in this space, it's something, it's a bit scary sometimes but I feel like it's an honor to be able to compete against the best and learn through that competition. And basically push yourself to create a product that could potentially be better than that you know."
Airtimes: Hong Kong, Beijing, Kuala Lumpur, Manila, Singapore and Taipei
Thursday August 4 at 1630 HKT
Friday August 5 at 1130 HKT
Saturday August 6 at 1000, 1230 and 2330 HKT
Sunday August 13 at 1930 HKT
Sunday August 14 at 1230 HKT
Monday August 15 at 1100 HKT
Related Links:
http://edition.cnn.com/specials/asia/talk-asia
– Ends-
About CNN International
CNN's portfolio of news and information services is available in seven different languages across all major TV, digital and mobile platforms reaching more than 425 million households around the globe, including over 77 million across the Asia Pacific region. CNN International is the number one international TV news channel according to all major media surveys across Europe, the Middle East and Africa, the Asia Pacific region and Latin America and has a US presence which includes CNNgo. CNN Digital is a leading network for online news, mobile news and social media. CNN is at the forefront of digital innovation and continues to invest heavily in expanding its digital global footprint, with a suite of award-winning digital properties and a range of strategic content partnerships, commercialized through a strong data-driven understanding of audience behaviors. Over the years CNN has won multiple prestigious awards around the world for its journalism. CNN has 41 editorial offices and more than 1,100 affiliates worldwide through CNN Newsource. CNN International is part of Turner, a Time Warner company.
Press Contacts:
Ingrid Hsu +852 3128 3568 ingrid.hsu@cnn.com