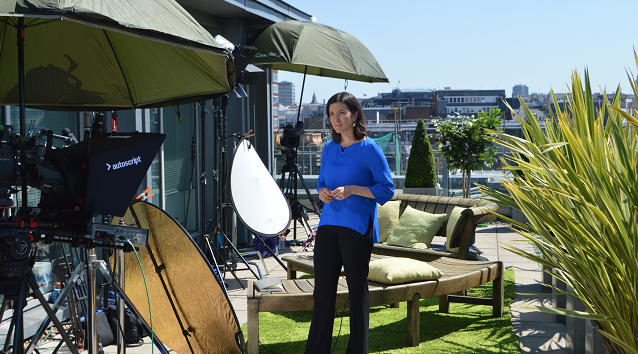 CNN Commercial
July 20th, 2016
CNN International puts the green agenda centre stage through new series, 'Eco Solutions'
Saturday 23 July at 1330 BST / 1430 CET
Air quality, polluted oceans and energy production: these are just some of the environmental issues blighting our planet today. Who has the answers? What's been proven to work?
Each month CNN's 'Eco Solutions' takes an issue from the green agenda and looks at what people are doing to address the issue.
Hosted by CNN anchor Isa Soares, 'Eco Solutions' takes viewers to meet the people across the globe whose innovations are helping to combat our rapidly growing effects on the environment.
From the cities improving the air they breathe to the countries running on renewables, the programme talks to people the world over who are taking steps to solve and improve our environmental challenges.
Each month, 'Eco Solutions' also poses an 'econundrum'; those little questions we have all asked ourselves about which practices are most environmentally sound.
"CNN's 'Eco Solutions' reaffirms our on-going commitment to shining a light on the environmental issues impacting the planet," said Ellana Lee, Senior Vice President and Managing Editor, CNN International. "We will not only be providing our global audiences a unique insight into environmental challenges, but also highlight the innovative solutions being developed by communities and advocates working to preserve the ecology."
In July, 'Eco Solutions' examines innovations in combatting air pollution in Tezpur, a small city in the Indian state of Assam. Air pollution has been called a silent killer, with the World Health Organisation estimating that it is responsible for up to 7 million premature deaths every year. According to recent findings presented at the American Association for the Advancement of Science, conditions caused by air pollution killed 1.4 million people in India in 2013. As the shift of people from rural to urban areas inevitably continues, keeping our cities' air clean is one of our biggest challenges. India has some of the most polluted cities in the world, yet in the tea region of Assam measured improvement is taking place.
'Eco Solutions' visits the small city of Tezpur, which has moved heavy vehicles out of the centre, and replaced local coal-powered tea plantation industries with LPG. 'Eco Solutions' also looks at small projects underway in the large city of London to see how seemingly minor measures are also having some success in reducing harmful pollutants.
'Eco Solutions' airs at the following times on CNN International:
Saturday 23 July at 1330 BST / 1430 CET
Sunday 24 July at 0630 BST / 0730 CET and 1930 BST / 2030 CET
Wednesday 27 July at 1030 BST / 1130 CET and 1730 BST / 1830 CET
Saturday 30 July at 0630 BST / 0730 CET and 1930 BST / 2030 CET
Sunday 31 July at 1330 BST / 1430 CET
For more information, please contact:
Joel Ivory-Harte
PR Manager
CNN Europe, Middle East & Africa
Tel: + 44 20 7693 0967
About CNN International
CNN's portfolio of news and information services is available in seven different languages across all major TV, digital and mobile platforms reaching more than 425 million households around the globe, including over 77 million across the Asia Pacific region. CNN International is the number one international TV news channel according to all major media surveys across Europe, the Middle East and Africa, the Asia Pacific region and Latin America and has a US presence which includes CNNgo. CNN Digital is a leading network for online news, mobile news and social media. CNN is at the forefront of digital innovation and continues to invest heavily in expanding its digital global footprint, with a suite of award-winning digital properties and a range of strategic content partnerships, commercialized through a strong data-driven understanding of audience behaviors. Over the years CNN has won multiple prestigious awards around the world for its journalism. CNN has 41 editorial offices and more than 1,100 affiliates worldwide through CNN Newsource. CNN International is part of Turner, a Time Warner company.