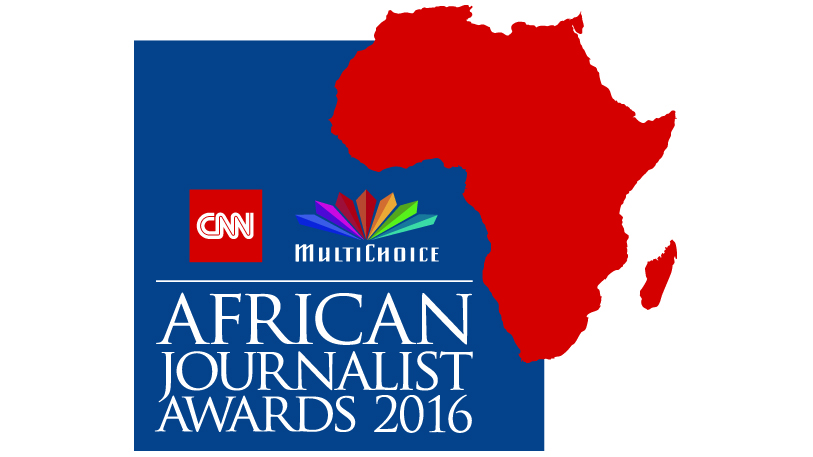 CNNI Press Releases
July 18th, 2016
CNN MULTICHOICE AFRICAN JOURNALIST 2016 FINALISTS ANNOUNCED
Finalists in the prestigious CNN MultiChoice African Journalist 2016 Competition were announced today by Ferial Haffajee, Chair of the independent judging panel.
This year, the competition received 1637 entries – a record number – from 38 countries across the continent, including French and Portuguese-speaking Africa.
There are 37 finalists from 14 countries:
Adedayo Eriye Oketola, Saturday Punch, Nigeria
Ancillar Mangena, Forbes Africa, South Africa
Asha Ahmed Mwilu & Rashid Idi, Kenya Television Network, Kenya
Ati Metwaly, Al Ahram Weekly, Egypt
Bento Venâncio, Jornal Domingo, Mozambique
Bidossèssi Appolinaire Agoïnon, Office de Radiodiffusion et Télévision du Bénin, Benin
Cheboite Kigen, Daily Nation Newspaper, Kenya
Chika Oduah, Nigeria, Freelancer at African Media Initiative, Kenya
Cleófas Viagem, STV, Mozambique
Conan Daniel Businge & Gerald Tenywa, New Vision, Uganda
Coulibaly Zoumana, Le Patriote, Ivory Coast
Diana Neille, Richard Poplak, Shaun Swingler and Sumeya Gasa, Daily Maverick Chronicle, South Africa
Dominic Omondi, The Standard, Kenya
Eromo Egbejule, Freelancer at Ventures Africa, Nigeria
Faten Hayed, El Watan, Algeria
Fidelto Emidio Bata, STV, Mozambique
Folashade Adebayo, The Punch, Nigeria
Garreth van Niekerk, City Press, South Africa
Isaac Otidi Amuke, Commonwealth Writers, Kenya
James Oatway, The Sunday Times, South Africa
Jay Caboz, Forbes Africa, South Africa
Jean-Luc Emile, Teleplus, Mauritius
John Grobler, Namibia, and Fiona Macleod, Oxpeckers Investigative Environmental Journalism, South Africa
Lawrence Seretse, The Botswana Gazette, Botswana
Mia Malan, Mail & Guardian, South Africa
Teresa Fuquiadi, Jornal Nova Gazeta, Angola
Veronica Narkwor Kwabla, Tv3 Network, Ghana
Veronica Onuchi, TVC News Africa, Nigeria
Yemisi Akinbobola, Ogechi Ekeanyanwu & Paul Bradshaw, IQ4News for Premium Times, Nigeria
The independent judging panel, chaired by Ferial Haffajee, Chair of the Judging Panel & Editor-in-Chief, City Press, South Africa, includes: Debo Adesina, Editor-in-Chief, Guardian Newspapers, Nigeria; Jean-Paul Gérouard, Former Editor-in-Chief, France Télévisions; Eleni Giokos, Africa Correspondent, CNN; Fernando Gonçalves, Editor, Savana, Mozambique; Anton Harber, Editor-in-Chief, eNCA, South Africa; Joel Kibazo, Media & Public Affairs Consultant; Amadou Mahtar Ba, Co-Founder and Executive Chairman, AllAfrica Global Media; Wanja Njuguna, Senior Lecturer, Namibia University of Science & Technology & CNN Journalist of the year 2000; David Ohito, Digital Editor, The Standard Media Group, Kenya and José Sebastião Paulo, Professor of Journalism, University Agostinho Neto, Angola.
The competition is once again supported by the following sponsors, who continue to lend their valuable support to the awards: African Development Bank, Dow, Ecobank, GE and IPP Media.
The finalists will enjoy an all-expense paid four day programme of workshops, media forums and networking in Johannesburg, South Africa, culminating in a Gala Award Ceremony in October 2016.
Tony Maddox, Executive Vice-President and Managing Director of CNN International said: "This year has seen a record number of entries for the CNN MultiChoice African Journalist Awards, from a diverse array of countries across the continent. The passion which African journalists display for telling compelling and top class stories knows no bounds. Once more, CNN proudly continues its commitment to encouraging inspired journalistic excellence with these awards."
Greg Beitchman, Vice President, Content Sales and Partnerships, CNN International: "The African Journalist Awards continues to maintain its place as the most prestigious Pan African journalist competition.  CNN encourages, promotes and recognises excellence in journalism across all platforms, so we are particularly pleased to be able to support journalists who represent the continent's thriving news industry in all its forms. With our MultiChoice partners, we look forward to yet another thrilling Awards ceremony celebrating the very best journalism Africa has to offer."
Mark Rayner, CEO MultiChoice South Africa said: "We're excited to host the CNN MultiChoice African Journalist of the Year Awards in South Africa this year and looking forward to see all the good work done by our journalists celebrated and recognised through these awards.  Congratulations to all the finalists."
Tim Jacobs, CEO MultiChoice Africa, said:  It is evident from this year's entries that Africa has a vibrant media landscape which continues to develop in leaps and bounds. The finalists are to be applauded for their courage in covering some of the stories, many of which were in difficult circumstances. We are committed to increasing excellence in journalism and this initiative is close to our hearts, as it has helped unearth some of Africa's greatest story tellers. Congratulations to all the finalists, we look forward to celebrating you at the awards."
Note to Editors: Competition Criteria
The CNN MultiChoice African Journalist 2016 competition is open to African professional journalists, whether directly employed or freelancers, working in the continent of Africa who have produced a story which has been made available as a printed publication or broadcast through an electronic medium (television; radio or digital platform) whose primary audience are based in Africa.
Entries were published or broadcast in 2015 for the following awards:
Culture Award; Ecobank Economics & Business Award; Mohamed Amin Photographic Award; Environment Award; Press Freedom Award; The Maggie Eales Young Journalist Award; Health & Medical Award; Sport Reporting Award; News Impact Award; Francophone general news awards; Portuguese language general news awards; GE Energy & Infrastructure Award; Features Award; and Dow Technology & Innovation Award.
Keep up-to-date with the awards at: www.africa.cnnjournalistaward.com and via social media on:
CNN MultiChoice African Journalist of the Year Awards
Issued: 18 July 2016
For further information please contact:
CNN International: Joel Ivory-Harte + 44 20 7693 0967 joel.ivory-harte@turner.com or Dan Faulks + 44 20 7693 1362 / + 44 7554 439100 dan.faulks@turner.com
MultiChoice Africa: Nonye Mpho Omotola Nonye.Omotola@multichoice.co.za
+ 27 11 289 3524 / + 27 605 598024
MultiChoice South Africa: Marietjie Groenewald + 27 11 289 3067 / + 27 79 501 1758 Marietjie.Groenewald@multichoice.co.za