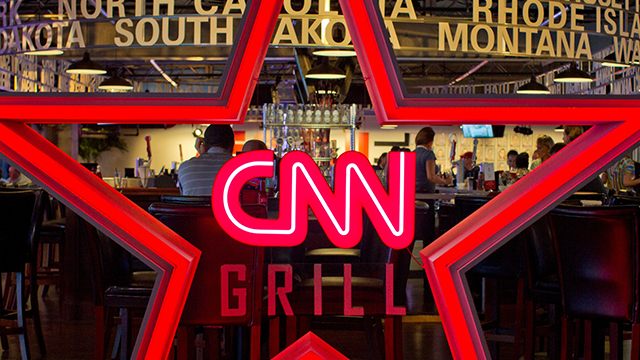 CNN Communications Press Releases
July 11th, 2016
CNN GRILL COMING TO CLEVELAND & PHILLY
Network to Transform Harry Buffalo (RNC) and Victory Beer Hall (DNC)
Into Event & Broadcast Hubs
It's back and better than ever!  For four nights only the CNN Grill will open its doors in Cleveland, OH and Philadelphia, PA for the Republican and Democratic National Conventions.  In cooperation with an all-star lineup of vendors and partners, CNN will offer select convention-goers access to the most tricked out hospitality venues and live broadcast studios in each city.  The ultimate convention destination, the CNN Grill is where lawmakers, celebrities, reporters and politicos meet to make news and make merry. 
This year, the CNN Grill has chosen STARR Catering Group to create custom menus for both cities, giving guests a truly unique and unparalleled experience. The CNN Grill will also give visitors a special taste of Cleveland and Philadelphia and shine a spotlight on several top-notch local businesses by incorporating their products into the Grill's menu.
The CNN Grill at the Republican National Convention
Situated just steps from the Quicken Loans Arena in Cleveland, the CNN Grill will be located at the site of Harry Buffalo.  With the help of experiential marketing & PR agency CIVIC, CNN completely reimagined the restaurant – a two-story warehouse space located on East 4th Street. The Grill will serve as home base for the network with a newsroom and live broadcasts daily, a fully operational restaurant and multiple bars. The Grill will play host to a variety of special events throughout the day and will open to invited guests nightly at 5pm from Monday, July 18th – Thursday, July 21st.  
To highlight local businesses on the Grill's menu in Cleveland, STARR has tapped a variety of hometown favorites:
Pierogies of Cleveland, a family-operated business that first opened in 2009 that offers handmade pierogies from locally-sourced ingredients, will provide pierogis for the CNN Grill lunch and dinner menus. 
Mitchell's Ice Cream, founded in 1999 by Mike and Pete Mitchell – brothers and long-time Cleveland natives will supply ice cream for the CNN Grill ice cream bar.
Humble Pie Baking Company, started by Diane Sikorski from her home in 2008 and known for its small-batch jams, jellies and preserves, will be featured on the Grill's breakfast menu.
Rising Star Coffee Roaster's philosophy about coffee is simple: "Buy dang good coffee and pay the farmer and the producer enough money to live and maybe even enjoy life. That's it."  Their coffee will be featured throughout the day at the CNN Grill in Cleveland.  
The CNN Grill at the Democratic National Convention
A prime location in Philadelphia, the CNN Grill will take up residence at Victory Beer Hall at XFINITY Live!.  CNN worked with CIVIC to transform the sprawling space into an unrivaled convention venue for food, fun, festivities, and of course – a broadcast studio for live daily programming. The site boasts soaring ceilings, several bars and a 2,000 square-foot patio complete with a fire pit and a unique panoramic view of the Philadelphia skyline. A variety of private events will be hosted throughout the day and the Grill will open to invited guests daily at 5pm from Monday July 25th — Thursday July 28th.
To introduce visitors to some local flavor, STARR Catering Group has identified several businesses whose products will be featured on the CNN Grill menu:
Federal Donuts first opened in 2011, but has since expanded to five locations. Vanilla spice donuts from this iconic Philadelphia business will be featured on the CNN Grill's breakfast menu in Philadelphia.
Little Baby's Ice Cream began serving delicious ice cream to the people of Philadelphia from their first tricycle cart (dubbed "Flavor Blaster One") in the summer of 2012. They will be the featured supplier for the CNN Grill's ice cream cart in Philly. 
La Colombe was founded by Todd Carmichael and JP Iberti in Philadelphia on a simple but profound premise: America Deserves Better Coffee. Their coffee will be featured on the CNN Grill's menu throughout the day in Philadelphia. 
The CNN Grill first opened its doors across from Madison Square Garden in New York City as the 'CNN Diner' in 2004 and has since welcomed convention goers in St. Paul, MN and Denver, CO in 2008 and Charlotte, NC and Tampa, FL in 2012. CNN has also taken the Grill to the SXSW festival in Austin, TX.