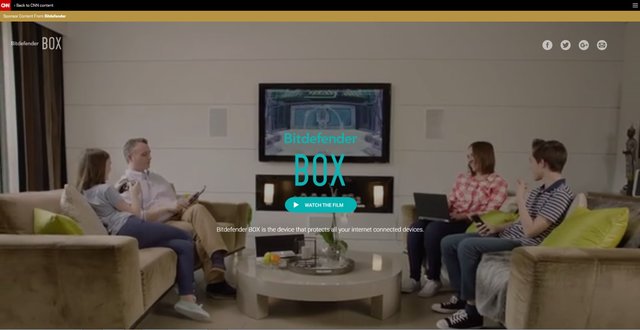 CNN Commercial
July 7th, 2016
Bitdefender turns to CNN for smart home cybersecurity branded content campaign
Bitdefender, a leading internet security technology company protecting 500 million users worldwide, is raising awareness about cybersecurity threats in the Internet of Things space (IoT) through a unique, highly targeted advertising campaign on CNNMoney with a goal to grow sales of its Bitdefender BOX product.
In one of CNN International Commercial (CNNIC)'s largest digital-only projects, Bitdefender is sponsoring a bespoke CNNMoney video series 'Unhackable', integrated with branded content and a range of rich digital ad formats. The Unhackable landing page will feature on CNNMoney throughout 2016.
The branded content and sponsored editorial videos will be optimised through CNN Audience Insight Measurement (AIM) to target tech enthusiasts and IT decision-makers in one of Bitdefender's key markets, the US. Using CNN AIM, Bitdefender will receive a range of analysed data metrics, insight and reporting well beyond the click through rate to show how users interact with the campaign.
A bespoke Bitdefender branded content video produced by CNNIC's creative division CREATE sits alongside the editorial content. Entitled The Bitdefender Smart Home Challenge, the film depicts a family in the US living in a smart home. A team of hackers takes on the challenge to showcase the ease of hacking into smart home devices and disrupting daily living. The video highlights the incredible importance of home security and how Bitdefender BOX can protect all home devices in a light-hearted and entertaining style. Additional commercial content featuring expert interviews from Bitdefender and the full length version of The Bitdefender Smart Home Challenge live on a branded content hub, which launched this week.
"This is a campaign that hits the sweet spot for digital – engaging commercial and sponsored editorial content in a premium environment, all powered by intelligent use of data to target specific segments at scale," said Rob Bradley, Director, Digital Advertising Revenue and Data, CNN International. "The content and advertising mix is designed as an integrated solution to support sales growth of Bitdefender BOX as well as raise awareness of the brand and wider cybersecurity issues. This campaign couldn't be happening at a better time, following the recent international expansion of CNNMoney and the site rising to become a top five financial news destination in the US."
"CNN's cutting edge digital multi-platform ecosystem and creative approach is a perfect fit for us to promote a whole new consumer cybersecurity category of products securing the smart homes which our flagship product Bitdefender BOX pioneered," said Mihaela Paun, VP of Marketing and Sales Bitdefender.
 About CNN International
CNN's portfolio of news and information services is available in seven different languages across all major TV, digital and mobile platforms reaching more than 425 million households around the globe. CNN International is the number one international TV news channel according to all major media surveys across Europe, the Middle East and Africa, the Asia Pacific region and Latin America and has a US presence which includes CNNgo. CNN Digital is a leading network for online news, mobile news and social media. CNN is at the forefront of digital innovation and continues to invest heavily in expanding its digital global footprint, with a suite of award-winning digital properties and a range of strategic content partnerships, commercialised through a strong data-driven understanding of audience behaviours. Over the years CNN has won multiple prestigious awards around the world for its journalism. CNN has 41 editorial offices and more than 1,100 affiliates worldwide through CNN Newsource. CNN International is part of Turner, a Time Warner company.
About Bitdefender 
Bitdefender is a global security technology company that delivers solutions in more than 100 countries through a network of value-added alliances, distributors and reseller partners. Since 2001, Bitdefender has consistently produced award-winning business and consumer security technology, and is a leading security provider in virtualization and cloud technologies. Through R&D, alliances and partnership teams, Bitdefender has elevated the highest standards of security excellence in both its number-one-ranked technology and its strategic alliances with the world's leading virtualization and cloud technology providers. More information is available at http://www.bitdefender.com/