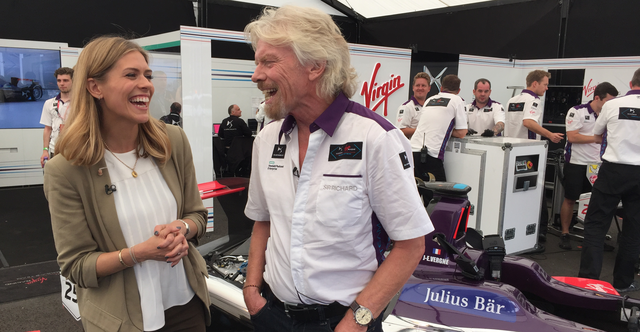 Living Golf
June 21st, 2016
PREVIEW: CNN INTERNATIONAL PROGRAMME INFORMATION WEEKS 27 & 28
Supercharged
Sunday 10 July at 1830 BST / 1930 CET
Monday 11 July at 0100 BST / 0200 CET; 0430 BST / 0530 CET and 1000 BST / 1100 CET
Tuesday 12 July at 1030 BST / 1130 CET
Wednesday 13 July at 0430 BST / 0530 CET
Duration: 30 Minutes
As the Formula E season concludes in July, 'Supercharged', hosted by Nicki Shields (pictured, left), is at the heart of the action as the all-electric motorsport championship is decided by a two-race weekend in London's Battersea Park.
With just one point between the top two contenders for the second season trophy, this episode of 'Supercharged' features both drivers as they prepare for the ultimate showdown.
Brazilian driver Lucas Di Grassi (pictured, right) demonstrates the Formula E Simulator – an important exercise in getting to know the Battersea track before the weekend's racing, as drivers are unable to practice in advance of the race.
'Supercharged' also hears from Sebastien Buemi, who is just one point behind in the driver standings. The Swiss driver explains the art of overtaking in Formula E to the programme, with Buemi seeking to overtake his rivals on the track in Battersea and catch Di Grassi on the driver leaderboard.
Over the course of a season, Formula E transports 200 tonnes over 51000 km – and the sport does this while trying to maintain its green credentials. 'Supercharged' examines the logistics of the sport speaking to Formula E's CEO Alejandro Agag, plus logistics manager Pier-Luigi Ferrari, who explains the size and scale of the operation.
Shields is chauffeured to the London races in full electric style: Mahindra drivers Nick Heidfeld and Bruno Senna pick her up in an E2O car and drive her across London to make it to Battersea Park.
At the circuit, 'Supercharged' hears from Sir Richard Branson, who owns the DS Virgin team. Branson tells the programme why electric cars are part of the future of our cities, and why he is such an advocate of Formula E.
One of Branson's drivers, British-born Sam Bird, takes Shields on a track walk of the Battersea circuit, to explain his strategy for the race. Fighting to hold 3rd place, Bird has everything to drive for on home soil.
Living Golf
Thursday 7 July at 1030 BST / 1130 CET and 1730 BST / 1830 CET
Saturday 9 July at 0730 BST / 0830 CET and 2230 BST / 2330 CET
Sunday 10 July at 1730 BST / 1830 CET
Saturday 16 July at 1730 BST / 1830 CET
Sunday 17 July at 0730 BST / 0830 CET and 2230 BST / 2330 CET
Duration: 30 Minutes
In July, 'Living Golf' reports from the Royal Troon Golf Club in Scotland to preview the third major of the year, The Open Championship.
Host Shane O'Donoghue (pictured) studies the course and interviews the Club Captain and Head Professional to get insights of how to play one of the toughest tracks of the Open Championship.
O'Donoghue takes on the infamous 123-yard par three 8th, known as the 'Postage Stamp'.  The hole, which is the shortest on the Open rota of courses, has seen everything, from hole-in-ones to an eight over-par 15.
The R&A, who organises The Open may be steeped in history but is making sure to move with the times. New multi-million pound TV deals and an addition to the number of courses on its Open rota are just some of the significant changes that have gone through recently.
'Living Golf' reports from St Andrews to meet the man who is in charge of this new look R&A, Martin Slumbers. In a wide-ranging interview, O'Donoghue talks to Slumbers about the 2016 Open, golf's popularity in today's age, club and ball technology and the hot topic at the moment- the admittance of women members into several men-only clubs that form part of The Open Championship.
'Living Golf' also attends the R&A's Amateur Championship in Wales to profile the strength of the game just below the professional ranks. Who will hold their nerve and book a ticket to Troon?
From 1851 to 1854 Prestwick's 'Keeper of the Green, Ball and Club Maker' was Old Tom Morris who designed and built the original 12-hole course. Morris' legacy lives on in many ways, including a film due for release this summer, 'Tommy's Honour' about him and his son, Young Tom Morris. Between them, they won eight Open Championships.
'Living Golf' attends the opening night of the Edinburgh Film Festival where 'Tommy's Honour' premieres, meeting the cast and crew, including director Jason Connery as well as stars Peter Mullan and Sam Neil.
Going Green
Friday 8 July at 1030 BST / 1130 CET and 1630 BST / 1730 CET
Saturday 9 July at 1430 BST / 1530 CET and 2030 BST / 2130 CET
Sunday 10 July at 0130 BST / 0230 CET
Duration: 30 Minutes
In July, CNN International presents a half-hour special exploring the individuals who are passionate about their environmental causes, and their belief that responsibility for the planet begins at home.
Fronted by Nicki Shields, tech presenter and host of CNN International's 'Supercharged', 'Going Green' is hosted from Findhorn, the world-renowned eco community in Scotland.
The town has one of the smallest ecological footprints in the world, around half the UK average. Shields meets residents, and spends a night in the community to see whether living an environmentally sound lifestyle means compromising on home comforts.
Findhorn's community is thriving, but with visitors from all over the world, and a demand for growth, how do sustainable goals balance with economic need?
'Going Green' presents self-authored reports from across the globe, including:
Lauren Singer, from Brooklyn, New York, who can store four years' worth of her rubbish in a jam jar.
Emily Smith (pictured), who gave up using plastic for 40 days, having seen first-hand the damage plastic wreaks on the oceans. Through her work at London Zoo, Smith remains passionate about marine conservation.
Patrik Baboumian, a vegan German-Armenian body builder, who claims to have achieved improved performance ad recovery time since his dietary change.
Fai Hun, a farmer, lecturer and the figurehead behind one of Hong Kong's biggest online green networks, Go Green Hong Kong.
CNN Business Traveller
Thursday 14 July at 0930 BST / 1030 CET
Friday 15 July at 0430 BST / 0530 CET
Saturday 16 July at 0530 BST / 0630 CET and 1630 BST / 1730 CET
Saturday 23 July at 1230 BST / 1330 CET
Saturday 6 August at 1230 BST / 1330 CET
Sunday 7 August at 0530 BST / 0630 CET
Monday 8 August at 0400 BST / 0500 CET
Duration: 30 Minutes
The luggage industry is expected to reach a revenue of $43.4 billion in 2020. In July, 'CNN Business Traveller' profiles the traveller's most loyal companion – their cases and bags.
Host Richard Quest explores how companies are meeting traveller's preferences, plus he reveals the latest trends in the world of luggage.
Reporting from Heathrow Airport, Quest samples the new trend of smart luggage, including Bluesmart. The Bluesmart case is synced to a phone app, which allows it to weigh itself, be tracked and set off an alarm. To learn more about the future of smart luggage industry, 'CNN Business Traveller' meets the CEO of Samsonite, Ramesh Tainwala and Travelpro CEO, Blake Lipham.
With missing luggage costing the industry $2.3 billion in 2015 alone, 'CNN Business Traveller' explores how Heathrow is investing in preventing such losses. The airport's new baggage system at Terminal 3 is considered to have one of the most modern in the world, and Quest gets his hands dirty by taking part in check-in at Virgin Atlantic.
Quest meets those responsible for transporting passenger's cases, and learns what happens to those that get lost along the way, before sampling some of the latest tricks to avoid excessive baggage fees in the form of wearable luggage.
From the airport to the hotel room, 'CNN Business Traveller' travels to London's Savoy Hotel, where Quest shadows the concierge team to learn how the hotel gets the business traveller's luggage to their final destination.
The Circuit
Friday 15 July at 1630 BST / 1730 CET and 2330 BST / 0030 CET
Saturday 16 July at 2030 BST / 2130 CET
Sunday 17 July 0130 BST / 0230 CET
Duration: 30 Minutes
July's edition of 'The Circuit' is a celebration of Formula One's European legacy as the summer months signal a return to the sport's traditional heartland in Europe.
Host Amanda Davies interviews McLaren driver Jenson Button, who reflects on the importance of his home race, the British Grand Prix at Silverstone.
'The Circuit' also gets rare access to some of the state-of-the-art technology in Formula One. The programme experiences Red Bull's simulator in Milton Keynes, and Force India's Sergio Perez (pictured) gives viewers a guided tour around the intricate design of his F1 car.