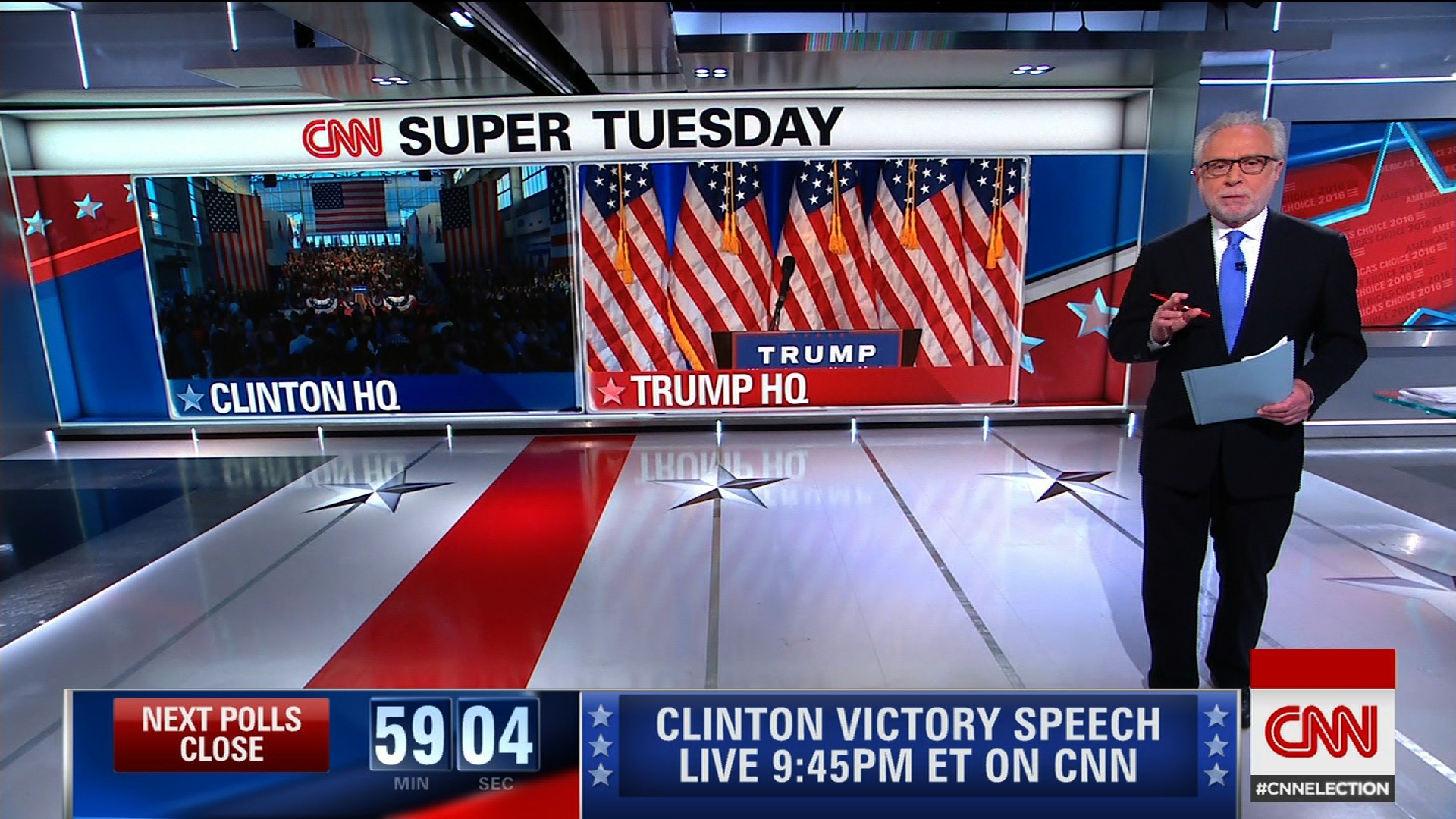 2016 Election
June 8th, 2016
CNN TOPS FOX NEWS AND MSNBC BY WIDE MARGINS DURING LAST NIGHT'S ELECTION COVERAGE
16 MILLION TURN TO CNN DIGITAL
CNN dominated cable news throughout this election cycle and last night's historic primary/caucus night was no exception.  CNN was the place where Americans watched election returns with the network ranking #1 among adults 25-54 and 18-34. In primetime (8-11pm), CNN beat the competition by wide margins – CNN averaged 829k, +78% more than MSNBC's 466k and had a +81% advantage over Fox News' 458k among adults 25-54.  Among younger viewers (18-34) CNN was #1, also by wide margins, with 227k, MSNBC had 104k, and Fox News trailed with 73k.  In total viewers CNN beat MSNBC (2.405 million vs. MSNBC's 2.051 million); Fox News had 2.525 million.
During the live coverage block (7pm-2am), which included late night returns from California, CNN was #1 across the board.  In total viewers, CNN was top-rated with 2.129 million, Fox News followed with 1.828 million and MSNBC had 1.779 million.  Among adults 25-54, CNN outperformed the competition with 745k, +74% more than MSNBC's 429k and a whopping +106% advantage over Fox News' 362k. In younger viewers (18–34), CNN had 206k vs. MSNBC's 96k vs. Fox News' 57k.
Last night's Super Tuesday 5 primary/caucus election night coverage (New Jersey, New Mexico, Montana, North Dakota, South Dakota and California) was anchored by CNN's Wolf Blitzer, Anderson Cooper, Jake Tapper and Dana Bash.  John King reported throughout the night from the Magic Wall.
CNN Digital welcomed 16 million unique visitors across properties on Super Tuesday, making it the sixth most trafficked primary or caucus day dating back to 2008. CNN Digital also saw 11 million multiplatform video starts and 89 million page views.
This primary election season CNN had:
Most debates on television (6 Republican, 5 Democratic)
Three of the top five Debates in history
Highest Democratic primary debate ever (Las Vegas debate, 10/13/15)
Most watched non-sports cable prime time (Reagan Library GOP debate, 9/15/15)
Only cable news network to simulcast debates this cycle (PBS, Univision)
Most Town Halls
Highest rated Democratic Town Hall in history and highest rated Republican Town Hall in history
Had top five candidate events and most watched this cycle (Iowa (1/25/16), NH (2/3/16), South Carolina (2/17-2/18), Ohio (3/13/16), Wisconsin (3/29/16))
Ranked #1 in 12 of the 17 primary/caucus election nights (adults 25-54, based on 7p-2a coverage block)
#1 and #2 primary nights in prime time in cable news history (Super Tuesday #1 (3/1/16), Super Tuesday #3 (3/15/16))
Highest rated Iowa Caucuses in cable news history (adults 25-54)
Super Tuesday ranked #1 in all of cable and had largest delivery ever across cable news in prime (adults 25-54)
#2 NH Primary in CNN's history (adults 25-54)
CNN Politics remained the #1 destination for online political news