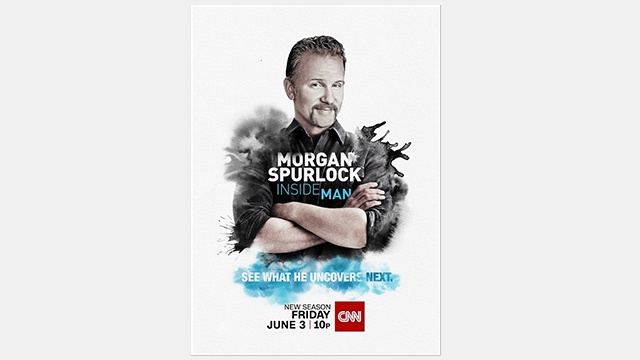 Morgan Spurlock Inside Man
June 1st, 2016
Update! Season Four Premiere of CNN Original Series Morgan Spurlock Inside Man Launches Friday, June 3, 10pm, ET/PT
New Season Includes Spurlock's Inside Look at Space, Gambling, Toxins, Disruptors, CSI and Gamers
Popular CNN Original Series Morgan Spurlock Inside Man, hosted and produced by the Oscar®-nominated documentary filmmaker, launches its fourth season on Friday, June 3 at 10pm ET/PT with an inside look at professional gambling.
In his inimitable, inquisitive style, and with a sense of humor intact, Spurlock tells compelling stories from an insider's perspective. In the new season Morgan tackles toxins, gambling, the space industry, disruptors, gaming, and crime scene investigations.
The multiple award-winning program averaged 546,000 total viewers and 244,000 Adults 25-54 for premiere episodes in season three (1/22-3/19/15) and posted its highest season performance ever among both Adults 25-54 and total viewers. It surpassed its season two average (airing on Sundays at 10pm) by 7% in Adults 25-54 (228,000) and 27% in total viewers (429,000).*
For embeddable clips from the new season, please click on the following link:  http://www.cnn.com/shows/inside-man
Below are descriptions of Morgan Spurlock Inside Man season four episodes (airdates subject to change):
DOUBLE OR NOTHING (airdate June 3 2016)
Spurlock enters the seductive world of professional gambling by spending a week in Las Vegas determined to beat the house. His exploration of this pastime, which often leads to serious addiction, takes him to casinos, bookies, the racetrack, Off Track Betting and just about any place that allows him to gamble.
ONE GIANT STEP FOR MORGAN (airdate June 10, 2016)
Spurlock "virtually" experiences life as an astronaut and investigates the future of the space industry. The host's journey takes him to government and private facilities including NASA's Johnson Space Center (Houston), the X-Prize Foundation (Culver City, CA.) and Virgin Galactic  (Mojave Air & Space Port, CA.) to see how the rules of the game are changing and what it means for the human race.
THE TRUTH ABOUT TOXINS  (airdate June 17, 2016)
In a quest to rid his life of contaminants – which are prominent in food, cleaning products and even furniture, Spurlock gets professional help to "de-tox." The host puts his body to the test, dabbling in chelation therapy, infrared saunas, electromagnetic-free sleep chambers, and various cleanses, to see if poisons can truly be flushed out of our bodies and surroundings in the modern world.
CSI: SPURLOCK (airdate June 24, 2016)
Separating fact from TV dramatizations, Spurlock embeds in a forensic science unit to understand first-hand how crime scene investigations are actually conducted.  From the first responders, to the collection of evidence (at CSI Academy in Alachua, FL and ATF training facility in Huntsville, AL) and its analysis in the lab, he gets a crash course in Crime 101 from beginning to end.
GAME CHANGERS (airdate July 1, 2016)
Screaming fans, sold-out arenas, and teenage superstars, Spurlock joins the ranks of professional video gamers in one of the fastest-growing sectors of the "sports" world. Committed to understanding this shockingly intense industry, he joins reigning League of Legends North American Champions, from Counter Logic Gaming, as they train to compete for a big cash prize at the World Championship in Paris.
SEEK AND DISRUPT! (airdate July 8, 2016)
Inspired by companies like Google, AirBnB, and Spotify, Spurlock attempts to fill a void in the marketplace and re-write the rules by becoming the next disruptor. An eye-opening trip to Silicon Valley provides industry advice from tech giants, and examines why companies like Uber often leave a trail of enemies in their wake and questions whether this golden era of tech will solve age-old problems.
An acclaimed documentary filmmaker, Spurlock came to international prominence in 2004 with his Oscar® nominated film Super Size Me. He made his first foray into television as executive producer of the FX series 30 Days (2005-2008). In 2013, he served as director of the 3-D concert film for the mega-hit band One Direction, and earlier as executive producer of the documentary series A Day in the Life on Hulu, and the films, Comic-Con Episode IV: A Fan's Hope, The Dotted Line on ESPN and Mansome on Yahoo!
Viewers are invited to follow, engage and interact with Inside Man on Twitter via @CNNOriginals and @MorganSpurlock using #InsideMan. In addition, CNN.com/InsideMan will provide users with program information, behind-the-scenes photos and videos, and other special content.
Each episode of Morgan Spurlock Inside Man will be available On Demand the day after the linear premiere on cable VOD and on CNNgo via iPad, Roku, AppleTV and desktop at www.cnn.com/go
About Warrior Poets Productions
Warrior Poets is a New York based multiplatform production company founded in 2004 by Academy Award® nominated filmmaker Morgan Spurlock.  Since its creation, Warrior Poets has produced multiple award winning films and television programs.  Films include One Direction: This Is Us, POM Wonderful Presents: The Greatest Movie Ever Sold, Comic-Con: Episode IV – A Fan's Hope, Mansome, Where in the World is Osama bin Laden? and Freakonomics.  Television projects include the award-winning FX series 30 Days, the IDA award-winning CNN series Morgan Spurlock: Inside Man, Showtime's 7 Deadly Sins, ESPN's The Dotted Line, Emmy and Writer's Guild nominated The Simpsons 20th Anniversary Special in 3D on Ice! and Sky Atlantic HD's Morgan Spurlock's New Britannia. Digital projects include Hulu's A Day in the Life, Yahoo's Mansome, Failure Club, Losing It with John Stamos, AOL's Connected and Refinery29 and Maker Studios' What We Teach Girls. For additional information, please visit: http://warrior-poets.com.
About CNN Original Series
The CNN Original Series group develops non-scripted programming for television via commissioned projects, acquisitions and in-house production. Amy Entelis, executive vice president of talent and content development, oversees CNN Original Series and CNN Films for CNN Worldwide.  Lizzie Kerner, vice president of current programming, supervises production of all CNN Original Series.
*Source: The Nielsen Company via NPower, Live+7 data.  Morgan Spurlock: Inside Man Season 3 (1/22-3/19/15, Thu 9p-10p), Season 2 (4/13-6/8/14, Sun 10p-11p), Season 1 (6/23-8/25/13, Sun 10p-11p).  P25-54 and P2+. 
###