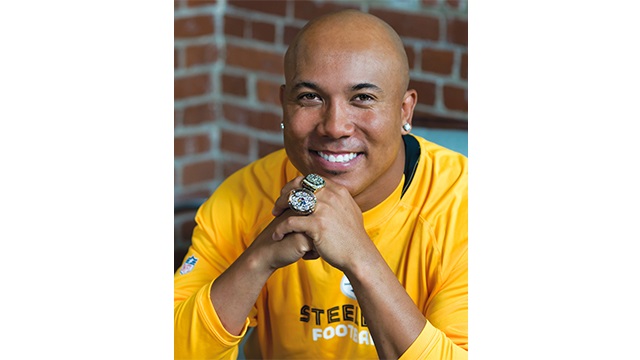 Morning Express with Robin Meade
May 25th, 2016
Two-Time Super Bowl Champ and 'Dancing with the Stars'  Mirrorball Winner Hines Ward Joins HLN'S 'Morning Express With Robin Meade' As Sports Contributor
TWO-TIME SUPER BOWL CHAMP AND 'DANCING WITH THE STARS' MIRRORBALL WINNER HINES WARD JOINS HLN'S 'MORNING EXPRESS WITH ROBIN MEADE' AS SPORTS CONTRIBUTOR
Ward to Also Provide Sports Commentary and Analysis Across all CNN Platforms
Hines Ward, two-time Super Bowl champion and Dancing with the Stars Mirrorball trophy winner, joins HLN's Morning Express with Robin Meade as sports contributor.  Based at the network's headquarters in Atlanta, Ward will also provide analysis and commentary on major sporting events and breaking news across all CNN platforms, including CNN/U.S., CNN Digital, CNNMoney and CNN International. 
Beginning July 1, the Super Bowl XL MVP, joins the popular HLN morning crew of host Robin Meade, meteorologist Bob Van Dillen and consumer business correspondent Jennifer Westhoven. Morning Express with Robin Meade is a ratings juggernaut for the network.  The wildly successful morning show is up double-digits year-to-date in both total viewers and persons 25-54.
"I'm incredibly grateful to HLN and CNN for welcoming me to their prestigious team," said Ward. "Throughout my career, I've always envisioned myself as more than just a football player and this platform will allow me to express myself in different and unique ways. I'm excited to be able to share my journey and my stories with our audiences, both in the US and worldwide."
"Hines is a true champion with such a winning personality," said Bill Galvin, SVP, Sports Programming, CNN.  "His perspective on sports extends well beyond the football field – a fresh voice we're excited to share with HLN and CNN audiences."
Upon his retirement in 2012 from the NFL, where here he played for 14 years with the Pittsburgh Steelers, Ward trained and completed the 2013 Ironman World Championships held annually in Hawaii. He began his television career as an analyst for NBC's Sunday primetime NFL show, Football Night in America.
He founded and operates Helping Hands Foundations both in the U.S. and Korea, and is an active participant with numerous other charities including The Caring Foundation, the Cystic Fibrosis Foundation, and Pearl S. Buck International. Ward also started an after-school education program for kids in his home state of Georgia, where he attended Forest Park High School and went on to be a top scholar-athlete at the University of Georgia, earning All-SEC honors his senior year and finishing his college career as Georgia's second all-time receiver with 144 receptions. He currently lives in Atlanta with his wife and son.
Ward is represented by CSE Talent, which offers management and career assistance to its elite roster of over 200 clients including pro and collegiate coaches, baseball players, golfers, management, and news and sport media talent.
###