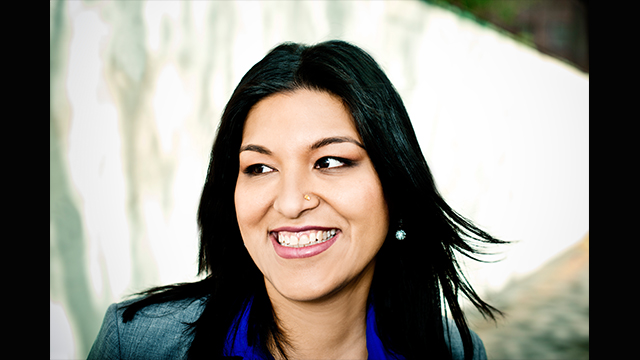 CNN DIGITAL
May 25th, 2016
Meet CNN Digital's New VP of Programming: Mitra Kalita
Meet Mitra Kalita. She'll be making a big move from the left coast to the right to head up programming for CNN Digital in the coming weeks. Mitra joins CNN from the Los Angeles Times, where she is serving as the publication's managing editor. Before that, she was the executive editor of Quartz. She's also worked for the Wall Street Journal, Mint and the Washington Post.
In her new role as VP of Programming, Mitra will lead CNN Digital's efforts to creatively share its journalism and storytelling across an ever-exploding array of platforms. She will oversee the News & Alerting, Special Projects, and Mobile & Off-Platform teams. Mitra will be based in the Big Apple and report to Editor-in-Chief Meredith Artley.
Since no one really likes press releases, we decided to mix things up with a Q&A. Read on and join us in welcoming Mitra to CNN: @MitraKalita.
What's your guilty pleasure?
Chips. Uber. Bright tights. The Office. The TV show, not the place.
VP of Programming sounds like a TV title.  What does that mean for Digital?   
The success of our journalism rests on two important factors: how good is the story and how good is the distribution. How adaptive are we to different devices and different platforms? How accessible, relatable, intimate, authoritative? Technically, I will oversee the homepage, alerts, projects and planning, mobile news and off-platform partnerships and initiatives. But really, I see this job as one that collaborates across departments, time zones and mediums to maximize the reach of our journalism.
If you weren't a journalist, what would you be doing?
I can't think of anything else I'd rather do. 
When was the last time you lost your cool?
I have a 4-year-old. It happens a lot.
What publications comprise your morning reading list?
News tends to find me first. I have pretty diverse Twitter and Facebook feeds, which I've intentionally and eclectically curated to compensate for the echo chamber of social media. Mine's a wild mix of liberals, conservatives and celebrities, atheists, economists and feminists, mayors, CEOs and daddy bloggers. Before news meetings, I look at the New York Times, Reuters and, of course, CNN. Less frequent but important reads: The Economist, The New Yorker, New York magazine, The Atlantic, India Abroad, Univision, Harvard Business Review. I am a big fan of email newsletters, such as Quartz, the Skimm, Lenny Letter, Harvard Chief Digital Officer Perry Hewitt's Friday 5, Race/Related from the New York Times and the American Press Institute.
Digital programming.  What outlets are doing it right?
Each outlet needs to program for the audience it has. I'm proud of what we've done at the L.A. Times over the last year on platforms from the homepage to our Facebook feed to Apple News. I've encouraged us to go somewhat meta on Snapchat since it is headquartered in L.A. so we bring back snaps that tell a story to our site and we've even used snaps to cover…Snapchat. I like Quartz's app for its interactivity (and the market haikus are fun). I love BuzzFeed's app because I can choose between quick takes and deeper dives. But I also really like Facebook pages and blogs devoted to specific niches such as parenting and neighborhoods because they seem to know me. I think the best examples of digital programming allow audiences to walk away feeling served, informed, entertained and like they learned something new.
Why did you pursue this position? What about it appealed to you?
The two words you can't escape in journalism right now: mobile and video. So this was a chance to innovate in an area that is pretty key to the future of storytelling. The vice president for programming is also the final decision-maker in what stories, headlines, visuals get pushed out on the site and across platforms. I've spent my career trying to make journalism more accessible, the foreclosure crisis in America to labor laws in India to homelessness in Los Angeles. This job represents incredible power to shape stories people already care about and bring new angles and awareness to those they don't.
Why CNN?
The future of journalism is not prose or video, a graphic or shareline. The future of journalism, like its past, rests on the power of a story.  CNN's plans for digital expansion recognize that we need new ways, of gathering, telling and delivering. There's already a very strong foundation. Metrics on share-ability often show local TV stations beating newspaper content. Why? Because reporters are on the ground and their work tends to be fast and written conversationally. In some ways, the pivot to "digital" is a more natural one. I also have an 11-year-old focus group at home who constantly tells me she hears about something on Instagram and then checks CNN to "see if it's true." Indeed, when news happens, you turn to CNN. That is incredible reach but it also represents incredible opportunity for further engagement.
What was the proudest moment in your career?
A few off the top of my head: When a story I investigated about a lack of minority contractors on a rail project in New York City forced inclusion and compliance with the law. When a series I oversaw in India about corruption in engineering colleges led to a government probe. When readers of my first book told me they never looked at gas-station attendants and convenience-store clerks the same ever again.  When stories about subjects such as Kenya elections, monetary policy or STEM education go viral. When you win a Pulitzer for breaking news and you know your teams really rocked the coverage. When you push for diversity and it's uncomfortable and it feels like no one gets it — but then something happens when everyone understands why you need so so so many voices and types of people to make a newsroom and journalism great.
If you could have dinner with anyone dead or alive, who would it be?
This Pope. Beyonce. Narendra Modi. Justin Trudeau. Nelson Mandela. Ursula Burns. Frida Kahlo. My late grandfathers.