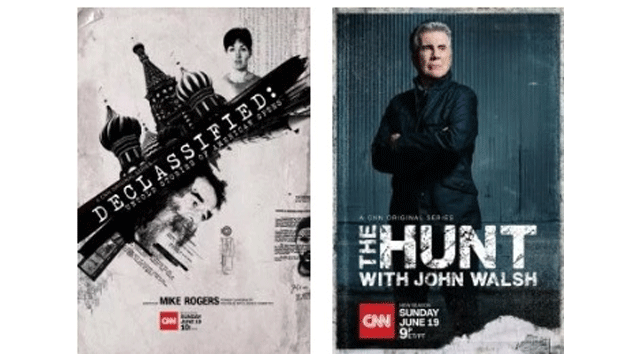 CNN Communications Press Releases
May 23rd, 2016
CNN Debuts New Original Series, "Declassified: Untold Stories of American Spies" and Season Three Premiere of "The Hunt with John Walsh" on Sunday, June 19
Declassified: Untold Stories of American Spies Trailer: 
The Hunt with John Walsh S3 Trailer: 
Declassified: Untold Stories of American Spies, a new eight-part CNN Original Series, debuts on Sunday, June 19, at 10 p.m. ET/PT.  Hosted by former U.S. Congressman Mike Rogers, also the former chairman of the House Intelligence Committee, each episode features a newly declassified mission told first-hand by the agents who lived it, providing viewers with unprecedented access to the riveting and secret world of espionage.
Declassified covers missions set in fascinating locations and time periods from Cold War era Moscow to modern day Iran, from the streets of 1980s Cuba to today's bustling Beijing.  All 16 intelligence agencies from the CIA to the FBI are represented, revealing the unbelievable true stories of America's covert operations in the United States and around the world.  The hour-long series is produced by All3Media America with Gregory J Lipstone, Domini Hofmann, Aaron Saidman, Stephen Lambert and Mike Rogers serving as executive producers.
The season three premiere of The Hunt with John Walsh will precede Declassified at 9 p.m. ET/PT.  Host Walsh, a passionate victims' rights activist and spokesperson for the National Center for Missing & Exploited Children, continues to expose the criminal investigation stories of fugitives at large.  Through interviews with victims, loved ones and law enforcement, the hour-long series provides the public with salient information to facilitate the capture of the profiled criminals.
After two seasons, 10 cases have been resolved following the show's exposure. The Hunt with John Walsh is produced by the Peabody and Emmy Award-winning Zero Point Zero Production, Inc. (Anthony Bourdain: Parts Unknown).
About CNN Original Series
The CNN Original Series group develops non-scripted programming for television via commissioned projects, acquisitions and in-house production. Amy Entelis, executive vice president of talent and content development, oversees CNN Original Series and CNN Films for CNN Worldwide.  Lizzie Fox, vice president of current programming, supervises production of all CNN Original Series.
###
Press Contact – Heather Brown; 212-275-8428; Heather.Brown@turner.com