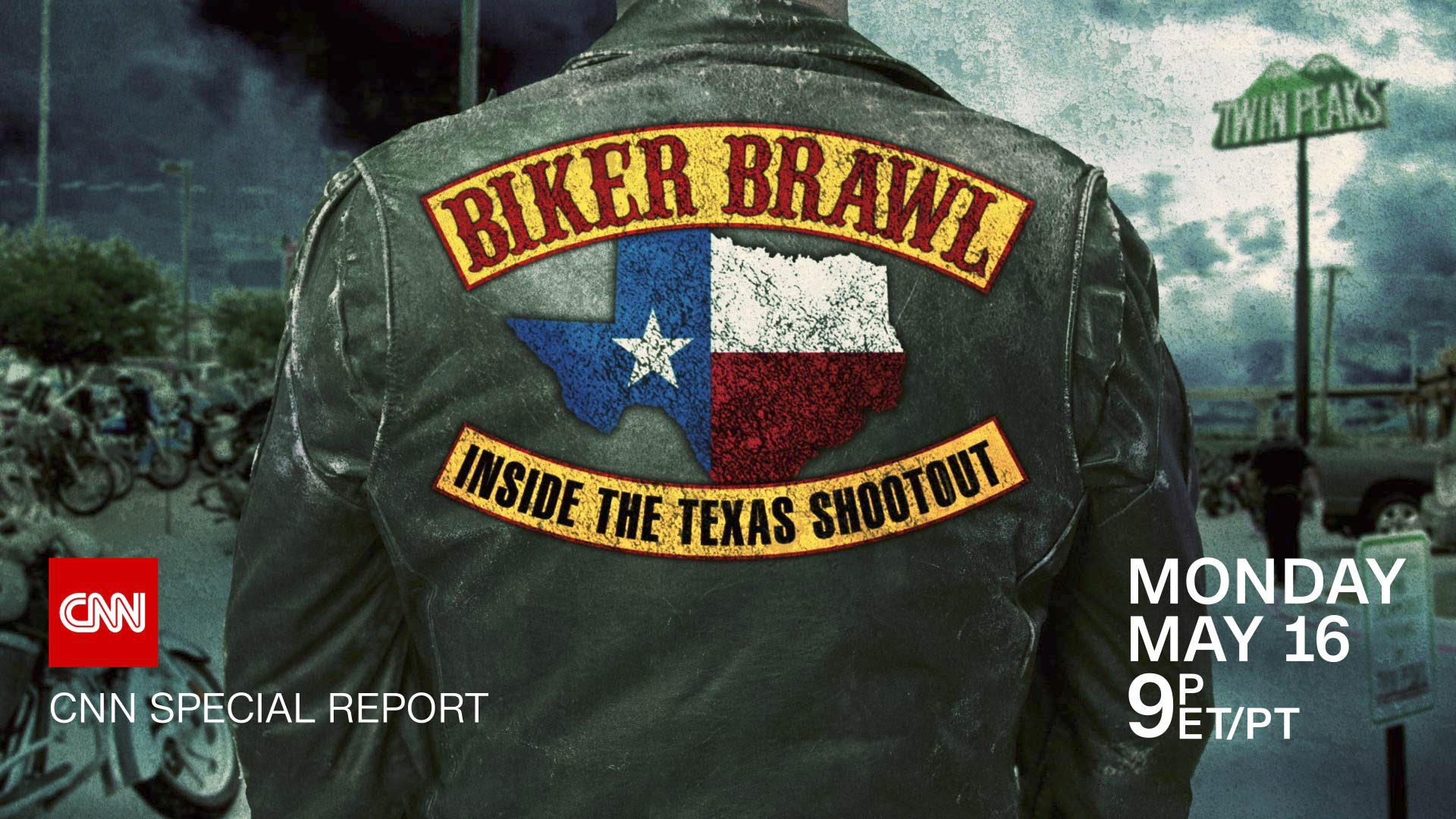 CNN Special Programming & Documentaries
May 11th, 2016
CNN Special Report: "Biker Brawl: Inside the Texas Shootout"
CNN Special Report airs Monday, May 16 at 9pm ET
On May 17, 2015, a Twin Peaks restaurant in Waco, Texas was the site of one of the deadliest brawls in American outlaw biker history. The shootout between the Bandidos and Cossacks motorcycle clubs left nine men dead and several dozen wounded. Investigators confiscated 480 weapons and arrested 177 bikers.
A year after the deadly battle, the CNN Special Report Biker Brawl: Inside the Texas Shootout investigates exactly what happened through graphic surveillance video, dramatic dash cam footage, crime scene photos and investigative documents – much of it obtained exclusively by CNN.
In the hour-long special, CNN's Ed Lavandera gains exclusive access to major figures of the Outlaw Motorcycle Clubs – including Jeff Pike, President of the Bandidos, who is currently under federal indictment, and key members of both the Cossacks and Bandidos involved in the shootout.
The CNN Special Report Biker Brawl: Inside the Texas Shootout airs Monday, May 16 at 9pm ET.
The CNN Special Report was executive produced by Jennifer Hyde, the Director of the CNN Documentary Unit, produced by Senior Producer Elise Zeiger, Supervising Producer in Dallas Jason Morris and Associate Producer Chris Perry. Michael Bass is the Executive Vice President of Programming.
About CNN Special Report: Since 2013, CNN Special Reports (CSR) has produced some of the most informative and compelling television, creating over 100 different documentaries and specials. CSR reports on some of the most notable stories and events of our day, including the Gulf oil spill, human trafficking, the murder trial of former NFL player Aaron Hernandez and the manufacturing and distribution of synthetic drugs. CNN Special Reports also provides articles, galleries and clips to CNN.com, generating millions of views. For updates, follow @CNNSpecReport on Twitter.
About CNN Worldwide: CNN Worldwide is a portfolio of two dozen news and information services across cable, satellite, radio, wireless devices and the Internet in more than 200 countries and territories worldwide. Domestically, CNN reaches more individuals on television, the web and mobile devices than any other cable TV news organization in the United States; internationally, CNN is the most widely distributed news channel reaching more than 287 million households abroad; and CNN Digital is a top network for online news, mobile news and social media. Additionally, CNN Newsource is the world's most extensively utilized news service partnering with hundreds of local and international news organizations around the world. CNN is a division of Turner Broadcasting System, Inc., a Time Warner Company. For more information, visit www.CNNPressroom.com
###
CNN Press Contact:
Blair Cofield
(404) 827-1597
blair.cofield@turner.com