CNN Special Programming & Documentaries
April 28th, 2016
ANDERSON COOPER 360° SPECIAL WE GOT HIM: PRESIDENT OBAMA, BIN LADEN AND THE FUTURE OF THE WAR ON TERROR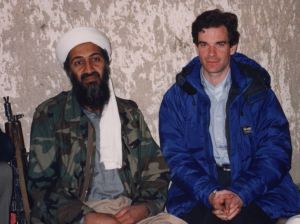 COVERAGE BEGINS MONDAY MAY 2nd AT 8PM ET
On Monday, May 2nd, on the fifth anniversary of the death of Osama bin Laden, CNN's Peter Bergen sits down with President Barack Obama to talk about the bin Laden raid and the state of the war on terror five years later.
CNN has unprecedented access to the White House for this special, including never before published photos connected to the raid.  Peter Bergen and President Obama will speak inside the Situation Room, where the President and his key advisors weighed their decision to order the raid, and where they waited in real time as the mission unfolded. When they heard word bin Laden was killed in action, President Obama simply said "We got him."  Anderson Cooper 360° Special:  "WE GOT HIM": President Obama, Bin Laden and the Future of the War on Terror.
During the hour, Bergen also speaks with key members of President Obama's inner circle on terror, including an in depth interview with the architect of the raid, Ret. Admiral William McRaven – who has rarely spoken about the raid that captured and killed the al Qaeda leader and reveals new details about the raid itself.  Administration officials including National Security Advisor Susan Rice, Homeland Security Advisor Lisa Monaco, Director of National Intelligence James Clapper, Director of the CIA John Brennan, White House Chief of Staff Denis McDonough, and former Secretary of State Hillary Clinton, all give Bergen an inside look at the mission and the efforts it took to carry out the secret operation in Pakistan.  They will also weigh in on ISIS and the war on terror.
Peter Bergen is CNN's national security analyst who interviewed Osama bin Laden in 1997 and is a key expert on terrorism. He is the author of "Manhunt: The Ten-Year Search for bin Laden from 9/11 to Abbottabad" and "United States of Jihad."
###