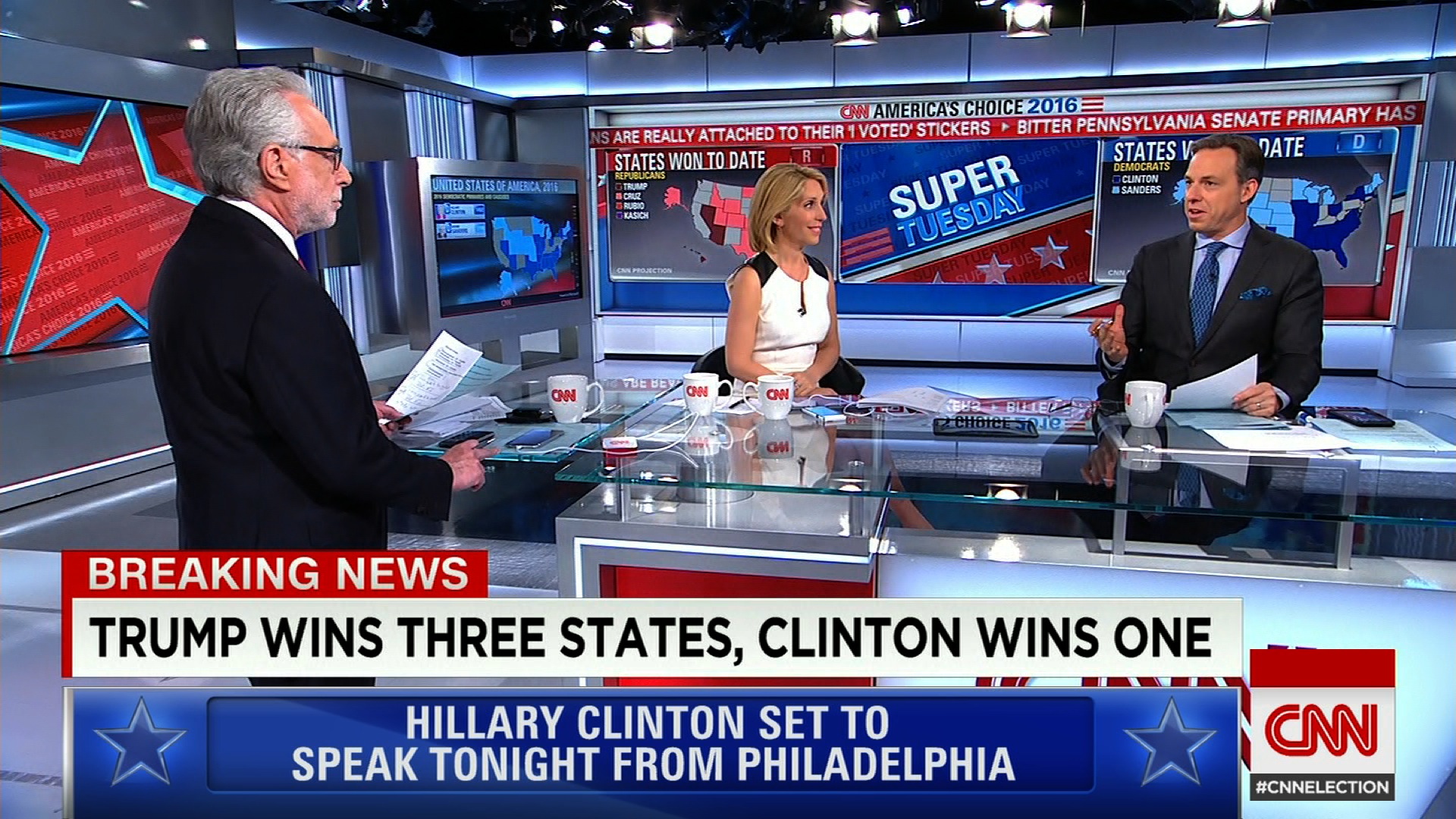 Ratings
April 27th, 2016
CNN #1 Again in Prime Time and Throughout Coverage Block
Tops Fox News and MSNBC during Super Tuesday 4 in Demo 25-54 and 18-34
15 MILLION VISIT CNN DIGITAL
CNN continues to be the place where Americans watch election returns, with the network ranking #1 among adults 25-54 and 18-34 during last night's Super Tuesday 4 coverage.  In primetime (8-11pm), CNN was top-rated among adults 25-54 with 929k, a 31% advantage over second place Fox News' 707k and +139% more than MSNBC's 388k, according Nielsen Fast National data.   Among younger viewers (18-34), CNN was top-rated by wide margins with 305k, Fox News had 147k and MSNBC trailed with 83k.  In total viewers, CNN had 2.620 million, MSNBC followed with 1.482 million; Fox News had 3.253 million.
During the live coverage block (7pm – 2am) CNN was also #1, averaging 629k to Fox News' 539k and to MSNBC's 287k among adults 25-54.   In younger viewers (18–34), CNN outperformed the competition during the block with 190k to Fox News' 113k and to MSNBC's 55k.  In total viewers, CNN bested MSNBC (1.748 million vs. MSNBC's 1.080 million); Fox News had 2.309 million during this time period.
Users flocked to CNN across platforms on Super Tuesday 4, with 15 million unique visitors turning to CNN Digital. The day registered as one of the top ten days across all primaries and caucuses dating back to 2008. CNN Digital also saw 11 million video starts and 87 million page views throughout the day.
Last night's Super Tuesday 4 primary election night coverage (Pennsylvania, Maryland, Delaware, Connecticut and Rhode Island) was anchored by CNN's Wolf Blitzer, Anderson Cooper, Jake Tapper and Dana Bash.  John King reported throughout the night from the Magic Wall.
###