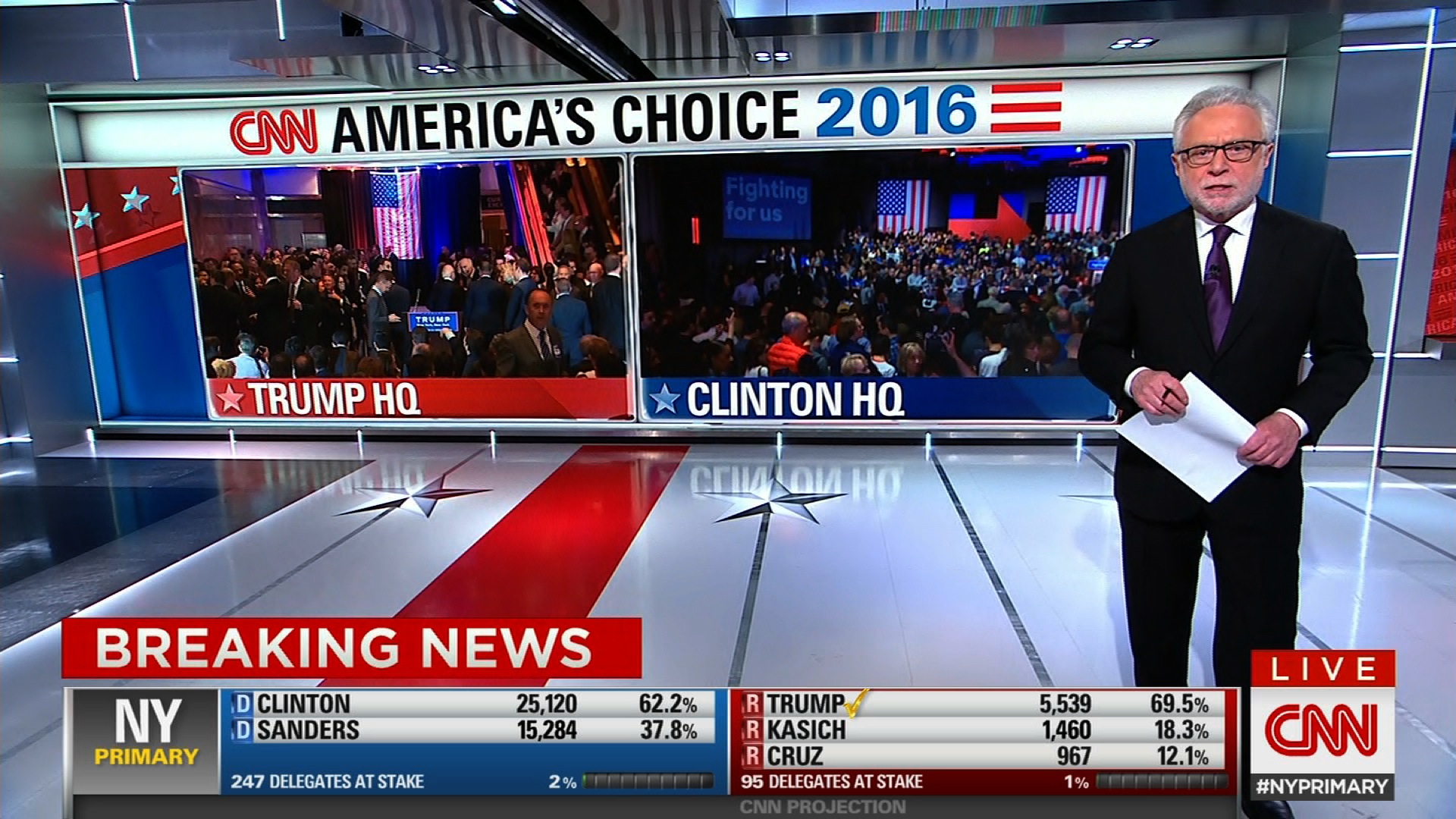 Ratings
April 20th, 2016
CNN #1 IN PRIME TIME THROUGHOUT NEW YORK PRIMARY COVERAGE
Tops Fox News and MSNBC in Demo 25-54 and 18-34
15 MILLION TURN TO CNN DIGITAL
CNN was #1 during last night's New York Primary coverage among adults 25-54 and 18-34 according to Nielsen Fast National data. In prime time (8-11pm), CNN was top rated with 913k, Fox News followed with 600k and MSNBC was last with 499k among adults 25-54.  Among younger viewers (18-34), CNN was #1 by wide margins with 291k, Fox News had 103k and MSNBC lagged with 90k.  In total viewers, CNN had 2.568 million, +50% more than MSNBC's 1.712 million; Fox News had 3.007 million.
During the live coverage block (7pm-2am) CNN was also #1, averaging 630k to Fox News' 429k and to MSNBC's 357k among adults 25-54.  In younger viewers (18–34), CNN outperformed the competition with 186k to Fox News' 74k and to MSNBC's 65k.  In total viewers CNN bested MSNBC (1.773 million vs. MSNBC's 1.239 million); Fox News had 2.023 million during this time period.
Interest in the New York Primary was seen across platforms, with 15 million unique visitors turning to CNN Digital — one of the top ten days across all primaries and caucuses dating back to 2008. CNN Digital also saw 11 million video starts and 91 million page views on New York Primary Day.
Last night, CNN lit up the Empire State Building to announce New York Primary results.  http://cnn.it/1SSfVs7
###