Ratings
April 15th, 2016
5.6 MILLION WATCH DEMOCRATIC DEBATE FROM BROOKLYN, NEW YORK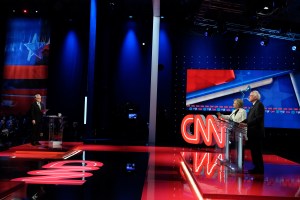 CNN #1 in Primetime Last Night
A combined 5.567 million total viewers watched the CNN/NY1 Democratic Debate last night according to Nielsen Fast National data.  Among adults 25-54, 1.798 million watched.  This debate ranks #7 among Democratic debates this cycle in total viewers and demo 25-54.
In total viewers, CNN averaged 5.396 million and the local NYC cable television news channel NY1 had 171k.  Among adults 25-54, CNN registered 1.709 million and NY1 had 89k.
CNN ranked #1 in cable news in primetime last night (8-11pm), averaging 4.145 million total viewers, +73% more than Fox News' 2.396 million and +454% more than MSNBC's 748k.  Among adults 25-54, CNN had 1.289 million, Fox News followed with 409k and MSNBC had 211k.
The strong online interest in CNN's debates was evident again in Brooklyn, with live streams across all platforms (Web, App, Apple TV, and Roku) reaching 1.3 mm. CNN Digital also saw 13 million unique visitors on debate day.
The debate was live from Brooklyn, NY and moderated by CNN's Wolf Blitzer.  Questioners included CNN's chief political correspondent Dana Bash and NY1 host and CNN commentator Errol Louis.
Source: The Nielsen Company, Fast Nationals time period-based data for Thursday, April 14.  All data based on Live+SD.
###