CNN Freedom Project
April 14th, 2016
CNN FREEDOM PROJECT: BRIDES FOR SALE
The special two-part series airs week of April 18 on News Stream at 8pm HKT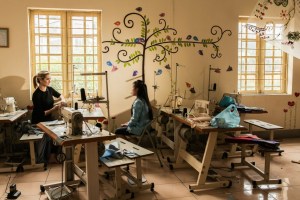 Imagine if the only way to escape a forced marriage was to abandon your own child. That's the reality for some Vietnamese young women. Tricked into crossing the border by traffickers, they were sold for marriage to Chinese men. China's one-child policy has led to a shortage of women and a thirst for Vietnamese brides. CNN International correspondent Alexandra Field speaks to escapees about their ordeal and goes to the border to see just how easy it is to smuggle women between the two countries.
Five girls… saved just in the nick of time. At a government support center on the Vietnamese-Chinese border, CNN's Alexandra Field meets five 14-year-old girls saved by the police as traffickers were taking them across the border. She explains how they were lured into danger and sees an emotional reunion between a mother and daughter who were not so lucky.
These two special CNN Freedom Project stories air week of April 18 on News Stream at 8pm HKT.
Related Links:
http://edition.cnn.com/specials/world/freedom-project
Join the social conversation on Twitter @cnnfreedom and Facebook facebook.com/cnnfreedom
– Ends-
About CNN International
CNN's portfolio of news and information services is available in seven different languages across all major TV, digital and mobile platforms reaching more than 420 million households around the globe, including over 72 million across the Asia Pacific region. CNN International is the number one international TV news channel according to all major media surveys across Europe, the Middle East and Africa, the Asia Pacific region and Latin America and recently expanded its US presence with its launch on CNNgo. CNN Digital is a leading network for online news, mobile news and social media. CNN is at the forefront of digital innovation and continues to invest heavily in expanding its digital global footprint, with a suite of award-winning digital properties and a range of strategic content partnerships, commercialised through a strong data-driven understanding of audience behaviours. Over the years CNN has won multiple prestigious awards around the world for its journalism. CNN has 41 editorial offices and more than 1,100 affiliates worldwide through CNN Newsource. CNN International is part of Turner, a Time Warner company. Get the latest social media updates from CNN at: facebook.com/cnninternational @cnnasiapr
Press Contacts:
Penelope Heath/ Ingrid Hsu
Tel: +852 3128 3538/ +852 3128 3568