CNNI Press Releases
April 7th, 2016
'#WhyTheyHateUs' – Fareed Zakaria Explores What Drives the Rage — PREMIERES MONDAY, MAY 23
New Fareed Zakaria Primetime Special Premieres on CNN/U.S. and CNN International at 9:00pm ET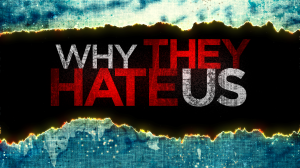 "Why do they hate us?" has been the question asked since the 9/11 attacks 15 years ago – and again in the wake of terrorist attacks in Boston, Brussels, Beirut, Paris, Mumbai, Ft Hood, San Bernardino, and beyond.  CNN's Fareed Zakaria explores what is fueling the rage – and challenges intelligence experts, religious scholars, policy influencers, and even the very men who want to kill us – for answers to whether America and the rest of the West can do anything to stop the bloodshed.  He looks at one Muslim community in the U.S. for what makes America's challenges different from Europe's and those in the Middle East.
A new hour-long primetime special, WHY THEY HATE US, will premiere Monday, May 23 on CNN/U.S. and CNN International at 9:00pm Eastern.
What makes seemingly ordinary people turn against their own countrymen to commit murderous attacks?  Zakaria challenges violent jihadis about the reasons why they hate the West – and gets rarely heard answers.
Why do others committing this carnage come from nations once thought to be allies of the West?  Zakaria details the unlikely origins of this searing anti-Western hatred to Greeley, Colorado in 1949.  Sayyid Qutb, a puritanical, conservative Muslim was so horrified by his experience in America he returned to Egypt to advocate a return to Sharia law by Arab nations, the rejection of modernization and democracy – and violent retaliation against America and the West for 'corrupting' the Arab World.
Is Islam an inherently violent religion?  Zakaria seeks answers for what attracts extremists to the medieval, barbaric terror of a violent interpretation of Islam from author and scholar Reza Aslan (No God But God: The Origins, Evolution, and Future of Islam and Beyond Fundamentalism: Confronting Religious Extremism in the Age of Globalization); neuroscientist and chief executive of Project Reason, Sam Harris; anti-Western British cleric Anjem Choudary; Columbia University professor and Co-Director for the Center for Palestine Studies, Rashid Khalidi, DPhil.; and author and Muslim reformer Irshad Manji (Trouble with Islam Today: A Muslim's Call for Reform in Her Faith and Allah, Liberty, and Love).  Astonishingly, Manji describes the scholarship behind the true meaning of a widely popularized mistranslation of the afterlife promise of "72 virgins" to actually be a reference to…"raisins."
Though dead for decades, Qutb's violent admonitions inspired Osama bin Laden, today's radical clerics from Saudi Arabia to Pakistan, and even an influential American cleric whose seductive sermonic fragments were found scrawled inside the boat where one of the Boston Marathon bombers was found, as well as in messages exchanged by the San Bernardino jihadis.  Zakaria concludes with proposed solutions to defeat this infectious ideology currently posing a global security threat – and even shaping the most controversial points of debates for the U.S. elections, and influencing European and American policy on refugees, immigration, privacy, and the rules for armed conflict.
During the broadcast, producers of WHY THEY HATE US will interact with viewers via Twitter, using the hashtag #WHYTHEYHATEUS with user questions and comments about the special.
About CNN
CNN Worldwide, a division of Turner Broadcasting System, Inc., a Time Warner Company, is the most trusted source for news and information. Its reach extends to nine cable and satellite television networks; one private place-based network; two radio networks; wireless devices around the world; CNN Digital, a top network for online news, mobile news and social media; CNN Newsource, the world's most extensively-syndicated news service; and strategic international partnerships within both television and the digital media.
 ###