2016 Election
April 4th, 2016
CNN TO HOST DEMOCRATIC PRESIDENTIAL PRIMARY DEBATE IN BROOKLYN ON THURSDAY, APRIL 14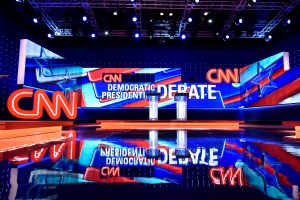 CNN TO HOST DEMOCRATIC PRESIDENTIAL PRIMARY DEBATE IN BROOKLYN ON THURSDAY, APRIL 14
PRIMETIME EVENT MODERATED BY CNN'S WOLF BLITZER LIVE FROM THE BROOKLYN NAVY YARD
CNN announced today that the network will host a primetime presidential primary debate with the two Democratic candidates on Thursday, April 14, live from the Duggal Greenhouse at the Brooklyn Navy Yard.  Wolf Blitzer will moderate the debate, and the network will partner with Time Warner Cable News NY1.
Former Secretary of State Hillary Clinton and Vermont Senator Bernie Sanders have both confirmed their attendance at the debate. The candidates will take questions from Blitzer, along with CNN Chief Political Correspondent Dana Bash and NY1 "Inside City Hall" Host and CNN Political Commentator Errol Louis.
The debate will take place five days before the highly anticipated New York State primary contest on Tuesday, April 19.
This will serve as the seventh presidential debate that CNN has hosted with both Democratic and Republican candidates during this election cycle.
The debate will air live from 9-11pm ET and on CNN, CNN International and CNN en Espanol, and will be live-streamed online and across mobile devices via CNNgo.