CNN
March 24th, 2016
Preview: CNN International Programme Information Weeks 15 and 16
'CNN Business Traveller'
Thursday 14 April 0930 BST / 1030 CET
Friday 15 April 0430 BST / 0530 CET
Saturday 16 April 0530 BST / 0630 CET and 1630 BST / 1730 CET
In April, 'CNN Business Traveller' shows how far people can go on the world's expanding range of budget carriers.
Host Richard Quest (pictured), CNNMoney's Editor at Large, embarks on an eight day round the world marathon using only low cost airlines.  The journey includes ten airlines, nine countries, 12 cities and 13 airports.
Beginning in London, 'CNN Business Traveller' stops in Belgium, the Czech Republic, the United Arab Emirates, Sri Lanka, Malaysia, Singapore, Australia, and Hawaii, before crossing mainland USA from Los Angeles to New York, and returning to London.
The trip follows the rules set by the Guinness World Records on what constitutes a round the world trip, with the addition that Quest must only fly on low-cost carriers and in economy seats only.
Over the course of the trip, Quest interviews a number of airline CEOs, including AirAsia's Tony Fernandes, and explores the different inflight services provided by airlines. At each location, Quest is set challenges, such as trying a local delicacy or visiting a famous landmark.
This study of low cost airlines aims to show which airlines are offering both service for those travelling on business, but also on a budget.
Winning Post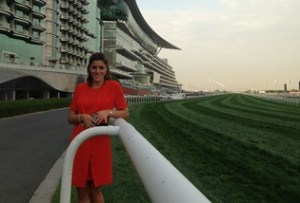 Saturday 23 April 1730 BST / 1830 CET
Sunday 24 April 0730 BST / 0830 CET and 2230 BST / 2330 CET
This month, 'Winning Post' goes down under to the East Coast of Australia for the world renowned Queen Elizabeth Stakes.
Host Aly Vance (pictured) meets Michelle Payne, one of the most renowned female jockeys, to see how life has changed since her historic win at the Melbourne Cup last year. Payne talks about what it is like to ride among the best at the highest level of the sport and her excitement for the Queen Elizabeth Stakes. Payne also reveals to 'Winning Post' her hopefuls and favourites for one of the world's richest horse races.
Vance spends time with one of Australia's top trainers, Chris Waller, crowned Champion Australian Trainer for the last two seasons. Chris shows 'Winning Post' the modern technology that helps improve the training of a top-level racehorse.
Vance goes behind the scenes and meets the scientists responsible for the production of the new modern helmets, introduced to improve safety for jockeys by a staggering 40 – 50 percent.  'Winning Post' discovers what scientific technologies are used to create these helmets, and talk to NSW Racing CEO Peter V'Landys about the importance of safety in horseracing.
'Winning Post' heads to the Group One Longines Queen Elizabeth Stakes, the world's richest 2000m-turf race. With $4 million in prize money, Sydney sees some of Australia's best thoroughbreds descend on the state's premier track. Vance catches up with trainer Chris Waller and jockey Hugh Bowman as they prepare to compete in one of the toughest and most exciting races in the world.
Passion to Portfolio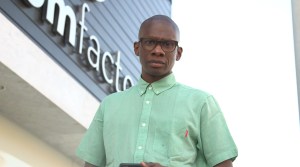 Friday 15 April 1030 BST / 1130 CET and 1630 BST / 1730 CET
Saturday 16 April 1430 BST / 1530 CET and 2030 BST / 2130 CET
Tuesday 19 April 1030 BST / 1130 CET and 1730 BST / 1830 CET
Wednesday 20 April 0930 BST / 1030 CET
In the latest episode of 'Passion to Portfolio', the programme explores multi-million dollar businesses, auctioning some of the world's most exquisite art and working with heavy-hitters like Naomi Campbell, Orlando Bloom and Lady Gaga.
'Passion to Portfolio' meets Troy Carter, the founder and CEO of the Atom Factory, a talent management company in Los Angeles, that's represented Grammy winners John Legend, Meghan Trainor and Eve, among others.
Carter says his mission is to "work with people who are trying to change the world." 'Passion to Portfolio' hears Carter's best business tips for branding and marketing.
The programme also meets one of Hong Kong's sought-after hair stylists, Marco Chan; the head of Bonhams auction house, Matthew Girling, and Sydney's motorbike aficionado, Dare Jennings, who is creatively mixing business with pleasure.
Vital Signs with Dr. Sanjay Gupta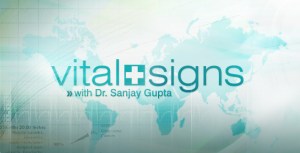 Wednesday 20 April 1030 BST / 1130 CET and 1730 BST
Saturday 23 April 0630 BST / 0730 CET and 1930 BST / 2030 CET
Sunday 24 April 1330 BST / 1430 CET
In April, 'Vital Signs with Dr. Sanjay Gupta' examines the heart, and how technology is aiding both surgeries and transplants around the world.
'Vital Signs' meet Mia Gonzalez, a child who suffered breathing problems and was constantly in hospital. By the time she was four years old, doctors had solved the mystery – it was a rare heart condition.
The programme hears how risky the operation was, but how a 3D printer would ultimately provide some clarity to a complex situation.
'Vital Signs' learns how having an exact model of Mia's heart allowed the surgeons in Miami to create a plan long before they operated on Mia.
'Vital Signs' discovers that this is just another way heart surgery is changing today.
From robotic heart surgery in Abu Dhabi, to a transplant system that keeps the heart warm and beating outside the body, technology is changing the way hearts are saved around the world.
The Circuit
Friday 22 April 1630 BST / 1730 CET and 2330 BST / 0030 CET
Saturday 23 April 2030 BST / 2130 CET
Sunday 24 April 0130 BST / 0230 CET
In April, 'The Circuit' travels to Russia's Black Sea resort of Sochi to explore how the nation has taken to Formula One since its debut three years ago.
Host Amanda Davies gets a tour of the Olympic Park circuit with Russian driver Daniil Kvyat.
The programme also profiles the 'Flying Finn', Williams driver Valtteri Bottas back home in Finland, and Force India's Nico Hulkenberg reveals to 'The Circuit' what it takes to succeed in Formula One ahead of his 100th race in the sport.
Make Create Innovate
Saturday 23 April 1345 BST / 1445 CET
Sunday 24 April 0115 BST / 0215 CET; 0645 BST / 0745 CET and 1945 BST / 2045 CET
In this month's edition of 'Make, Create, Innovate', a series which explores new inventions and technologies, the programme casts its eyes up to our closest celestial neighbour and the only other world man has set foot on; the moon.
'Make, Create, Innovate' meets the last man to have walked the lunar surface, Captain Gene Cernan, who reveals how his experience was almost spiritual and how space exploration can unite people in a way that nothing else can.
The programme travels to the European Space Agency to see how they are leading efforts to put man back on the moon once again, and 'Make, Create, Innovate' examines the robots, rovers and 3D printed habitat that would form a lunar colony.