CNN
February 25th, 2016
CNN Returns to "The Eighties" with New Series From Tom Hanks and Gary Goetzman Premiering Thursday, March 31, at 9PM ET/PT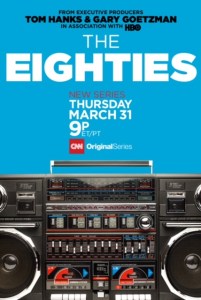 Series Follows the Emmy-Nominated The Sixties and The Seventies
CNN will premiere the new seven-part documentary series, The Eighties, on Thursday, March 31, at 9 p.m. ET/PT.  From EMMY® Award-winning producers Tom Hanks and Gary Goetzman in association with HBO and EMMY® Award-winning producer Mark Herzog, The Eighties explores the individuals and events that shaped a decade of exceptionalism and excess.  Through its use of rarely seen archival footage and interviews with journalists, historians, musicians and television artists as eyewitnesses to history, The Eighties will look at the age of Reagan, the AIDS crisis, the end of the Cold War, Wall Street corruption, the tech boom,  and the expansion of television and the evolving music scene.  The series launches with a two-hour episode on 80s television.
Check out this "Name that 80s Theme Song" video to get stoked for the series premiere!  http://cnn.it/24mugGk
About CNN Original Series
The CNN Original Series group develops non-scripted programming for television via commissioned projects, acquisitions and in-house production. Amy Entelis, executive vice president of talent and content development, oversees CNN Original Series and CNN Films for CNN Worldwide.
Contact: Heather Brown; 212-275-8428; Heather.Brown@turner.com