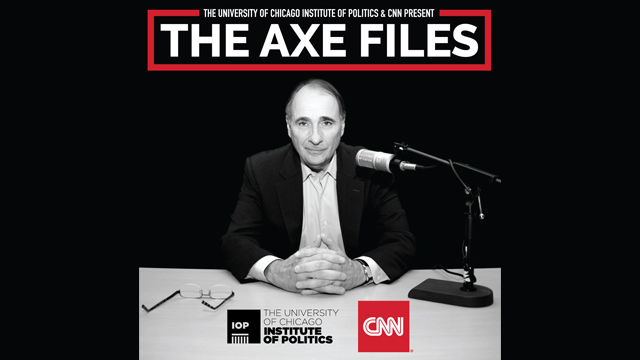 Podcasts
February 23rd, 2016
THE UNIVERSITY OF CHICAGO INSTITUTE OF POLITICS AND CNN ANNOUNCE PODCAST PARTNERSHIP
The University of Chicago Institute of Politics and CNN today announced a new partnership of the popular, critically acclaimed podcast "The Axe Files."
Axelrod, a senior political commentator for CNN, launched the podcast in September 2015 at the Institute of Politics, a non-partisan extracurricular organization he founded three years ago at his alma mater.
The podcast, a series of revealing conversations with key players in the political world, has featured guests such as Bernie Sanders, Mitt Romney, Nancy Pelosi, and Spike Lee. To date the podcast has been downloaded nearly 900,000 times and praised by The A.V. Club as "an intimate and engaging discussion podcast."
"When we started this podcast, I envisioned it as a chance to provide rare insights into some of the smartest people in politics, a way to give listeners a richer sense of who these people are and what they do," said Axelrod. "With its growing podcast network, CNN is a perfect fit for this program, especially in this fascinating election year."
The podcast launched as part of the CNN network on Monday, Feb. 22, and can be downloaded at CNN.com/podcast, on iTunes at iTunes.com/AxeFiles and on Stitcher.