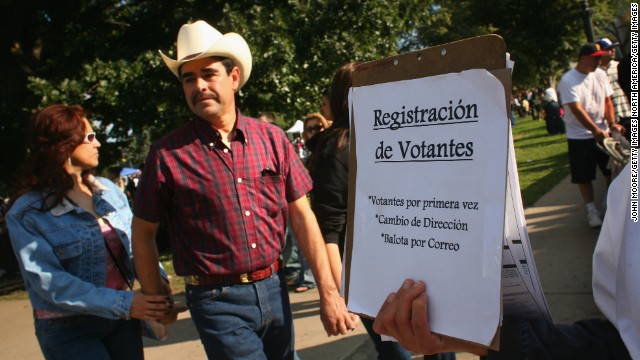 CNN en Espanol
January 27th, 2016
CNN EN ESPAÑOL AND CITY UNIVERSITY OF NEW YORK ANNOUNCE PARTNERSHIP
CNN EN ESPAÑOL AND CITY UNIVERSITY OF NEW YORK
ANNOUNCE PARTNERSHIP
CENTER FOR LATIN AMERICAN, CARIBBEAN AND LATINO STUDIES
AT THE GRADUATE CENTER TO RELEASE EXCLUSIVE RESEARCH ON THE IMPACT OF LATINOS ON U.S. ELECTIONS
REPORT #1 – THE LATINO VOTER REGISTRATION DILEMMA
CNN en Español and the Center for Latin American, Caribbean and Latino Studies (CLACLS) at the Graduate Center, City University of New York (CUNY), have partnered to provide an exclusive focus on Latino voters in America, the fastest growing minority voting bloc that could play an instrumental role in determining the next President of the United States.
CNN en Español will present CLACLS's detailed monthly reports — spanning a variety of election-related topics — across the television network and digital platforms leading up to key caucus and primary election dates.
The first report, THE LATINO VOTER REGISTRATION DILEMMA, focuses on the historic low voter turnout level among Latinos in presidential elections, despite their increase as a percentage of all voters at the national level to a projected 9.9% in the upcoming 2016 presidential elections. Only 48% of eligible Latino voters cast ballots in the 2012 elections compared with 64% of non-Hispanic whites and 66% of non-Hispanic blacks. The critical problem identified in this report is that voter registration rates among Latinos have remained steady at 58% of potential voters between the 1992 and 2012 presidential elections, despite well publicized voter-registration drives. An analysis of voter registration patterns by age and sex reveals that the most numerous eligible Latino voters, those between 18 and 44 years of age, register at even lower rates than the average and that Latino males in this demographic register at significantly lower rates than Latinas. Once registered, however, Latinos turn out at fairly high rates in presidential elections, over 80%, but their overall impact in national elections is compromised by low registration rates. The details of THE LATINO VOTER REGISTRATION DILEMMA as well as key state-level data is reviewed with precise data and is the first in a monthly series.
CLACLS's flagship program is the Latino Data Project, established in 2003 by Laird W. Bergad founding and current CLACLS director. Professor Bergad is a Distinguished Professor in the Department of Latin American, Puerto Rican, and Latino Studies at Lehman College and with the Ph.D. Program in History at the Graduate Center.
The Latino Data Project conducts detailed quantitative research on the Latino population of the United States and New York City metropolitan region, analyzing raw data files produced by the U.S. Census Bureau and other government agencies.
CNN en Español will be the exclusive media partner releasing CLACLS's focused research of Hispanics living in the United States. Combined with its extensive coverage of the 2016 election and its reach with U.S. Hispanics, CNN en Español's partnership with CLACLS is a powerful combination examining CLACLS's research into the impact of Latinos on the U.S. elections.
"The Graduate Center is among the few academic institutions examining the impact of Latino voters in U.S. elections," said Chase F. Robinson, President of the Graduate Center, City University of New York "This research has never been more necessary, and we couldn't be prouder of the partnership between CLACLS and CNN en Español to educate the wider public and promote a deeper understanding of diversity."
 "I am extraordinarily gratified for the partnership CLALCS has formed with CNN en Español, a leading global television network, to provide newsworthy data about the Latino electorate across the United States — especially in key states in which Latino voters have the potential to determine the outcome of the 2016 presidential elections," said Professor Bergad. "This partnership is testimony to the extraordinary quality of work accomplished by more than 100 Graduate Center Ph.D. candidates from varied disciplines who I have personally mentored during the past 14 years and deepens our commitment to educate New York City's diverse population."
"We are pleased to announce this very important partnership as it reflects our commitment to the U.S Hispanic market and our leadership among Latino voters and opinion leaders who count on CNN en Español's multiple platforms as their most trusted source for news and information," said Cynthia Hudson, senior vice president and general manager of CNN en Español and Hispanic strategy for CNN/U.S. "This first report focuses on the real issue facing Latinos for the 2016 elections, which is the low rate of young Latinos registering to vote.  If Latino registration efforts continue to use the same strategies and traditional outlets, they are missing out on the largest potential electorate – younger Latinos – who need to be engaged to register to vote in order to effect influence on the U.S. political system."
About the Graduate Center, City University of New York:
The Graduate Center (GC) is the principal doctorate-granting institution of the City University of New York. Offering more than 30 doctoral degrees and fostering globally significant research in a wide variety of centers and institutes, the GC affords rigorous academic training in the humanities, sciences, and social sciences. It is home to a core faculty of approximately 140 teachers and mentors, along with 1700 faculty from across the CUNY colleges and New York City's cultural, academic and scientific institutions. Through its public programs, the Graduate Center enhances the City's intellectual and cultural life.
About CNN en Español:
The CNN en Español business unit is responsible for several multi-media platforms geared toward Spanish-speaking audiences around the world, including CNN en Español 24 hour cable news for Latin America, Mexico and the U.S. in three separate feeds, reaching 38 million cable and DTH households throughout Latin American and 7.4 million households across the U.S., CNNEspanol.com and CNN en Español Radio, which include affiliate radio stations across Latin America and the U.S. in its partnership with Stardome Radio Networks.
###
Press Contacts:
CNN Communications
Isabel Bucaram, US
305 400 6806
Mariana Pinango, LatAm
404 827 3803
The Graduate Center, CUNY
Tanya Domi
212 817 7283