CNN
December 21st, 2015
Preview: CNN International Programme Information Weeks 1 – 2
Hong Kong In 24 Hours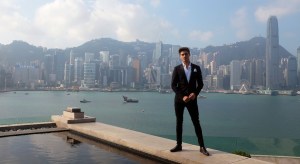 James Williams, host of 'In 24 Hours'
Wednesday 6 January at 1030 GMT / 1130 CET and 1730 GMT / 1830 CET
Saturday 9 January at 0630 GMT / 0730 CET and 1930 GMT / 2030 CET
Sunday 10 January at 1330 GMT / 1430 CET
Saturday 16 January at 1330 GMT / 1430 CET
Sunday 17 January at 1930 GMT / 2030 CET
Duration 30 Minutes
As the first touch point for many visitors in Asia, Hong Kong is a destination that is often rushed through, but rarely fully absorbed. In the second episode of CNN's new travel show, 'Hong Kong in 24 Hours', host James Williams (pictured) unveils the unique possibilities that the city has to offer. From sunrise to sunset and into the night, CNN takes viewers along to the places only a privileged few ever get to experience.
Williams' day kicks off with a martial arts session from the top of the Intercontinental Hotel overlooking the famed Hong Kong harbour. From there, he gets a lesson in bespoke suiting with the family behind famed tailor, Ascot Chang. The afternoon mixes in more adventure as Williams heads out on a luxury yacht to Sai Kung where he gains access to one of the most unique views of Hong Kong while paragliding off a mountain. After he has worked-up an appetite, it's time for a gourmet lunch personally prepared by Chef David Lai from the new restaurant, Fish School.
The evening includes a behind-the-scenes look at Hong Kong's Chinese orchestra as they prepare for their big tour around mainland China.
No trip is complete without a look at Hong Kong's nightlife, so Williams sets off with Lindsay Jang, co-owner of the ultra-popular restaurant Yardbird and overall Hong Kong it-girl. She gives him a peek of the ever-changing bar and restaurant scene, concluding with an exclusive sake tasting at one of the newest bars in town, Koko.
'Hong Kong In 24 Hours' is topped off with famed shoe designer and fashion pioneer, Jimmy Choo who shares his favourite things about Hong Kong.
#CNNTravel
https://www.instagram.com/lindsayjang/
https://www.instagram.com/fishschoolhk/
The Connectors 
Thursday 10 January at 1600 GMT / 1700 CET
'The Connectors' airs within Connect the World
January sees the start of a new series on CNN International, 'The Connectors'. In each segment, world-class creative teams discuss how they collaborated to create an iconic project.
The first segment comes from the internationally-renowned Aardman Animations, where the creators of the iconic Wallace and Gromit series discuss their creative process. The programme meets Aardman Creative Director Peter Lord and the Aardman team behind Special Delivery, a new immersive 3D interactive short story project commissioned by Google spotlight series.
@aardman
Living Golf
Thursday 7 January at 1030 GMT / 1130 CET and 1730 GMT / 1830 CET
Saturday 9 January at 0730 GMT / 0830 CET and 2230 GMT / 2330 CET
Sunday 10 January at 1730 GMT / 1830 CET
Saturday 16 January 1730 GMT / 1830 CET
Sunday 17 January 0730 GMT / 0830 CET and 2230 GMT / 2330 CET
Duration: 30 minutes
In the first programme of the New Year, 'Living Golf' investigates the current state of the game.
Professional players are making more money and playing more tournaments than ever before, but is that a fair indication that the game is in a good state? While interest in golf continues to spread globally there is evidence to suggest that the popularity of the sport is declining, especially among younger generations. 'Living Golf' explores this possibility and features The First Tee, an organisation that aims to inspire and impact the lives of young people through the game of golf.
The show also heads to Shanghai, China with a report from the HSBC Golf Business Forum. The event is the world's largest and most significant annual meeting of gold industry executives. 'Living Golf' speaks to those who are shaping the game including: the Commissioner of the PGA Tour, Tim Finchem; Chief Executive of the European Tour, Keith Pelley; Chief Executive of The R&A, Martin Slumbers; Commissioner of the LPGA, Mike Whan; and Pro Golfer Rickie Fowler (pictured).
@RickieFowler
Talk Asia 
Thursday 7 January at 0930 GMT / 1030 CET
Friday 8 January at 0430 GMT / 0530 CET
Saturday 9 January at 0530 GMT / 0630 CET and 1630 GMT / 1730 CET
Saturday 16 January at 1230 GMT / 1330 CET
Sunday 17 January 0430 GMT / 0530 CET
Monday 18 January 0400 GMT / 0500 CET
Duration: 30 minutes
As an actor, Robert De Niro's career can best be described as prolific. His roles, spanning from the mysterious to the colourful, weave their way into becoming cultural mainstays. Having stared in almost 100 movies, with six Oscar nominations and two wins, his footprint in Hollywood is as iconic as the many characters in his portfolio.
Off screen, the native New Yorker has found other ways to keep himself busy with his projects which include the famous restaurant chain Nobu, Tribeca Productions and leisure resort Studio City in Macau.
This month on 'Talk Asia', CNN correspondent Manisha Tank sits down with the legendary actor in Studio City. De Niro talks about the 'booming' Asian economy, how intuition influences his business decisions, and his message to young people who are trying to make it in the movie industry.
http://edition.cnn.com/specials/asia/talk-asia
CNN Business Traveller 
Thursday 14 January at 0930 GMT / 1030 CET
Friday 16 January at 0430 GMT / 0530 CET
Saturday 17 January at 0530 GMT / 0630 CET and 1630 GMT / 1730 CET
Duration: 30 minutes
'CNN Business Traveller' in January looks at the blending and blurring of the line between business and leisure travel: 'Bleisure'.
There's an argument that business travellers have always done this: see the sights in an afternoon, or spend a few free house by the pool. But globally, there are signs of a growing movement, especially among younger business travellers, to take advantage of business travel by incorporating personal time, whether that means adding a few extra days, or bringing your partner along.
'CNN Business Traveller' reports from The Philippines where the diversity of the country, which includes the skyscrapers of Manila to the beaches of more 7,000 islands, make it the perfect place to explore this evolving trend.
http://edition.cnn.com/SPECIALS/business.traveller