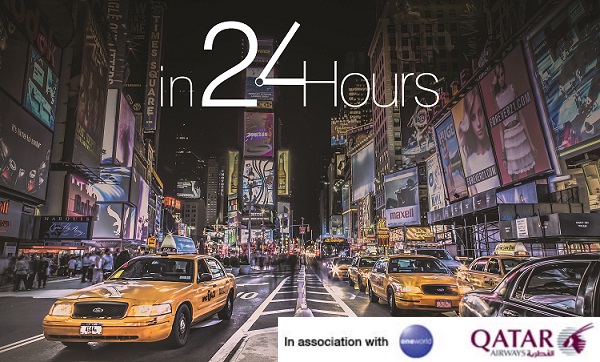 CNN
December 9th, 2015
Qatar Airways strengthens relationship with CNN International through sponsorship of monthly travel series, 'In 24 Hours'
Qatar Airways is extending its commercial relationship with CNN International by embarking on an exclusive international sponsorship campaign of the network's new monthly travel series, 'In 24 Hours'.
The campaign, launching today, builds on the long-standing relationship between the two companies which dates back to Qatar Airways spot advertising first running on CNN International in 2003, and subsequent sponsorships such as CNN Weather and an aviation theme week.
The new integrated multi-media Qatar Airways campaign spans spot advertising, digital and programme sponsorship. The focal point of the campaign is the TV and digital sponsorship of 'In 24 Hours', a show that descends on a vibrant city to experience a perfect day's down time.
From morning until after hours, host James Williams will every month bring viewers unique and exclusive experiences from one of the world's greatest cities. CNN's audience will get a personal tour of each location, finding out what a city has to offer beyond the pages of travel guides. The show also has a large digital and social media footprint.
Each episode of 'In 24 Hours' spans an experience in the morning, afternoon and evening, as well as a celebrity's take on the city. The show's first destination is New York, premiering today on CNN International (Wednesday 9 December).  The episode includes a flyover of Manhattan on a helicopter, a private preview of Andrew Lloyd Webber's latest Broadway musical and Anthony Bourdain's personal secrets and favourite hotspots in New York.
The integrated campaign means that Qatar Airways is benefitting from the scale of CNN's TV and digital audiences. The Ipsos Affluent Survey 2014 shows that CNN reaches 69% of frequent international travellers across TV or Digital platforms each month in the EMEA region.
The global reach of the CNN network and the partnership with Qatar Airways is a complementary pairing of premium brands for travellers. The travel experience offered by Qatar Airways spans diverse destinations across six continents with one of the youngest fleets in the skies.
Rani R. Raad, Chief Commercial Officer, CNN International, said: "We are delighted to extend our long-standing relationship with Qatar Airways for CNN's new premier travel programme. The combination of a smart commercial proposition for a strong brand such as Qatar Airways, with compelling content will engage with relevant audiences across all CNN's platforms."
His Excellency Mr. Akbar Al Baker, Qatar Airways' Chief Executive Officer, said: "With the advent of the airline's brand re-launch, we take the conversation to an entirely different level, sharing with our passengers the importance of the journey and discovering new places and moments. For the business person, cultured and learned traveller we have a destination network that includes a wide array of cities to discover, hold conferences in or just relax. With CNN's travel programme 'in 24 hours' we feel aligned with the underlying sentiment, which is to discover, grow and explore. We are all about soaring to new heights and globally connecting the world to the people, and people to the world."
Ms. Salam Al Shawa, Qatar Airways' Senior Vice President of Marketing and Corporate Communications, said: "The Qatar Airways' new brand campaign encapsulates the journey and the mesmerising, eye-opening moments that travelling brings along with it. It is a global, unifying campaign intended to bring to the forefront the exchanges that come with travel; the personal, the growth, and the pleasure in reconnective. We took pride on focusing on the under-represented aspect of the emotional part of travelling, and how important service is to our passengers. With a global route map across six continents, we also wanted to ensure our global audience is aware of the expansive territory that Qatar Airways serves."
About CNN International
CNN's portfolio of news and information services is available in six different languages across all major TV, internet and mobile platforms reaching more than 395 million households around the globe. CNN International is the number one international TV news channel according to all major media surveys across Europe, the Middle East and Africa, the Asia Pacific region and Latin America and has an increased presence in the U.S. with its recent launch on CNNgo. Over the years it has won multiple prestigious awards around the world for its journalism, including most recently the Asian Television Award Cable & Satellite Network and Channel of the Year, and is a two-time winner of Royal Television Society News Channel of the Year. CNN Digital is a top network for online news, mobile news and social media. CNN has 42 editorial offices and more than 1,100 affiliates worldwide through CNN Newsource. CNN International is part of Turner Broadcasting System, Inc., a Time Warner company.
About Qatar Airways
Qatar Airways, the national carrier of the State of Qatar, is one of the fastest growing airlines operating one of the youngest fleets in the world. Now in its 18th year of operations, Qatar Airways has a modern fleet of 173 aircraft flying to 153 key business and leisure destinations across six continents. Qatar Airways won Airline of the Year, Best Business Class Airline Seat and Best Airline in the Middle East at the 2015 Skytrax Awards. This is the third time the airline won the accolade of Airline of the Year.
Qatar Airways is a member of the oneworld global alliance. The award-winning alliance was named the World's Best Airline Alliance 2015 by Skytrax for the third year running. Qatar Airways was the first Gulf carrier to join global airline alliance, oneworld, enabling its passengers to benefit from more than 1,000 airports in more than 150 countries, with 14,250 daily departures.
This year, Qatar Airways launched Oryx One, an enhanced interface for its inflight entertainment system, increasing the number of movies and TV shows on board from 950 to up to 2,000. Passengers flying on Qatar Airways flights served by its B787, A350, A380, A319 as well as select A320 and A330 aircraft can also stay in touch with their friends and family around the world by using the five-star airline's on-board Wifi and GSM service.
Qatar Airways Cargo, the world's third largest cargo carrier, serves more than 40 exclusive freighter destinations worldwide via its Doha hub and also delivers freight to more than 150 key business and leisure destinations globally on 173 aircraft. The Qatar Airways Cargo fleet now includes six Airbus 330, eight Boeing 777 freighters and one Boeing 747 freighter.
For more information, visit our homepage www.qatarairways.com or our sites on Facebook, Twitter, Google+, Instagram, and YouTube.
For Qatar Airways corporate images, please click here: http://www.qatarairways.com/corporateimages
For more information, please contact: 
Joel Brown
PR Manager
CNN Europe, Middle East & Africa
Tel: + 44 20 7693 0967