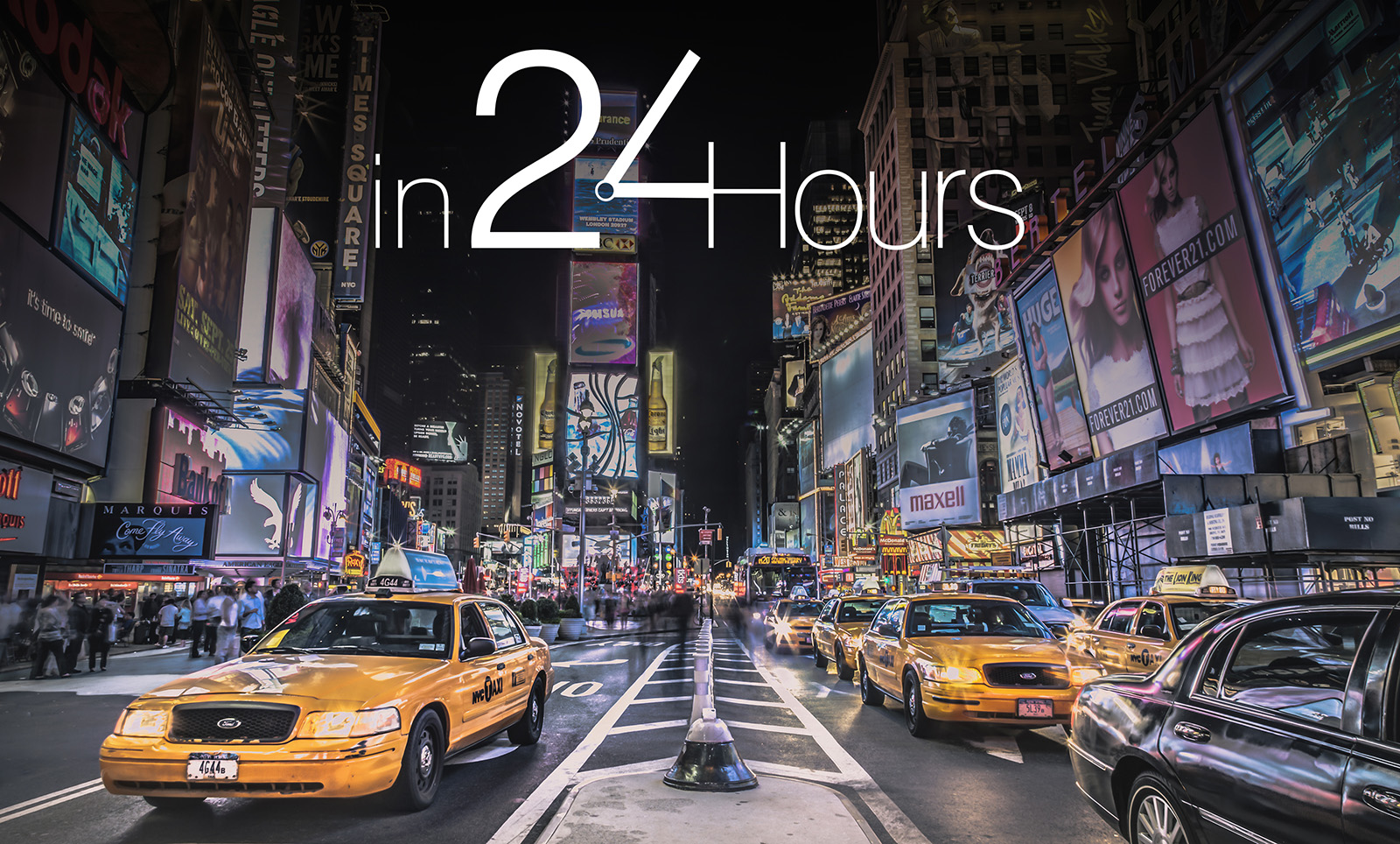 CNN
December 8th, 2015
'In 24 Hours' on CNN International
NEW monthly 30 minute travel series on CNN
Launch show: 'New York In 24 Hours' airs Wednesday 9 December
CNN International today announced the launch of a new 30 minute travel programme,   'In 24 Hours' which will descend on a vibrant city each month to experience a perfect day's down time.
From morning until after hours, host James Williams will bring viewers unique and exclusive experiences from one of the world's greatest cities. CNN's audience will get a personal tour of each location, finding out what a city has to offer beyond the pages of travel guides.
Each show spans an experience in the morning, afternoon and evening, as well as a celebrity's take on the city.
The iconic and sophisticated city of New York features first in the programme, and will include:
Renowned chef Anthony Bourdain reveals his New York secrets and favourite hotspots.
A private preview of 'School of Rock', Andrew Lloyd Webber's return to Broadway, including meeting the cast and composer
A flyover of the island of Manhattan via high-end helicopter service, Blade
A hidden tennis court in Grand Central Station
A secret train platform beneath the Waldorf Astoria hotel famously used by President Franklin D. Roosevelt
The two-storey penthouse at the Mark Hotel; the most expensive penthouse in the world, and largest in the United States
Private dinner with Michael White, head chef and owner of the Altamarea Group
An inside visit to vintage cocktail bar, Dear Irving
TEASER VIDEO FOR 'NEW YORK IN 24 HOURS': http://cnn.it/1leEUNx
Digital coverage will include a special 'In 24 Hours' microsite on cnn.com which will publish additional stories supporting each episode, including short video pieces produced for CNN's digital audience.
In addition, CNN Travel will produce and deliver a social media campaign throughout the series, particularly harnessing CNN Travel's strong social media presence on Instagram with over 50,000 followers https://www.instagram.com/cnntravel. There will also be social media amplification on CNN International's Facebook and Twitter accounts, which have around 15 million followers.
James Williams said: "I'm super excited to take CNN's audience around the world for 'In 24 Hours'. We're going to see the most amazing things in the most amazing places, and show viewers how to have the most fun possible in the greatest cities on earth."
Ellana Lee, Senior Vice President, CNN International, said: "CNN has a long tradition of offering quality travel programming which appeals to our experienced, well-travelled international audience. We're excited that 'In 24 Hours' will provide them with a unique take on cities they already know well. The integration of digital elements plus use of Instagram to harness the visual elements of the show will extend CNN's TV coverage to reach different audiences."
'New York In 24 Hours' is sponsored by Qatar Airways and can be seen at the following times on CNN International:
Wednesday 9 December at 1030 GMT / 1130 CET and 1730 GMT / 1830 CET
Saturday 12 December at 0630 GMT / 0730 CET and 1930 GMT / 2030 CET
Sunday 13 December at 1330 GMT / 1430 CET
Saturday 19 December at 1230 GMT / 1330 CET
Sunday 20 December at 0530 GMT / 0630 CET
Monday 21 December at 0400 GMT / 0500 CET
'In 24 Hours' social media:

 https://www.instagram.com/cnntravel

 https://www.facebook.com/cnninternational/?fref=ts

https://twitter.com/cnni
About CNN International
CNN's portfolio of news and information services is available in six different languages across all major TV, internet and mobile platforms reaching more than 395 million households around the globe. CNN International is the number one international TV news channel according to all major media surveys across Europe, the Middle East and Africa, the Asia Pacific region and Latin America and has an increased presence in the U.S. with its recent launch on CNNgo. Over the years it has won multiple prestigious awards around the world for its journalism, including most recently the Asian Television Award Cable & Satellite Network and Channel of the Year, and is a two-time winner of Royal Television Society News Channel of the Year. CNN Digital is a top network for online news, mobile news and social media. CNN has 42 editorial offices and more than 1,100 affiliates worldwide through CNN Newsource. CNN International is part of Turner Broadcasting System, Inc., a Time Warner company.
For more information, please contact: 
Joel Brown
PR Manager
CNN Europe, Middle East & Africa
Tel: + 44 20 7693 0967