CNN
December 4th, 2015
"CNN Heroes: An All-Star Tribute" Premiering this Sunday, December 6, at 8pm/ET
CNN HEROES: AN ALL-STAR TRIBUTE
WILL PREMIERE ON SUNDAY, DECEMBER 6, AT 8pm/ET
TWO BACK-TO-BACK HEROES SPECIALS WILL AIR ON
FRIDAY, DECEMBER 4, AT 10pm/ET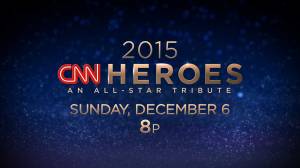 CNN Heroes: An All-Star Tribute, hosted by Anderson Cooper, will premiere on Sunday, December 6, at 8pm/ET. Leading up to the ninth annual tribute, CNN will also air two half-hour specials highlighting those who are using their platforms to help advance the causes and charities they are passionate about.
The star-studded tribute show, which honors everyday people making a difference in the lives of others, features celebrity presenters Taylor Schilling, Neil Patrick Harris, Sharon Stone, Kathy Griffin, Common, Kelly Ripa, Justin Theroux, Chris Noth, Zachary Quinto and Victoria Justice. Jacob Tremblay and Bethany Mota also honor teens being recognized by CNN as Young Wonders.
The evening culminates with a powerful musical performance by soul, R&B, and jazz singer Andra Day, who sings her widely hailed song Rise Up and the announcement of the 2015 CNN Hero of the Year.
Throughout the broadcast, viewers may donate to any of this year's Top 10 CNN Heroes at CNNHeroes.com. Supporters are also encouraged to follow CNN Heroes on Facebook, Twitter and Instagram for behind-the-scenes photos and video, using #CNNHeroes to "join the conversation" about the show and their favorite heroes and causes.
A preview of CNN Heroes: An All-Star Tribute can be found here: http://www.cnn.com/videos/tv/2015/12/02/cnnheroes-2015-gala-promo-60.cnn
The two half-hour specials leading up to CNN Heroes: An All-Star Tribute will be hosted by Michaela Pereira and will air on Friday, December 4:
Using Their Powers for Good: A CNN Super- Heroes Special, airing at 10pm/ET, will feature actress Elizabeth Olsen and actors Sir Patrick Stewart and Michael B. Jordan, all of whom have played superheroes on screen and are helping others off screen. They will discuss the causes that mean the most to them and will share some of the personal experiences that fuel their involvement.
Young Hollywood Gives Back: A #CNNHeroes Special, airing at 10:30pm/ET, will highlight young stars Shay Mitchell from ABC Family's Pretty Little Liars, Academy Award nominee and star of Fox's Scream Queens Abigail Breslin, and American Idol's Jordin Sparks. Each is using their fame and the power of social media to shine a light on the charities that are most important to them.
About CNN Worldwide:
CNN Worldwide, a division of Turner Broadcasting System, Inc., a Time Warner Company, is the most trusted source for news and information. Its reach extends to nine cable and satellite television networks; one private place-based network; two radio networks; wireless devices around the world; CNN Digital Network, the No. 1 network of news Web sites in the United States; CNN Newsource, the world's most extensively syndicated news service; and strategic international partnerships within both television and the digital media. For more information, visit CNNPressroom.com.
###