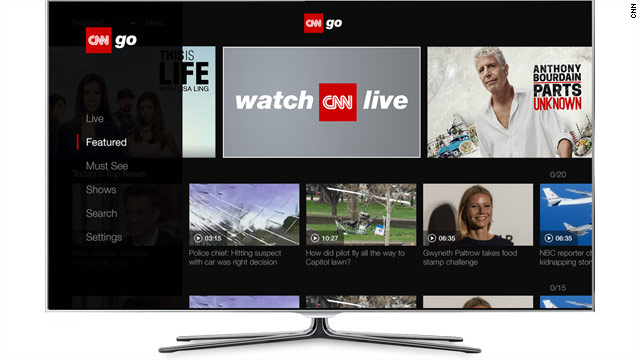 CNNgo
December 3rd, 2015
CNNgo Launches on the Roku Platform
CNN announced today the availability of CNNgo on Roku® players and Roku TV™ models, bringing CNN content to millions of Roku customers in the U.S.  As part of the industry-wide TV Everywhere initiative, available in 86 million homes, CNNgo is expanding its footprint to customers of participating Pay-TV providers and bringing CNNgo to the Roku streaming platform.
The CNNgo channel includes live CNN U.S television and on-demand feature programs and clips for Pay-TV subscribers. These viewers can log in with their cable or satellite user name and password to access CNN's streaming video, past and future show segments and related videos and photo galleries. In addition, all U.S. Roku customers will be able to access hundreds of video clips and collections through the CNNgo channel.
"With the release of CNNgo on Roku streaming devices, CNN is continuing to give viewers control over their news experience on the platform of their choice," said Rajin Persaud, VP of Digital Video and TVE Products.  "We're excited to bring CNNgo's industry-leading capabilities – like contextualizing live television and syncing video with complementary content in real time 24-7 – to Roku customers."
CNNgo is also available on CNN.com, CNN's iPad app and on Apple TV. CNNgo is a next-generation product that gives viewers unprecedented control over their TV news experience through TV Everywhere.
About TV Everywhere
CNN Worldwide was the first U.S. news organization to stream its full CNN and HLN networks online and on Apple devices in real-time, including commercials. CNN's TV Everywhere option is available in over 86 million homes and with more than 350 distribution partners. In the first three quarters of 2015, CNN's TVE platforms delivered a combined 14 million hours of video content, up 50% vs. the same time last year.  (Source: Adobe Reports & Analytics.  Jan-Sept '15 vs. Jan-Sept '14.)
Roku is a registered trademark and Roku TV is a trademark of Roku, Inc. in the U.S. and in other countries.
###