CNN
November 20th, 2015
CNN and Amazon Partner for CNN Heroes Online Donations
Supporters can use Amazon Payments to contribute to the Top 10 CNN Heroes' designated Non-Profit Organizations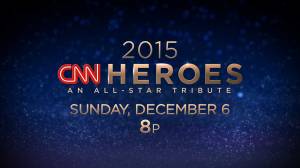 For the third consecutive year, CNN and Amazon have teamed up to enable people around the world to donate to the top 10 CNN Heroes and their causes by using Amazon Payments. Viewers can see the premiere of CNN Heroes: An All-Star Tribute on Sunday, December 6th at 8pm/ET.
Until December 31, 2015, supporters can make online donations to the CNN Heroes' designated nonprofit organizations by clicking the 'Donate with Amazon' button on CNNHeroes.com and on each of the top 10 Heroes' individual story pages. Amazon Payments is a fast, easy and secure way to donate online using the payment information stored in a user's Amazon account. All donations are tax-deductible in the United States.
The only gala of its kind, CNN Heroes: An All-Star Tribute is a star-studded show that honors individuals who are making extraordinary contributions in improving the lives of others. Hosted by Anderson Cooper, CNN Heroes returns to New York City's American Museum of Natural History.
Now in its ninth year, CNN Heroes has profiled the outstanding work of more than 250 heroes and has received over 50,000 submissions from more than 100 countries. For more information about the Top 10 CNN Heroes, visit: CNNHeroes.com.
About CNN Worldwide
CNN Worldwide, a division of Turner Broadcasting System, Inc., a Time Warner Company, is the most trusted source for news and information. Its reach extends to nine cable and satellite television networks; one private place-based network; two radio networks; wireless devices around the world; CNN Digital Network, the No. 1 network of news Web sites in the United States; CNN Newsource, the world's most extensively syndicated news service; and strategic international partnerships within both television and the digital media. For more information, visit CNNPressroom.com.
-###-