CNN
November 17th, 2015
Maggie Doyne is named the 2015 CNN Hero of the Year
CNN Heroes: An All-Star Tribute Airs Sunday, December 6, at 8pm/ET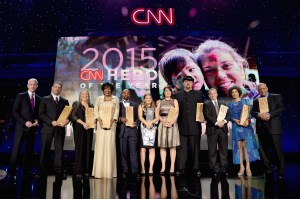 Maggie Doyne, who cares for and educates hundreds of children in Nepal, was named the 2015 CNN Hero of the Year. Hosted by Anderson Cooper, the ninth annual CNN Heroes: An All-Star Tribute took place tonight in New York City.
A resident of Mendham, NJ and Surkhet, Nepal, Doyne took a life-altering trip to Nepal where she saw, first-hand, the state of suffering that women and children face. Today, she and her nonprofit BlinkNow Foundation provide education in addition to a supportive and encouraging community to orphaned, impoverished, and at-risk children.
While accepting her award, Doyne stated, "There is no time to waste. If you are educated and free, empowered and safe, you have to use your strength, your power, and your gifts to help the rest of our human family."
Singer and actress Victoria Justice presented Doyne with her honor earlier in the ceremony.
Each of the Top Ten CNN Heroes will receive $10,000 in recognition of their work. After winning the global vote, Doyne's BlinkNow Foundation will receive an additional $100,000 grant to further aid her cause.
CNN Heroes: An All-Star Tribute is scheduled to air on CNN, Sunday, December 6, at 8pm/ET. The star-studded tribute took place Tuesday, November 17th, at the iconic American Museum of Natural History in New York City.
The evening's celebrity presenters included Taylor Schilling, Neil Patrick Harris, Sharon Stone, Kathy Griffin, Common, Kelly Ripa, Chris Noth, and Zachary Quinto.
Victoria Justice, Jacob Tremblay and Bethany Mota also presented awards to three teens being recognized by CNN as Young Wonders.
Highlights from the evening included a musical performance by American soul, R&B, and jazz singer Andra Day who sang her widely hailed song Rise Up, and a comedic performance by W. Kamau Bell, the host of United Shades of America, a new CNN program debuting in 2016.
The Peabody Award-winning and Emmy-nominated CNN Heroes: An All Star Tribute has profiled over 250 heroes and has received more than 50,000 nominations from more than 100 countries.
Social media users are encouraged to "like" CNN Heroes on Facebook, follow @CNNHeroes on Twitter, and use hashtag #CNNHeroes. Behind-the-scenes images can be viewed on the CNN Heroes Instagram account.
About CNN Worldwide
CNN Worldwide, a division of Turner Broadcasting System, Inc., a Time Warner Company, is the most trusted source for news and information. Its reach extends to nine cable and satellite television networks; one private place-based network; two radio networks; wireless devices around the world; CNN Digital Network, the No. 1 network of news Web sites in the United States; CNN Newsource, the world's most extensively syndicated news service; and strategic international partnerships within both television and the digital media. For more information, visit CNNPressroom.com.
###