CNN International Shows
October 21st, 2015
Long Road to Hell: America in Iraq hosted by CNN's Fareed Zakaria airs Monday on CNN and CNN International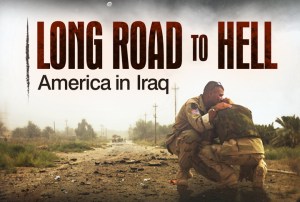 President George W. Bush had a dream that Iraq would become a beacon of hope in the Middle East.   Now, with the region wracked by chaos, civil war, and violence, some U.S. presidential candidates are pledging to order American "boots on the ground" again in Iraq – this time to fight ISIS.  The crucial question is:  do we understand the Iraq we would be going back to?  CNN's Fareed Zakaria will take a timely look at the reality of what is left of Iraq in Long Road to Hell: America in Iraq.
Zakaria asks tough questions of many of the key architects of America's military intervention in Iraq over the last dozen years: Who is responsible for the unraveling of Iraq?  Do those who want to send American troops to Iraq again understand the mistakes of the past?  And, is Iraq even a country anymore?
Zakaria was himself an early supporter of the 2003 military intervention in Iraq. Explaining how his views evolved over time, Zakaria points out the consequences of the major strategic choices. He argues there were too few troops sent to maintain post-war order once the American-led coalition had conquered Saddam's army. And, greater inclusion of the sectarian groups in Iraq could have meant more regional support for the nation-building efforts that followed the collapse of the Baathist regime.
In Long Road to Hell, Zakaria examines these vital pivot points and mistakes – some previously unknown until now. Offering answers and exploring the challenges are:
Tony Blair, U.K. Prime Minister (1997 – 2007), Quartet Representative for the Middle East (2007 – 2015);
Antony Blinken, U.S. Deputy Secretary of State (2014 – present);
Paul Bremer, Presidential Envoy to Iraq (2003 – 2004);
Richard Clarke, Special Advisor to the President for Cyberspace (2001 – 2003); National Coordinator for Security and Counterterrorism Czar (1998 – 2003); Deputy Assistant Secretary of State for Intelligence (Ronald Reagan Administration);
Douglas Feith, Undersecretary of Defense for Policy (2001 – 2005);
Peter Galbraith, former U.S. diplomat;
Richard Haass, PhD, president, Council on Foreign Relations (2003 – present); former lead U.S. official on Afghanistan and Northern Ireland (2001 – 2003); and
Gen. David Petraeus (ret.), Commander, Multi-National Force in Iraq (2007 – 2008); Commander, International Security Assistance Force and Commander, U.S. Forces in Afghanistan (2010 – 2011); Commander, U.S. Central Command (2008 – 2010).
The one-hour primetime special, Long Road to Hell: America in Iraq, hosted by Fareed Zakaria, is scheduled to premiere in simulcast on Monday, Oct. 26 at 9:00pm on CNN/U.S. and CNN International. It will also encore on CNN/U.S. at 12:00am.  Zakaria will be answering questions about this topic via CNN's Facebook page prior to the special at noon on Monday, Oct. 26. All times Eastern.
###