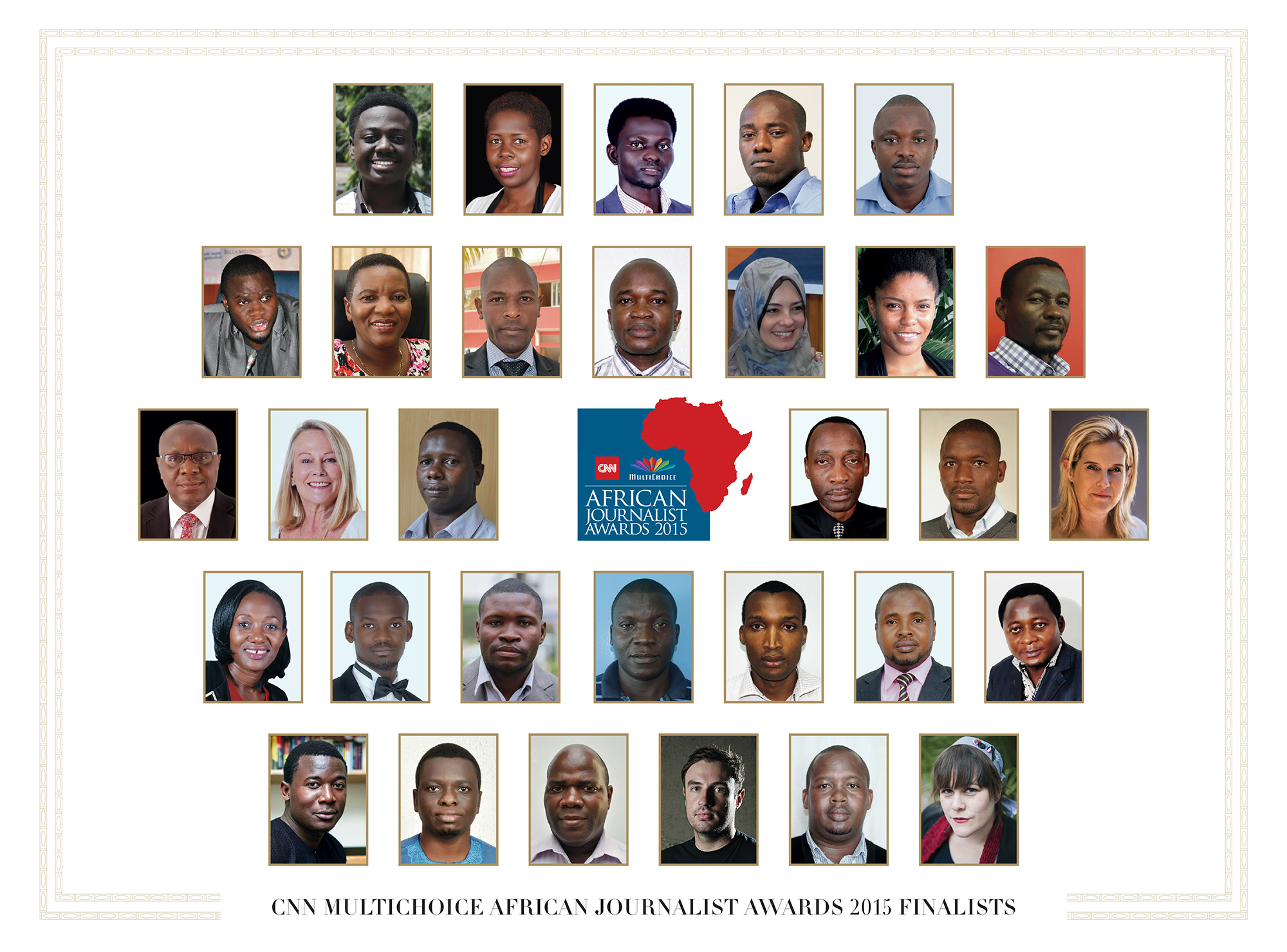 CNN
September 14th, 2015
CNN MULTICHOICE AFRICAN JOURNALIST 2015 FINALISTS ANNOUNCED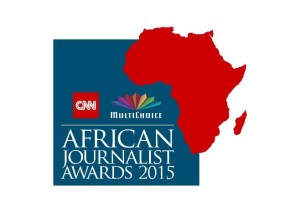 Finalists in the prestigious CNN MultiChoice African Journalist 2015 Competition were announced today by Ferial Haffajee, Chair of the independent judging panel. The competition is now in a landmark 20th year.
This year the competition received entries from 39 countries across the continent, including French and Portuguese speaking Africa.
There are 31 finalists from 15 countries:
Fiifi Essilfie Anaman, Freelance for zonalsports.com, Ghana
Benedicta Asiimwe, Freelance for Daily Monitor, Uganda
Femi Asu, Punch Newspaper, Nigeria
Domingos Bento, redeangola.info, Angola
Thomas Naadi Bitlegma, Viasat1, Ghana
Sheriff Bojang Jnr, Freelance for West Africa Democracy Radio, Senegal
Ruth Butaumocho, The Herald, Zimbabwe
Ibrahima Diallo, Radiodiffusion Télévision Sénégalaise (RTS), Senegal
Adewale Olugbenga Emosu, tribuneonlineng.com, Nigeria
Chahinaz Samir Gheith, Al-Ahram Hebdo, Egypt
Carla Gonçalves, A Nação, Cape Verde
Boldwill Hungwe, Zimbabwe Independent, Zimbabwe
Ibanga Isine, Premium Times Newspaper, Nigeria
Paul Kelemba, Freelance for The Standard on Saturday, Kenya
Deo Gratias Tchédé Kindoho, Radio Bénin, Benin
Julie Laurenz & Jacqueline Jayamaha, Freelance for e.tv, South Africa
Petride Mudoola, Freelance for Sunday Vision, Uganda
Abubakari Akida Mussa, Mtanzania Newspaper, Tanzania
Pedro Paxi Pereira Ndoma, TV Zimbo, Angola
George Oduor Otieno, Baraka FM, Kenya
Hyacinthe Boowurosigue Sanou, L'Observateur Paalga, Burkina Faso
Enock Sikolia & Charles Kariuki, NTV, Kenya
Arison Tamfu, Cameroon Journal, Cameroon
Kọ́lá Túbọ̀sún, Blogger at ktravula.com, Nigeria
Arukaino Umukoro, Punch Newspaper, Nigeria
Bento Venâncio, Jornal Domingo, Mozambique
Herman Verwey, Beeld, South Africa
Kiundu Waweru, The Standard on Saturday, Kenya
Sarah Wild, Mail & Guardian, South Africa
The independent judging panel, chaired by Ferial Haffajee, Editor-in-Chief, City Press, South Africa, includes: Debo Adesina, Editor-in-Chief, Guardian Newspapers, Nigeria; Nima Elbagir, Senior International Correspondent, CNN; Jean-Paul Gérouard, Editor-in-Chief, France Télévisions ; Fernando Gonçalves, Editor, Savana, Mozambique; Anton Harber, Caxton Professor of Journalism, University of the Witwatersrand; Joel Kibazo, Director of Communications and External Relations, African Development Bank Group; Amadou Mahtar Ba, Co-Founder and Executive Chairman, AllAfrica Global Media; Wanja Njuguna, Senior Lecturer, Polytechnic of Namibia & CNN Journalist of the year 2000; José Sebastião Paulo, Professor of Journalism, University Agostinho Neto, Angola; and, David Ohito, Digital Editor, The Standard Media Group, Kenya.
The competition is once again supported by the following sponsors, who continue to lend their valuable support to the awards: A24 Media, African Development Bank, Dow, Ecobank, GE, IPP Media and MSD (MSD is known as Merck in the U.S. and Canada).
The finalists will enjoy an all-expense paid four day programme of workshops, media forums and networking in Nairobi, Kenya, culminating in a Gala Award Ceremony in October 2015. In addition, winners from previous years will join this year's finalists for a special evening to celebrate 20 years of the awards.
Tony Maddox, Executive Vice-President and Managing Director of CNN International said: "The quality and breadth of entries in this, its 20th, year is testament to the CNN MultiChoice African Journalist Awards' position as the most prestigious recognition for journalism across the continent. CNN is privileged to be involved in this important initiative to honor the outstanding work across multiple platforms, topics and journalistic disciplines. I salute the finalists for the great work that they have done and look forward to seeing their future achievements."
Greg Beitchman, Vice President, Content Sales and Partnerships, CNN International: "This year's ceremony promises to be a stellar moment in the long history of the CNN MultiChoice African Journalist Awards. A combination of the strong body of work to be showcased at the 2015 awards, the presence of a number of former winners, and the backdrop of the vibrant city of Nairobi will make for an evening that celebrates the very best of African journalism."
Tim Jacobs, CEO MultiChoice Africa: "We continue to be amazed by the resourcefulness and growth of journalists in the complexity and immediacy of the digital and online age of news and information. That is why we remain committed to nurturing and growing African journalists who have a huge responsibility and role to play and where tech-savvy readers have the ability to follow breaking stories and are not shy to engage in dialogue on a number of different platforms.  The CNN MultiChoice African Journalist of the Year Awards have for the past 20 years provided a voice for credible journalism. As we celebrate this remarkable milestone, we can only commend the journalists for leaving no stone unturned in telling the important stories."
Imtiaz Patel, Group CEO, MultiChoice: "MultiChoice is delighted to once again be associated with these prestigious awards that give respect to the work done by journalists across the African continent. We congratulate all the finalists on their achievements and look forward to celebrating with the winners in Nairobi in October."
Note to Editors: Competition Criteria
The CNN MultiChoice African Journalist 2015 competition is open to African professional journalists, whether directly employed or freelancers, working in the continent of Africa who have produced a story which has been made available as a printed publication or broadcast through an electronic medium (television; radio or digital platform) whose primary audience are based in Africa.
Entries were published or broadcast in 2014 for the following awards:
Culture Award; Ecobank Economics & Business Award; Mohamed Amin Photo Award; African Development Bank Environment Award; Press Freedom Award; MSD Health & Medical Award; Sport Reporting Award; News Impact Award; Francophone general news awards; Portuguese language general news awards; GE Energy & Infrastructure Award; Features Award; and Dow Technology & Innovation Award.
Keep up-to-date with the awards at: www.africa.cnnjournalistaward.com and via social media on:

 https://www.facebook.com/#!/CNNMultichoiceAfricanJournalistOfTheYearAwards

@Africanjourno

 @cnn_multichoice_aja
#AfricanJournoAwards
Issued: 14 September 2015
For further information please contact:
CNN International: Joel Brown + 44 20 7693 0967 joel.brown@turner.com or Dan Faulks + 44 20 7693 1362 / + 44 7554 439100 dan.faulks@turner.com
MultiChoice Africa: Nonye Mpho Omotola Nonye.Omotola@multichoice.co.za + 27 11 289 3524 / + 27 605 598024
MultiChoice South Africa: Marietjie Groenewald + 27 11 289 3067 / + 27 79 501 1758 Marietjie.Groenewald@multichoice.co.za