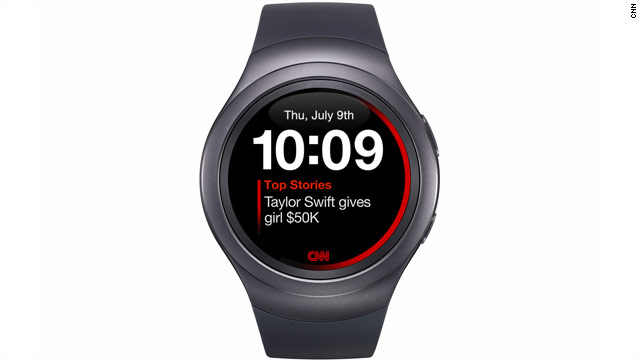 Video
September 3rd, 2015
CNN and Samsung Electronics America Announce Strategic Partnership
1080p HD Video Resolution Creates Exclusive News Experience
CNN and Samsung Electronics America announced a broad agreement to partner on an exclusive news experience for Samsung mobile device owners.  Combining Samsung's Super AMOLED displays, CNN's premium news video and a commitment from both companies to develop cooperatively, the CNN experience for Samsung will be available for users of the latest Samsung smartphone, tablet and wearable devices. In addition, both companies agree to co-develop more unique experiences across Samsung's product portfolio.
"Mobile consumption now drives the majority of CNN's digital traffic," said CNN Chief Product Officer Alex Wellen, "By partnering deeply with Samsung, we are bringing CNN's original video storytelling to millions of new mobile devices through a variety of signature, breathtaking digital experiences."
CNN is creating exclusive 1080p HD video experiences that look stunning on Samsung's Super AMOLED displays.  The CNN experience will include hand-curated video collections in full HD resolution and feature a range of news and programs.
"We're thrilled to work with CNN as a strategic, co-development partner for Samsung," said John Pleasants, executive vice president at Samsung Media Solutions Center America. "The exclusive features and functionalities coming from CNN to our flagship products serve to enhance the experience of owning a Samsung device."
CNN and Samsung are partnering in the following ways:
The CNN for Samsung App will be pre-installed on Samsung's new tablet, the Galaxy Tab S2.  It will also be available for download on the Galaxy S6 edge+ and the Galaxy Note5 devices.

This universal app has all of the core features that a user would expect from CNN, coupled with a reimagined video experience.  Premium, editorially-curated CNN shows and digital video are now available in full 1080p HD, showcasing the best of CNN's shows and digital video.
The CNN for Samsung Galaxy S6 edge App will be available on the Galaxy S6 edge and Galaxy S6 edge+ smartphones, providing users with the ability to choose CNN as their default news source in the edge information ticker.  The CNN for Samsung Galaxy S6 edge experience will be an editorially crafted ticker of the top news of the moment, scrolling across the edge bar.  Users can tap on any content in the ticker to easily pull up the related story in their app.
The CNN for Gear S2 App will be pre-installed on the new Samsung Gear S2 smartwatch.

The CNN for Gear S2 dynamic face gives users access to breaking news headlines when they check the time. Tap the headline, and the story opens on the accompanying watch app.
The CNN for Gear S2 App enables users to browse top news sections with a twist of the bezel dial, scan the most recent headlines and quickly read story summaries. Users will be able to read the news on their wrist to catch a headline and finish reading on their phone.
###