CNN Films
August 17th, 2015
CNN Films Gets FRESH DRESSED For Fall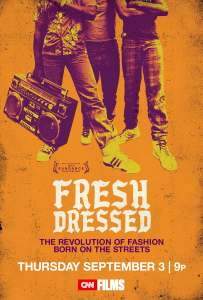 Premiere set for Thursday, Sept. 3 at 9:00pm & 10:45pm Eastern
FRESH DRESSED, director Sacha Jenkins' exuberant chronicle of hip hop and urban fashion – and their global influence on pop culture, will premiere as a CNN Films broadcast with limited commercial interruptions on Thursday, Sept. 3 at 9:00pm Eastern on CNN/U.S., the network announced today. The CNN Films and Mass Appeal co-production will be exclusively presented on the network by Volkswagen.
Produced by Peter Bittenbender, Nasir Jones, and Marcus Clarke for Mass Appeal, FRESH DRESSED traces how fat-laced sneakers, Kangol hats, Cazal sunglasses, and graffiti jackets inspired the style and vibe of rap artists and high fashion designers, through its expression of aspirational swagger that gave voice – and visage – to a culture whose passionate originality and artistry took the world by storm. The music-drenched, fun-to-watch history features interviews with music and fashion entrepreneurs from the 1970s, 80s, 90s, and today, including Dapper Dan, Pharrell Williams, April Walker, Karl Kani, Daymond John, Carl Jones, Jeff Tweedy, Russell Simmons, Sean "Puffy" Combs, Damon Dash, Riccardo Tisci, Guy Wood, and many more.
Deconstructing the evolution of the industry are VOGUE editor-at-large André Leon Talley, Kanye West, designer Marc Eckō, professor Elena Romero of City College of New York, professor Todd Boyd of the University of Southern California, and more. As the industry blossomed from independent, small companies to corporate mass market producers, it spawned a generation of innovative creators with successful brands such as FUBU, Rocawear, Cross Colours, Phat Farm, Karl Kani, and Sean Jean.
The film follows how the most successful brands often leveraged music and acting talent endorsements to generate brand awareness that commanded dedicated floor space inside America's top department stores, Europe and New York fashion week runway shows, fashion awards, and hundreds of millions of dollars in apparel and accessory sales. Later, market saturation, fickle consumer tastes, and merchandizer resistance changed again in ways that challenged and eventually consolidated "urban market" apparel manufacturers.
FRESH DRESSED first premiered at the 2015 Sundance Film Festival where it was acquired by Samuel Goldwyn Films and StyleHaul for domestic theatrical distribution and, shortly thereafter, by Dogwoof for international theatrical distribution.
FRESH DRESSED will simulcast via CNNgo, which is available on desktop, iPad, and Apple TV. The film will encore on CNN on Sept. 3 at 10:45pm, and on Saturday, Sept. 5, at 8:00pm and 10:00pm. All times Eastern.
Recently, CNN Films presented Glen Campbell…I'll Be Me, about the remarkable career, extraordinary life, and farewell tour following the artist's diagnosis of Alzheimer's disease. The next CNN Films broadcast will be Evocateur: The Morton Downey Jr Movie, which traces the rise and rapid fall of the controversial talk show host whose bombastic style changed television talk forever; it will premiere on CNN on Thursday, Aug. 20 at 9:00pm and 10:54pm. All times Eastern.
About CNN Films
CNN Films produces, acquires, and commissions documentary feature and short films for theatrical and festival exhibition and distribution across CNN's multiple platforms.  Amy Entelis, executive vice president of talent and content development for CNN Worldwide, Vinnie Malhotra, senior vice president of development and acquisitions for CNN Worldwide, and Courtney Sexton, senior director of program development, oversee the strategy for CNN Films and CNN Films Presents.  For more information about CNN Films, please visit www.cnn.com/CNNFilms and follow @CNNFilms via Twitter.
About CNN
CNN Worldwide is a portfolio of two dozen news and information services across cable, satellite, radio, wireless devices and the Internet in more than 200 countries and territories worldwide. Domestically, CNN reaches more individuals on television, the web and mobile devices than any other cable TV news organization in the United States; internationally, CNN is the most widely distributed news channel reaching more than 271 million households abroad; and CNN Digital is a top network for online news, mobile news and social media. Additionally, CNN Newsource is the world's most extensively utilized news service partnering with hundreds of local and international news organizations around the world. CNN is division of Turner Broadcasting System, Inc., a Time Warner Company.
-30-