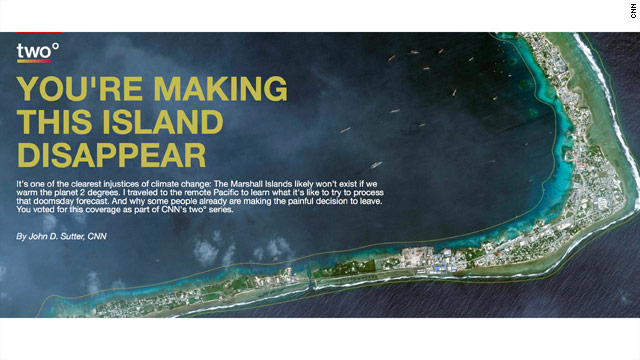 CNN Opinion
June 29th, 2015
2 Degrees and a Disappearing Island
CNN Digital opinion writer John Sutter continues to report on climate change through his "2 Degrees" project.  Scientists and economists say that if the climate warms more than 2 degrees Celsius, it will greatly up the odds of climate catastrophe….and it's happening to Marshall Island.
When he launched this project in April, Sutter asked what readers were most interested in CNN covering — and they chose how 2 Degrees could affect climate refugees from a disappearing coast.  After searching for a country that met the criteria, Sutter traveled to the Marshall Islands and spent 9 days there learning about how the Marshallese were affected by the rising sea and their disappearing coast.
In this multi-part report, he tells the story of the Marshallese through photos and videos with the engaging and heart-breaking narratives of the inhabitants weaved throughout.  He also visits northwest Arkansas, where some people have relocated to escape the threat of being swept away.
###